We remember Gerd Loser      + April 14, 2007
2
Gerd died 8 years ago. We were friends.
I attended the funeral.
My choice of plant surprised some.
8 years later, its growth has raised many a smile.
Gerd's in there – watching us.
And occasionally catching us with his spiked thorns.
4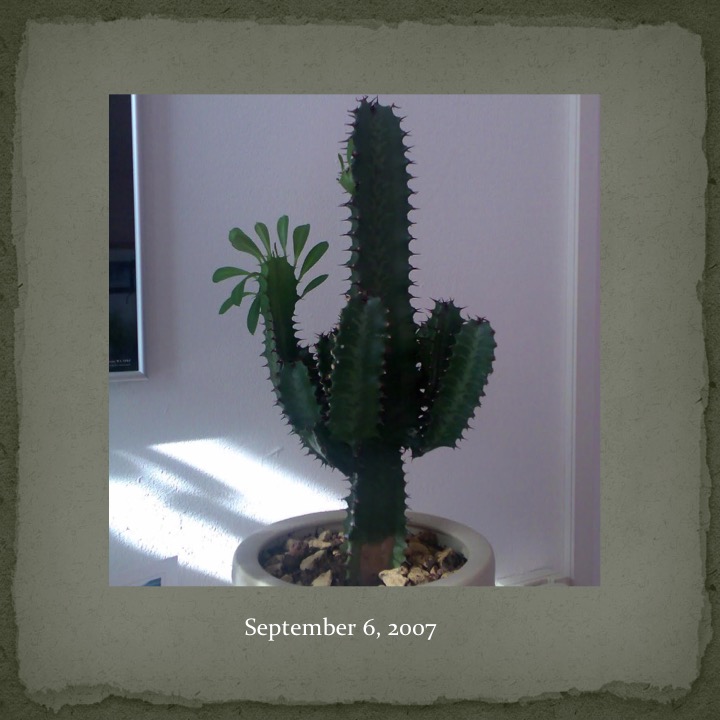 Almost a year later
My, how he has grown!
And look at all those little hands
Waving hello to everyone around
6
OK, enough of the saying hello
Being here in the office is serious
Got things to do
Decisions to make
This business world is just give and take
10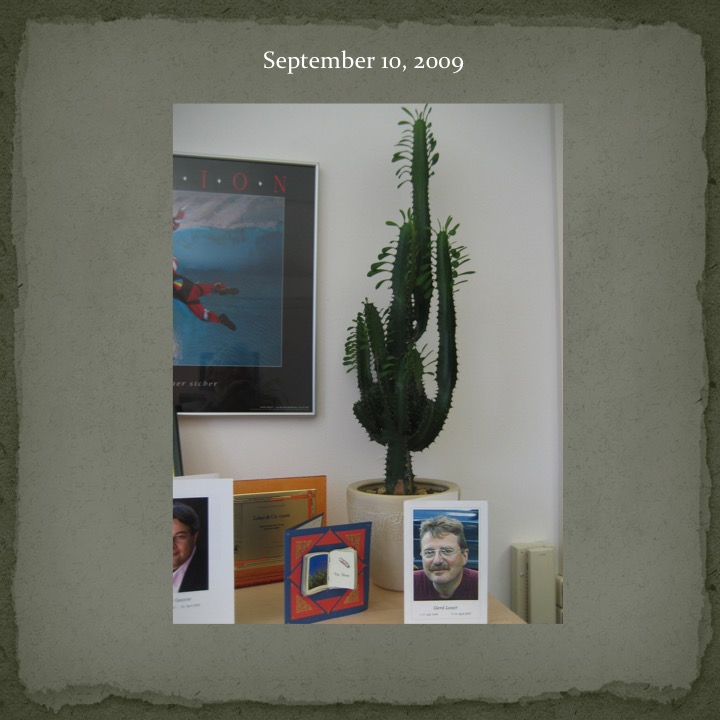 Winter was wonderful
Lots of friends
But wave at too many
Smile once too often
And see what happens to those cute green ends
14
Couple of years go by
Now I stand high
More people to greet down in the street
They don't hear me no matter how I loud I try
Here inside I speak to all
They hear as long I stand tall
20
Over 7 years now
My how time flies
I was thinking of becoming nicer
A red rose in disguise….
Thank God I quit smoking
24
It was a quiet winter
Now don't do much
No coffee in the morning
Don't go out for lunch
….Yulitta gives me regular drink
26
This boredom is driving me up the wall
Same smoke alarm up here
Same faces below
They keep telling me we're moving
I can't wait to go
28
This was the last picture taken of me
The guy with me is Korean
Was his name Lee?
I don't remember
Time moves on
What tomorrow brings, we'll see
31
This is my new home
They've given me room to grow
I love where I am
A place to settle and to show
Just who I am
And where I want to go
33
Starting to get used to this new life
I'm on the floor
But I'm tall now
I see them
They see me
I see them smiling
35
April showers
April sun
This is how we cactuses
Have real fun
We stretch, we sprout
What once was in comes out
37
A week later
Seen in a different light
Stand over there
See my might
In 1 year
It'll be 10 years since
I stand tall now
But then I shall be me
39
I'm settling in now
Pleased to be seen
In a place
Where I feel I have always been
Had it not happened I would not be here
I think I am happy with that
41
This is a weight I can take
Brian from BC a new friend I make
He's big, I'm bigger
This you can see
He grips a book for safety
My hands are free
Nice
It's a book about me
43
In 4 months, it'll be 10 years
In 3 months, they're celebrating 25 years
They'll all come to see me
I gotta grow
Only 6 cms. to go.
45
Just a few days to go
And don't you know
Pride of place
My own space
Surrounded by friends
47
See the heart – This is love
I may be a cactus
But they know me inside
I stand tall
49
Hey – What's this?
Something's amiss
Surrounded by smiling businessmen
Some young, some old
What can have happened?
American Eagle is sold!
51
We've never had it so good
Bigger offices
Wider aisles
Pretty ladies
With wide smiles
How could I not grow, expand and multiply.
53
What more do I have to do
To prove I am me
I am magnificent
I am proof of life itself
This is me
And I am 1 meter 90!
55
Another Christmas approaches
All admire me
All now respect me
For I stand tall
Yulitta, thank-you
For your constant care
A shall forever be grateful
..and taller than you!
59
A new decade
A time for thought? No
A time for change? Perhaps
A time to look ahead? Yes
A time to stand tall? I am
And family grows about me
A cactus from the Promised Land
61
Wow! I thought you'd all forgotten me!
I see new faces, I miss some old
Changes are happening
That's life, I suppose
But I continue to stand here
Tall, proud and content
This time Stephen came
Thanks, Stephen
Friends are important
63
Haven't seen Stephen for some time
But I'm so well looked-after
A weekly drink
A place in the light
Room to grow
People smiling every time they pass
This is my spot
From where I can see the business grow
My business…
65
It's 13 years since I came here
How lucky for me
2.72 I'm told
But I can't be that old
I think passersby still smile at me
But the smiles are hidden
Why?
These are strange times
But I don't know why.
67
2020 – The year of the virus
For a long time
The rooms around me have been silent
The footsteps quiet
The walls without the usual echos
But I have flourished
I have spread my wings around my company
69
I am tall
I am proud
I am reaching for the skies
For my people are good
They are strong-willed
They, too, know how to stand straight
Together, we shall…..
71
Well, we did!
And what now?
I see so many changes
New faces from other places
Does anyone know who I am?
Outside I see no hugging
This has been a year of change
I need to move
73
I need to move, I said
That was months ago
This is not what I had planned
I so enjoy seeing the faces pass me by
Old ones, new ones
Friends and new acquaintances
But my neck hurts
I need to stand tall
I am Gerd Loser
75
Oof! Where's Stephen?
He usually takes my picture.
He's funny; he makes me smile
Even though my neck hurts from this low ceiling.
I need to move…
Does nobody care any more!!?
I want to stretch my wings..
77
Published: Aug 9, 2015
Latest Revision: Oct 30, 2017
Ourboox Unique Identifier: OB-64864
Copyright © 2015


Skip to content