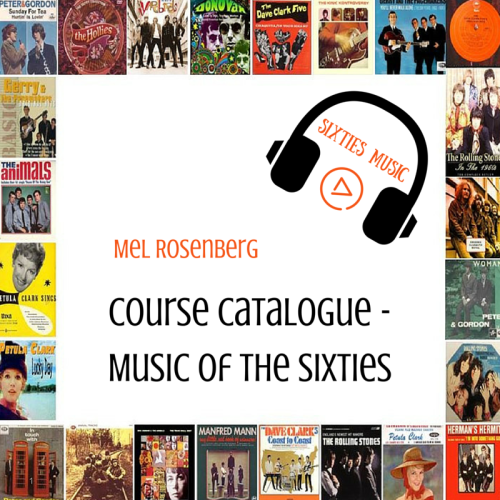 Welcome to our exciting course on the Music of the Sixties – The evolution of the revolution!
Did you know that you can create your own e-book related to the course and get 20 bonus points for the exam!
More details to follow! Here is an example on the opposite page!
2
Here is a youtube playlist from four years ago prepared by a kind student. I hope it still works!
And here on Spotify!! Here is the playlist: Enjoy!
4
And if you want a sneak preview of my other TAU course on what makes a popular song immortal, who am I to stop you?
6
Music of the Sixties: Evolution of the Revolution is an academic course that I have been giving over the past ten years, currently at Tel Aviv University. The course asks two basic questions: Was there a revolution in popular music during this decade? The second  is: Did the music of the sixties bring about a change in the world? Is there more 'harmony, love and understanding'?
8
According to some (perhaps cynical) critics, the sixties music of love, rock and protest was naive and gullible,  believing that people could really come together, and that we could and should "smile on our brother" and "try to love one another right now". The music of the sixties was a subtext in a cultural shift towards a world with a critical mass of people who do care.
9
In the spirit of the sixties, the books accompanying my course are all free. The links are here. I hope you do enjoy them! Please feel free to share them as you like! But please do not download any of the text material, remember it is my copyright and you don't have my permission to do so!!!
10
This catalog brings together all the

Music of the Sixties

course books, and allows you an easy access to all of them.
11
The course is broken down into individual e-books (with others included sometimes). Here is the first lecture….
12
Second class: A brief explanation of how music works.
15
Then… (note that the TV part is a separate e-book, link on the next page)
23
Other Voices: Tom Lehrer, Phil Ochs, The Doors, Al Kooper
26
A Hebrew bonus version:
34
Helpful and fun material:
35
(You need a sense of humor for this one)
38
Published: Oct 19, 2015
Latest Revision: Mar 14, 2023
Ourboox Unique Identifier: OB-69954
Copyright © 2015


Skip to content