EMPOWERMENT,
or
BEING EMPOWERED

,
is a state where a young person, of any age, has confidence that when it comes to fixing problems, realizing dreams, or helping people:
xxxxx• I CAN
xxxxx• I CHOOSE
xxxxx• I ACCOMPLISH
xxxxx• I GET POSITIVE RESULTS.
Empowered young people know how to "get stuff done." 
Young people become empowered by accomplishing a stream of projects with Measurable Positive impact on their world. Empowerment happens for young people in newly-emerging places, real and virtual, called, generically, EMPOWERMENT HUBS.
7
ACCOMPLISHMENT
is getting useful stuff done in the real world. It is different from just "achievement," because an achievement is something you do that benefits ONLY YOU, such as getting good grades, winning prizes, becoming valedictorian.
AN ACCOMPLISHMENT IS SOMETHING YOU DO THAT BENEFITS AT LEAST SOME OTHERS BESIDE YOURSELF, such as fixing a problem, realizing a dream or helping others.
Young people are too often pushed to achieve. WE BELIEVE THEY ARE BETTER PREPARED BY ACCOMPLISHING—and benefiting the world—while they are young.
x  x"Accomplishing Now" vs "learning-in-advance."
8
IMPACT
is positive change you can see in the real-world. Today, more and more young people want to make an Impact, but they rarely get to do so while young. Today's schools produce almost no impact by young people on the real world because they are only about "learning-in-advance" for later. EMPOWERMENT HUBS produce CONTINUOUS IMPACT NOW.
We assess impact using a metric of "BEFORE & AFTER." To demonstrate impact, a team, and each of the team's members, must be able to say: "See that? Before it was bad, (or didn't exist.) Now, because of what our team did, it is so much better—as you can see."
9
EMPOWERMENT HUBS
are emerging places—real and virtual—for young people to do real-world projects that empower them—on a continuous and ongoing basis.
Empowerment Hubs—a generic name, not a brand—are an alternative to the world-wide "learning-in-advance" schools of today, whose goal is only "learning progress." In an Empowerment Hub young people spend ALL their time doing projects with Measurable Positive Impact on some aspect of their world. In an Empowerment Hub "learning" is not a goal in itself, nor is it measured. Learning occurs through the projects as a means of getting the projects done. What IS assessed is the creation of Measurable Positive Impact by each project.
11
WHAT'S MISSING TODAY— Today what is almost completely missing for young people is THE ABILITY TO DO REAL-WORLD IMPACTING PROJECTS FULL-TIME, and TO HAVE CONTINUOUS POSITIVE IMPACT ON THEIR WORLD.
To our knowledge, no place, and no jurisdiction, has young people accomplishing real-world impacting projects on a full-time, continuous basis. Nor is anyone doing so in a way that leads to a resume of real-world accomplishments, over multiple years. and not to grades or certifications for each young person.
IT IS OUR GOAL AND MISSION TO HELP SET UP FULL-TIME EMPOWERMENT HUBS AROUND THE WORLD. 
12
EMPOWERMENT HUBS ARE ABOUT DOING CONTINUOUS REAL-WORLD IMPACTING PROJECTS WHILE PEOPLE ARE YOUNG.  For a great many young people today, having real-world impact now is far more important than sitting in classes learning-in-advance for later (with no guarantee it will be needed).
Projects in Empowerment Hubs are done continuously, by small teams—typically 4-6 young people from any age cohort. Projects are all originated or chosen by each young person based on their individual desires. Project teams are coached by an adult chosen (by the team) for their expertise related to their project, and teams follow a well-established methodology.  To be deemed complete, EVERY PROJECTmust demonstrate that it has made a MEASURABLE POSITIVE IMPACT on some aspect of the world—other than just on the team members.
13
TODAY'S "ONE-OFF" PROJECTS BY YOUNG PEOPLE ARE THE "BUDS" OF FUTURE EMPOWERMENT HUBS. Many "One-off" projects exist today in youth organizations like 4H, Boys and Girls Clubs, and Scouts and in countries on all continents, mostly after-school, or in school enrichment programs like Design for Change (60 countries), DistrictC (US) and in a few schools in multiple countries.
To truly empower young people, however, projects must not be just one-off, but MULTIPLE and CONTINUOUS.  Just getting to do one or two projects while young—although helpful—is not enough to empower someone. It takes a years-long series of projects. It is the continuity of each young person's completing a great many impactful projects—each more complex than the last—that produces the unique value proposition of an EMPOWERMENT HUB. 
14
What follows are sample "one-off" projects by young people from around the world. As you look through them,
IMAGINE:
• Every young person doing hundreds of these projects as their growing-up process in every country; billions in the world.
• Each project having a Measurable Positive Impact on some aspect of the world.
• Each project chosen by the young people to fit their dreams, interests strengths and passions of the moment.
• Each young person's projects getting more sophisticated as they progress.
• Teams with members from multiple countries virtually.
WOULDN'T THAT BE A MORE EFFECTIVE WAY FOR MANY YOUNG PEOPLE TO GROW UP TODAY?
16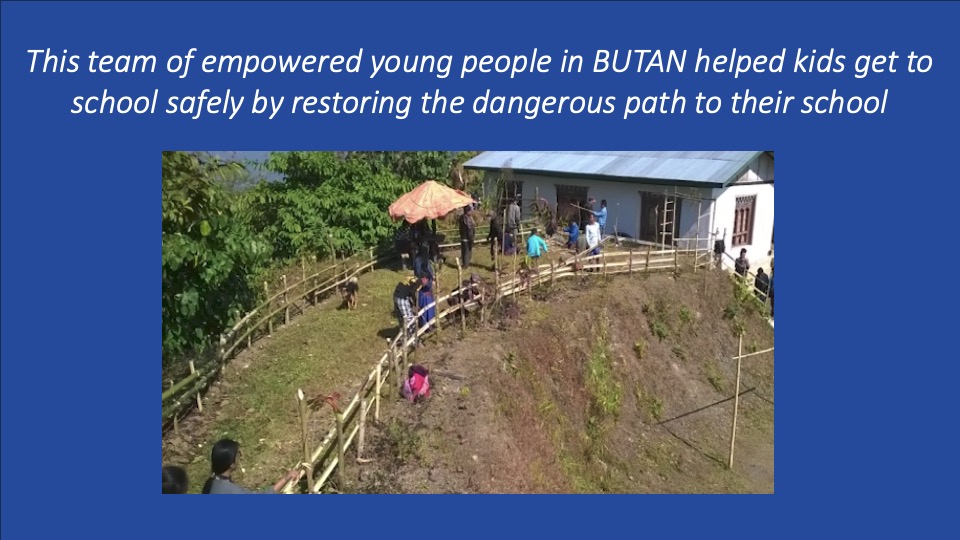 CAN YOU IMAGINE YOUNG PEOPLE DOING HUNDREDS OF THESE PROJECTS AS THEIR PROCESS OF GROWING UP?
They would apply for jobs not with a transcript of grades, but with a RESUME OF REAL-WORLD ACCOMPLISHMENTS!
EMPOWERMENT HUBS can be an OPT-IN ALTERNATIVE to "Learning-in-advance" schools for young people and parents who desire real-world preparation, rather than just learning-in-advance.  Anything team members have to learn to get a project done can be gotten just-in-time as needed—with far more motivation.
37
ARE YOU INTERESTED IN EXPLORING STARTING AN EMPOWERMENT HUB? OR DO YOU NEED HELP IN MAKING YOUR PROGRAM CLOSER TO ONE?
Today, in many places, you can just assemble the necessary ingredients and begin creating your own Empowerment Hub.
Since Empowerment Hubs are not "schools," no registration is currently required in many places to start an Empowerment Hub (Note: this may vary by place, or change.) If the young people are attending the Empowerment Hub full-time, you may need to be registered, or government-sponsored, depending on the country.
We offer our help to start one. What ingredients do you need?
39
The main ingresiants needed to start an Empowerment Hub are
XXXXXX

1 YOUNG PEOPLE
XXXXXX

2 TEAMS & GOALS
XXXXXX

3 ADULTS
XXXXXX

4 METHODOGY, PLACE, AND TIME
41
You can't have an Empowerment Hub without young people who want to be there. The young people, and generally their parents as well, must OPT-IN to attending an EMPOWERMENT HUB—no one can be forced.  Empowerment Hubs are all about what the young people desire—and not about what the adults desire for them. The young people can be of any age and from any background, but they all have to want to do something different with their time than just sit in class.
An Empowerment Hub can start with just a single team, aligned around a particular goal. Or with only a few young people, each of whom can build a team of like minded members, with each team having a different goal. Every team member needs to have an "I CAN / WE CAN" belief and mindset. (There are ways to encourage this—see later).
43
Empowerment Hub projects are done in small teams. One or several teams, each with 4-6 members, need to be formed. Teams are formed by the young people around goals that all team members share and are equally passionate about. The teams are self-directed, not adult-directed—the team coach is only an advisor.  Every member of a team needs to share the same level of passion and interest about the project. No one is told what team to join or what to work on.
Every team needs "meta" and specific goals. The common "meta" goal of every team is to make a Measurable Positive Impact in some area and to create value in the world. No project is complete until that happens. Teams' individual goals can include any combination of realizing a dream, fixing a problem, or helping others, or can come from external clients.
45
THERE ARE TWO ROLES FOR ADULTS IN EMPOWERMENT HUBS
• Hub Administrators. In a small hub the administrator can be a single person, in a larger hub it is a team. This is a separate function from the process/team/project coaches.In some situations, Empowerment Hubs can be TOTALLY led and run by young people—IF adults let them.
• Real-world Team/Project Coaches.  There are two kinds of coaches: "Process coaches" who help teams follow a methodology, and subject area coaches—adults with real-world expertise in the area the team is interested in—chosen from volunteers from the world at large. Coaches are best selected by the team (and not vice-versa.) Current teachers often need additional training  to avoid "controlling" a team.
47
Teams need a methodology and process to use.  Any one of several will work. The "FIDS" process of FEEL-IMAGINE-DO-SHARE from Design for Change is a good, well-documented methodology to start with that works for all ages. There are also others, such as Hackathons.
Teams need a space to meet regularly and work, and considerable time. A (relatively) private space is required for each team. Some teams may require a place to build something. Team sessions need to happen regularly and often—daily if possible. Team sessions usually require multiple hours. Team sessions can be local (in-person), or online from anywhere. Going outside is often needed (implying chaperones for younger kids. Even the 3-year-olds did interviews and met with the town Mayor.)
49
If you are thinking of starting an Empowerment Hub for some group of young people. you will need to decide on: 
A GOAL OF ACCOMPLISHMENT BY THE YOUNG PEOPLE. The primary goal cannot be "learning." In Empowerment Hubs, learning happens a by-product of accomplishing projects; it is not a goal in and of itself. The desired and measured end is impact rather than learning. If something specific needs to be learned for a project, the coach guides team members to appropriate resources to quickly learn what they need, just-in-time.
A PLACE: Empowerment Hubs can exist online, or in homes, community centers, libraries, not-for profits, businesses, and even schools (with caveats.)  Individual spaces where teams of 4-6 can comfortably and regularly work are needed.
51
AN AGE GROUP: Empowerment Hubs can work for young people of any ages, from 3 to 20. (see here: https://bit.ly/3-year-olds a video of 3-year-olds doing a project.) There can also be teams of different age groups, and there can be teams withy young people of of mixed ages sharing and pursuing a common goal.
THE NUMBER OF YOUNG PEOPLE AND TEAMS YOU WiLL ACCOMMODATE: Empowerment Hubs come in all sizes. They can have any number of project teams (including just one) each comprised of 4-6 young people.
HOW YOU WILL DO SUPERVISION: Some administration is needed to coordinate teams and logistics.  There needs to be safety for the young people (responsible, possibly bonded or certified adults), but not micro-management of teams.
52
HOW YOU WILL FIND COACHES: Each team needs its own adult coach or coaches—not assigned, but chosen by the team.  A coach can be an employee or any responsible adult volunteer with expertise in the area that the project is about. "Process coaches reuqire special skills, which can be taught and learned, but are typically not part of being an official "teacher." The organizer or administrator can help identify potential coaches for each team; the young people make the final choice.
THE METHODOLOGY(S) TEAMS WILL USE: Projects in Empowerment Hubs are typically done using well-established methodologies, including FEEL-IMAGINE-DO-SHARE, hackathons, and more. You need to be familiar with these.
53
THE TIME FRAME TEAMS WILL HAVE TO GET TO IMPACT: An Empowerment Hub works best when it is ongoing and the projects are unbounded by time constraints. There can and should, however, be milestones. But projects are only complete when they can demonstrate a Measurable Positive Impact.
Empowerment Hubs operate differently from schools, around the projects' schedule, not a pre-determined schedule.
54
We are THE GLOBAL INSTITUTE FOR EMPOWERMENT, ACCOMPLISHMENT, & IMPACT BY YOUNG PEOPLE
We work with governments, communities, institutions, schools, companies, and anyone else to set up these full-time Empowerment Hubs around the world and support them.
We seek to develop many of today's "buds" into full-blown Empowerment Hubs. We are currently in the process of setting up full-time pilot Empowerment Hubs on several continents, working with SEK International Schools (in Spain), and Design for Change (in India and in 60 additional countries). OUR GOAL is to make Empowerment Hubs AN EQUALLY AVAILABLE AND VALID ALTERNATIVE TO "LEARNING-IN-ADVANCE" SCHOOLS, around the world, for those who choose to opt-in.
57
WE ADD VALUE by HELPING GROUPS WORKING FOR EMPOWERMENT, ACCOMPLISHMENT, & IMPACT BY YOUNG PEOPLE, and by WORKING TO ESTABLISH FULL TIME EMPOWERMENT HUBS AROUND THE WORLD.
We offer:
• Support for the core idea of "Accomplishing with Impact" vs. just "Learning in Advance"
• Connections to other groups and individuals in the world with similar ideas
• Power from sharing what works and working together.
• Conversations, advice, and consultations with organizations, governments, schools and others toward these ends.
59
To fulfil our long-term mission of HELPING START FULL-TIME EMPOWERMENT HUBS AROUND THE GLOBE, we seek:
• People with interest—People, teachers, schools, parents and young people who are sick of the current system and who want to have young people do more than just sit in class "learning-in-advance.
• Partners—Groups already doing at least some of the elements of Empowerment, Accomplishment, & Impact.
• Funders — People with means who are fed up with the current system of "years of learning-in-advance" that we have, and who want young people to be able to opt in to an Empowerment, Accomplishment & Impact alternative.
To learn more please contact [email protected]
61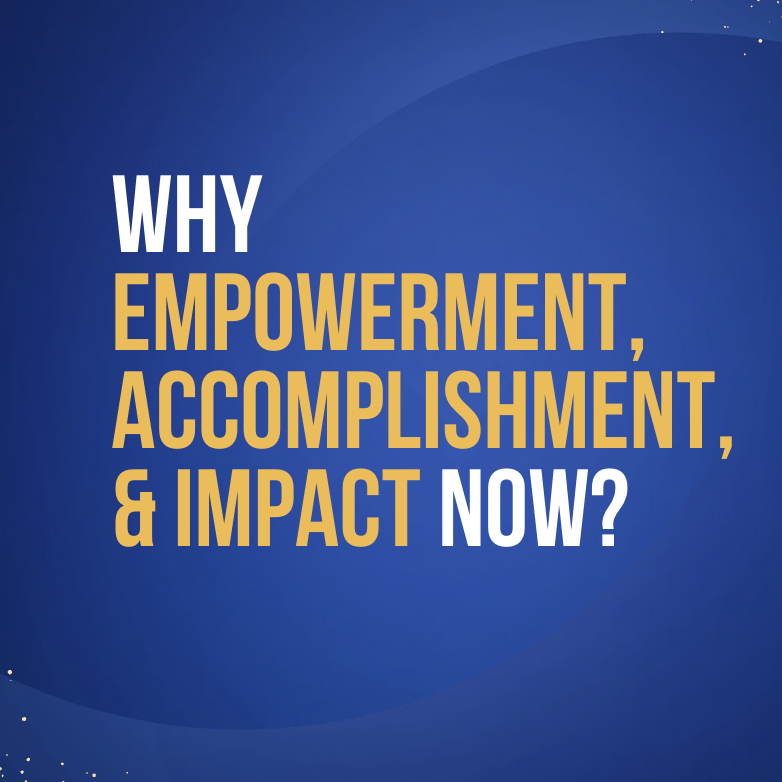 IN THE 20TH CENTURY (and for some time before that)
EDUCATION WAS CRUCIAL.
Information and skills were scarce resources in the world. Obtaining them required years of "learning-in-advance" in the schools (private, then public) that were established.
Education worked for many people (especially those who rose to power) Because it worked for many it became a goal to extend education (i.e. "learning-in-advance") to ALL young people. This goal was met only partially—BUT THEN THE WORLD CHANGED!  Young people begain acquiring new and powerful tools, and their attiudes begain changing.
63
TODAY, CLASSROOM EDUCATION NO LONGER MEETS ALL OUR YOUNG PEOPLE'S NEEDS.
This is because (among other things):
• It is too academic. (Not everyone likes, can, or wants to do academic rigor.)
• It totally lacks any real-world accomplishment. (It produces only academic achievements like grades and degrees.)
• Learning in advance about things you don't care about is often boring. (Leading to lack of attention or dropping out.)
64
IT IS TIME FOR NEW THINKING.
We used to think that the way to help young people grow up was to tightly control them—through parenting, chilture and school—to get them to do what we knew was needed. Because they were too often kept from opportunities to do real work (sometimes for good reason), and because they had few tools they could use, young people in the pre-21st century world were not able to accomplish much (with only a few exceptions, like agriculture, family businesses and apprenticeships.)  The attitude of most adults towards young people became "YOU CAN'T"—at least not before you finish all the learning-in-advance in school. This belief got passed to the young people who still too often think, "I CAN'T."
67
OVER TIME, OUR YOUNG PEOPLE BECAME UNEMPOWERED—BUT TODAY THAT HAS CHANGED! 
Now young people CAN! 
Now in the 21st century, young people can can get useful real-world projects done while they are young—and not just sitting in class "learning in advance.  And increasingly, THEY WANT TO.
We now have a way to provide this:
EMPOWERMENT, ACCOMPLISHMENT, & IMPACT in EMPOWERMENT HUBS!
68
Having an "I CAN" Belief, on the part of each young person, lies at the root of Empowerment.
Today, too many of our young people don't think they can fix problems the see, realize dreams they have, or help people they care about, until they "grow up."  Adults too often tell them that they can't do anything useful in the real world unless—and until— they have completed the necessary years of learning-in-advance in school. While that may have been true up through the 20th century, it is no longer the case.
Today's young people CAN ACCOMPLISH—and ARE ACCOMPLISHING impactful projects all over the world. Our goal spread this option to all two billion kids—one Empowerment Hub at a time.
71
Having a FREE CHOICE of projects—by the young people alone (albeit with guidance)—lies at the heart of Empowerment and Empowerment Hubs.
in an Empowerment Hub no one tells a young person what project(s) to do or work on—as long as the projects are positive.
Projects originate mainly directly from young people's interests and concerns. They also can originate from specific challenges or lists (such as the UN's SDGs)—as choices that young people can make.
In an Empowerment Hub, no young person is ever assigned to a project or team. The choice of project lies entirely with the young people.
73
The Empowerment Hub team must actually DO the projects. A project cannot end with just recommendations, plans, un-enacted solutions, or learnings on the part of team members. Those are only an intermediate "imagining"phase" of an Empowerment Hub project. Teams in empowerment hubs go beyond imagining solutions to actually implementing them.
Just creating a solution on paper, or a prototype (as is often done for competitions) is not enough—there must be a useful, usable outcome in the real-world. That means that whatever project teams are considering must actually BE doable, although it may fit into a larger picture or effort. The requirement of having a real-world outcome is part of what distinguishes Empowerment Hub projects from other things also called "projects," such as Project-Based Learning, or projects for competitions with prizes.
75
There must be a MEASURABLE POSITIVE IMPACT. This firm requirement also distinguishes of Empowerment Hub projects from Project-Based Learning or competition team projects. Empowerment Hub projects require having impact and not just thinking or even doing.
Thus an Empowerment Hub project with only a final report, presentation, award or grade or prototype—however good those may be—is incomplete. The only metric that counts is BEFORE and AFTER: A team must be able to point to something in the world—anything—and say "See that? Before it was bad, (or didn't exist.) Now, because of what our team did, it is so much better—as you can see."   Empowerment Hubs improve the world around them due to the efforts of  of young people.
77
Published: Aug 12, 2023
Latest Revision: Aug 22, 2023
Ourboox Unique Identifier: OB-1485244
Copyright © 2023


Skip to content