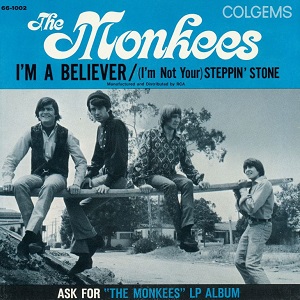 I'm a Believer is an excellent song which was written during the sixties.
This song was written by Neil Diamond. We will begin with Neil Diamond's performance of the song and next we will look at the most famous version of the song, a cover by The Monkees.
2
Neil Diamond is a pop singer-songwriter superstar. His records have sold over 135 million copies over a 50-year career, and he has won a series of major awards for his accomplishments.
Neil was born in Brooklyn in 1941, the son of Polish and Russian immigrants. He attended Erasmus High School in Brooklyn, where he was a member of the school's Chorus and Choral Club along with classmate Barbra Streisand.
4
Apparently Diamond's early years were fairly rough; at one time, he says that his food budget was 35 cents per day! However, despite the fact that he was quite literally a starving artist, he managed to write a number of songs during that period.
Diamond's first big success was as a songwriter. In late 1965 he wrote a hit song that Jay and the Americans released, and then "I'm A Believer" and several other hits for The Monkees.
The song I'm A Believer describes a man who was initially cynical about love; however, he meets a woman who completely changes his mind, converting him into a believer in love at first sight.
5
"I thought love was only true in fairy tales
Meant for someone else but not for me
Love was out to get me
That's the way it seemed
Disappointment haunted all of my dreams
Then I saw her face, now I'm a believer
Not a trace of doubt in my mind
I'm in love
I'm a believer, I couldn't leave her if I tried".
6
And here's a version of the song by Neil in a live performance in 2002
8
I'm A Believer was significant in the careers of both Neil Diamond and The Monkees. This was a monster #1 chart hit for the Monkees. Following on the heels of their first hit Last Train To Clarksville, I'm A Believer marked The Monkees as a group on the rise. For Diamond, this song established his credentials and made him a valuable commodity as a pop songwriter.
9
and how the Monkees is related to the song?
The early Monkees music was the product of Kirschner's Brill Building experience and knowledge of the industry. Boyce and Hart wrote several songs for the group, including The Monkees' first big hit, Last Train to Clarksville. They also wrote The Monkees Theme and (I'm Not Your) Stepping Stone.
Neil Diamond wrote I'm A Believer and A Little Bit Me, A Little Bit You. Carole King and Gerry Goffin wrote Pleasant Valley Sunday, while Kingston Trio member John Stewart wrote Daydream Believer.
10
The lyrical hook, 'and then I saw her face,' could be seen as a direct reference to the Beatles' 'I've Just Seen a Face' from the year before.
12
and a beautiful live performance
14
but, one of the most famues cover of this song is the one made by Smash Mouth.
Smash Mouth is a rock band that formed in 1994 in San Jose, California. The band initially consisted of lead singer Steve Harwell, guitarist Greg Camp, bassist Paul de Lisle and drummer Kevin Coleman.
15
The Smash Mouth version of I'm A Believer was released in 2001 as part of the Shrek soundtrack. A second Smash Mouth song, All Star, was also included in the Shrek soundtrack. The Smash Mouth cover of I'm A Believer was quite a success for the band.
17
and a live performance in 2018
19
and we will finish with the verion of the song that appeared in the movie Shrek.
I'm A Believer initially features the wedding kiss of Shrek and Fiona. However, the producers continue by showing the entire cast dancing along to the song, which is performed by Smash Mouth in rollicking hard-rock style.
20
and that is it! i hope you enjoyed!
22
Published: Mar 24, 2021
Latest Revision: Mar 25, 2021
Ourboox Unique Identifier: OB-1087258
Copyright © 2021


Skip to content