Contributors to this digital book:
Daniela Grecu (Romania), Giovanna Caracciolo (Italy)
Şebnem Gençtürk (Turkey), Mihaela Alina Ciucă (Romania)
Giacomo Cassalia (Italy), Ebru İpkin (Turkey)
Daniela Bălună (Romania), Claudia Rizzaro (Italy)
Hülya Baysal (Turkey), Sónia Ribeiro (Portugal)
Zahide Zarife ÇELTİK (Turkey), Aura Comorasu (Romania)
1
We celebrate International Women's Day by paying tribute to the women of all time who have been an inspiration to generations of young people, women who have contributed to the development of science.
2
Team 1. Daniela Grecu, Sf. Dumitru Secondary School, Romania
Rita Levi-Montalcini (22 April 1909 – 30 December 2012) was an Italian Nobel laureate, honored for her work in neurobiology. She was awarded the 1986 Nobel Prize for the discovery of nerve growth factor (NGF).
She founded the European Brain Research Institute in 2002. She also established the Rita Levi-Montalcini Foundation, to provide African women "with the tools for a full development of their capabilities."
3
Team 1. Giovanna Caracciolo, IC Laureana Galatro Feroleto, Italy
Ștefania Mărăcineanu (June 18, 1882 – August 15, 1944) was the first prominent Romanian physicist who worked with Marie Curie studying the element named polonium and conducting research on the artificial radioactivity. After working a lot of years in Paris, she returned to Romania and started teaching at the University of Bucharest. Although she didn't receive a lot of global recognition for her work, in 1937 she was elected corresponding member of the Romanian Academy of Sciences, Physics section. She was also named Director of Research by the Academy. Since she was among the pioneering women in the discovery and research of radioactivity, Google created a doodle to pay tribute to her on her 140th birth anniversary.
https://scratch.mit.edu/projects/820067596
5
Team 2. Mihaela Ciucă, Sf. Dumitru Secondary School, Romania
Margherita Hack (12 June 1922 – 29 June 2013) was an Italian astrophysicist and scientific disseminator. The asteroid 8558 Hack, discovered in 1995, was named in her honour.
She was full professor of astronomy at the University of Trieste from 1964 to the 1st of November 1992.
She has been the first Italian woman to administrate the Trieste Astronomical Observatory from 1964 to 1987, bringing it to international fame.
She worked at many American and European observatories and was for long time member of working groups of ESA and NASA.
7
Team 2. Giacomo Cassalia, IC Laureana Galatro Feroleto, Italy
Elisa Leonida Zamfirescu (10 November 1887 – 25 November 1973) was a Romanian engineer who was one of the first women to obtain a degree in engineering.
She was born in the Romanian town of Galați but qualified in Berlin. During World War I she managed a hospital in Romania.
After the war, Zamfirescu returned to the Geological Institute. She led several geology laboratories and participated in various field studies, including some that identified new resources of coal, shale, natural gas, chromium, bauxite and copper. Zamfirescu also taught physics and chemistry.
9
Team 3. Claudia Rizzaro, IC Anzio III, Anzio, Italy
Ana Aslan. She was born on January 1° 1897 in Bralia, Romania. She was a great biologist and an estimated doctor specializing in geriatric. Until 1922 she discovered the anti-aging effect of procaine. She was teacher in the medical faculty of Timisoara (1945-1949). 
11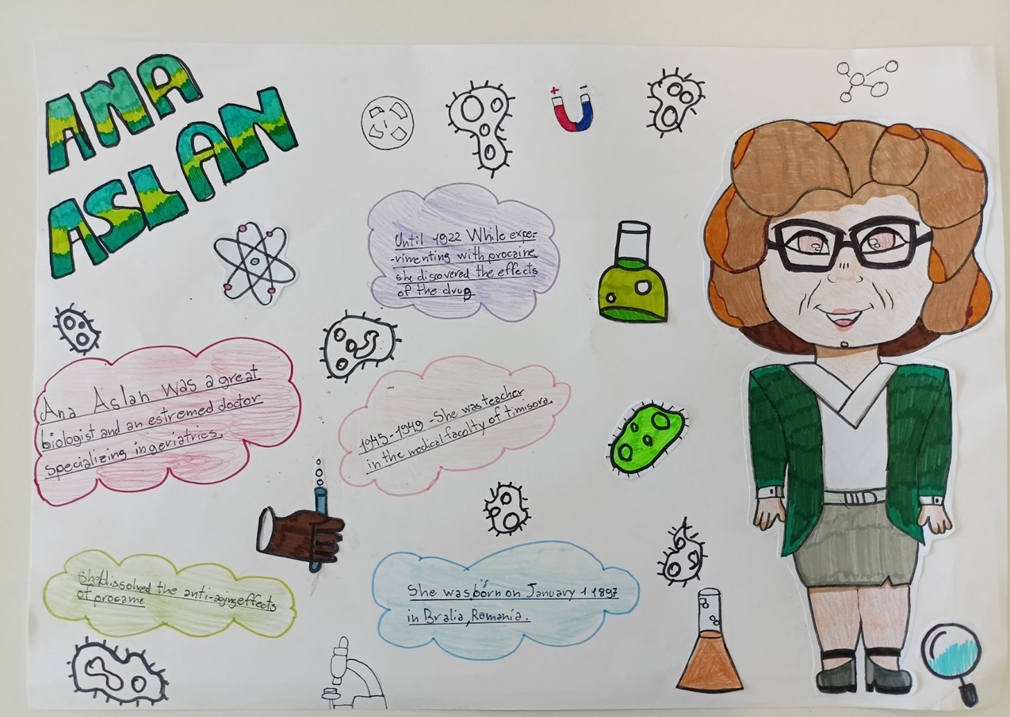 Team 3. Daniela Bălună, Sf. Dumitru Secondary School, Romania
Samantha Cristoforetti (born in Milan, Italy on 26 April 1977) is an Italian European Space Agency astronaut, former Italian Air Force pilot and engineer. In March 2012, she was assigned to fly as flight engineer on the Soyuz TMA-15M to the International Space Station. On 23 November 2014, she was launched from the cosmodrome of Baikonur in Kazakhstan and returned to Earth on 11 June 2015, after spending 200 days in space. Samantha returned to the ISS for her second mission, Minerva, on 27 April 2022.
Samantha also carried out her first spacewalk, and the first conducted by a European woman, and became the fifth European and the first European female commander of the ISS during her mission.
13
Team 4. Şebnem Gençtürk , Meşkure Şamlı Ortaokulu, İzmir, Turkey
Ileana Streinu's research involves theory and algorithms for such computational geometry problems as rigidity, flexibility and motion of geometrically constrained structures, in particular linkages and mechanical frameworks. Her work draws inspiration from mechanics, robotics and molecular modeling and has applications in computational biology and computational materials science.
15
Team 4. Mihaela Alina Ciucă, Sf. Dumitru Secondary School, Romania
Özlem Türeci ( born 6 March 1967) is a Turkish-German physician, scientist and entrepreneur. In 2008, she co-founded the biotechnology company BioNTech, which in 2020 developed the first messenger RNA-based vaccine approved for use against COVID-19. Türeci has served as BioNTech's chief medical officer since 2018.
Özlem Türeci works as a medical scientist and basic researcher in the field of immunology. She researches target structures in order to develop new therapies against cancer, infectious diseases and diseases of the immune and nervous systems. One focus is on the identification and characterization of tumor-specific molecules and the development of personalized therapeutic approaches.
17
Team 5. Daniela Grecu, Sf. Dumitru Secondary School, Romania
Türkan Saylan (13 December 1935 – 18 May 2009) was a Turkish medical doctor in dermatology, academic, writer, teacher and social activist. She was famous for fighting leprosy, and for founding a charitable foundation called "Association for the Support of Contemporary Living" .
In 1989 she began to concentrate her efforts primarily on advocating for secularism and women's rights in Turkey.
19
Team 5. Ebru İpkin, Mersinli MTAL, İzmir, Turkey
Martha Sălcudean (née Abel; 1934 – 12 July 2019) was an internationally recognised expert in computational fluid dynamics. She was Canada's first female head of a university engineering department. Salcudean was born in 1934 in Cluj, Romania, into a Jewish family. She survived the Bergen-Belsen concentration camp and decades living under totalitarian regimes before she moved to Canada in 1976. Salcudean was a recipient of several provincial and national engineering awards in Canada. Salcudean died on 17 July 2019.
21
Team 6. Hülya Baysal, Altıeylül Bilim ve Sanat Merkezi, Balıkesir, Turkey
Virginia Andreescu Haret (1894–1962) was a Romanian architect and is credited as the first woman to graduate with a degree in architecture in Romania.
Among his most important achievements are a series of blocks on Calea Victoriei (among the first to use reinforced concrete), the administrative pavilion and the underground outbuildings of Baneasa Airport, the "Gheorghe Şincai" High School and the "Cantemir Vodă" National College in Bucharest.
23
Team 6. Daniela Bălună, Sf. Dumitru Secondary School, Romania
Canan Dağdeviren (born May 4, 1985) is a Turkish academic, physicist, material scientist, and assistant professor at the Massachusetts Institute of Technology (MIT), where she currently holds the LG Career Development Professorship in Media Arts and Sciences. Dagdeviren is the first Turkish scientist in the history of the Harvard Society to become a Junior Fellow in the Society of Fellows at Harvard University. As a faculty member, she directs her own Conformable Decoders research group at the MIT Media Lab.
25
Team 7. Daniela Grecu, Sf. Dumitru Secondary School, Romania
Paula Sobral is from Portugal and she is University Professor, Marine Litter & Microplastics Expert
Is AssociateProfessor at the Department of Environmental Sciences of FCT- Universidade NOVA de Lisboa. She has developed research in marine litter and microplastics since 2008, and coordinated national and international research projects on the topic.
In 2013, she founded the Portuguese Marine Litter Association an engagement platform for multiple stakeholders, and since then has developed and promoted numerous awareness and co-responsibility actions to reduce marine litter and achieve Sustainable Development Goals.
27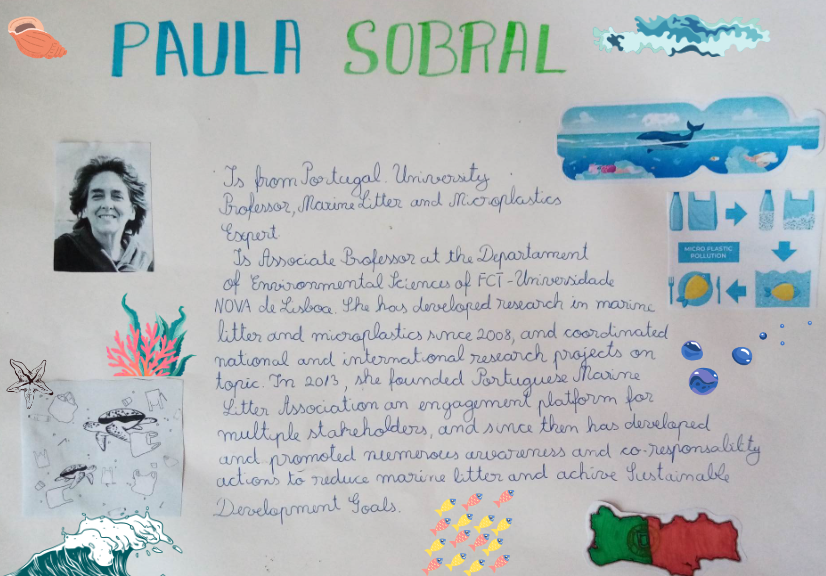 Team 7. Sónia Ribeiro, AE Caldas de Vizela, Portugal
Biykem Bozkurt actively participates in clinical and translational research, national and international scientific sessions in the field of heart failure. She is a professor of cardiology teaching students and residents at the University of Medicine.
She is board certified and board certified in Cardiovascular Disease and Advanced Heart Failure, Heart Transplantation from the American Board of Internal Medicine.
She teaches at the Department of Cardiology at the Houston Baylor College of Medicine in the US. She is one of 15 women scientists included in a book titled "100 Turks Guiding Medical Science" published in 2018.
29
Team 8. Şebnem Gençtürk , Meşkure Şamlı Ortaokulu, İzmir, Turkey
Branca Edmée Marques de Sousa Torres (Lisbon, 14 April 1899 – Lisbon, 19 July 1986) was a leading Portuguese specialist in the peaceful applications of nuclear technology who obtained a doctorate in Paris under the guidance of Marie Curie. Returning to Lisbon she founded the Radiochemistry Laboratory, where she continued her research for three decades. Having turned down a chance to do geological work in Angola, she taught at the faculty after her graduation in 1926, where she was the only woman carrying out teaching or research in chemistry. She married António Silva Sousa Torres (1876-1958), professor at the Faculty of Sciences of the University of Lisbon, but only on condition that she could go to Paris to study for a Doctorate.
31
Team 8. Sónia Ribeiro, AE Caldas de Vizela, Portugal
Florica T. Câmpan (b. November 26, 1906 in Iași – d. August 23, 1993) was a Romanian mathematician, researcher in the field of geometry and the history of mathematics.
She is known for her books on the history of mathematics, written in vivid, accessible language.
As a teacher, she taught many branches of mathematics: analytic geometry, nomography, trigonometry, astronomy, algebra, differential geometry, and others.
In the field of Euclidean differential geometry, he paid special attention to the work of Emanoil Bacaloglu. Thus, he used the concept of Bacaloglu curvature in an application on the pseudosphere and capillarity.
33
Team 9. Zahide Zarife ÇELTİK- Mehmet Adnan Özçelik 
Anatolian High School Mersin, Turkey
Silvia Creangă (b. October 26, 1894 , Adâncata , Suceava – d. March 31 , 1952 , Bucharest ) was a Romanian mathematician . She was the first woman in Romania to receive her doctorate in mathematics. She was more active as a teacher than as a researcher. In 1926 he attended a specialization course in Pisa. She worked in research at the School of Mathematics in Iași, publishing studies and original articles on geometry , being the author of collections of mathematical problems for the use of schools.
35
Team 9. Aura Comorasu Secondary School Sascut, Bacau, Romania
Feryal Özel (born May 27, 1975) is a Turkish-American astrophysicist born in Istanbul, Turkey, specializing in the physics of compact objects and high-energy astrophysic phenomena. In 2022, Özel is a chair and professor at the Georgia Institute of Technology School of Physics in Atlanta. Previously, he was a professor at the University of Arizona at Tucson, in the Department of Astronomy and Steward Observatory.
Özel is widely recognized for his contributions to neutron stars, black holes, and magnetars. She is a modeling member and coordinator of the Event Horizon Telescope (EHT) telescope that released the first image of a black hole.
Özel received the Maria Goeppert Mayer Award from the American Society of Physics in 2013 for her outstanding contributions to neutron star astrophysics.
37
Published: Jan 28, 2023
Latest Revision: Jan 28, 2023
Ourboox Unique Identifier: OB-1411452
Copyright © 2023


Skip to content