The following teachers contributed to this collaborative book:
1. Daniela Grecu (Romania), Malvina Cellucci (Italy)
2. Moț Cornelia Alina (Romania), Canan Sipahi Martyr Lütfi (Turkey)
3. Alina Ioana Mera (Romania), Ayfer Kılıç (Turkey)
4. Ioana Coroian (Romania), Elvan Yetkin (Turkey)
5. Leman Kamer Ergene (Turkey), Mitrescu Elena (Romania)
6. Voicu Corina (Romania), Evangelia Lagopoulou (Greece)
7. Beata Kubińska (Poland), Luminița Melania Dîngă (Romania)
8. Daniela Vulpes (Romania), Dagmara Gembalczyk (Poland)
9. Ilona Nedzinskienė (Lithuania), Vantu Ana Luminita (Romania)
10. Jolanta Zamoyska (Poland), Oprea Elena (Romania)
11. Codruța Adelina Jivulescu (Romania), Pilar Garrido (Spain)
12. Ayla Akhan (Turkey), Lavinia Borcilă (Romania)
13. Jalbă Doina Luiza (Romania), Borș Adi Luminița (Romania)
14. Dushanka Josheva (North Macedonia), Grecu Cornelia Ana (Romania)
15. Isabel Fernández (Spain), Dobrin Paula (Romania)
16. Cristina Turițoiu (Romania), Annika Niburska (Poland)
17. Murgilă Rita (Romania), Havva Bilgin (Turkey)
18. Lijana Ivoskiene (Lithuania), Walaa Bakkar (Jordan)
2
Team 1. Daniela Grecu, Sf. Dumitru Secondary School, Craiova, Romania
Samantha Cristoforetti (born in Milan, Italy on 26 April 1977) is an Italian European Space Agency astronaut, former Italian Air Force pilot and engineer. 
In March 2012, she was assigned to fly as flight engineer on the Soyuz TMA-15M as part of the crew of Expedition 42/43 for her first mission to the International Space Station.
On 23 November 2014, she was launched from the cosmodrome of Baikonur in Kazakhstan and returned to Earth on 11 June 2015, after spending 200 days in space.
Samantha returned to the ISS for her second mission, Minerva, on 27 April 2022. She was launched in a new SpaceX Crew Dragon capsule named Freedom.
Samantha also carried out her first spacewalk, and the first conducted by a European woman, and became the fifth European and the first European female commander of the ISS during her mission. 
3
Team 1. Malvina Cellucci, Lama dei Peligni Primary School, Italy 
Elisa Leonida Zamfirescu was born on 10th November 1887, in Galati, Romania. She has got a very big family; her father, Anastase Leonida, is a career officer, her mother  is Matilda is the daughter of a French-born engineer; she has got ten brothers and sisters. She is an engineer and inventor.  She is the first woman engineer in the world. 
She goes to a girl school, in Bucharest; then she goes to School of Bridges and Roads, but she is rejected, because she is a woman. She goes to Berlin, at the Royal Academy of Technology, in 1909, where she graduates in 1912, with the degree of engineer. She returns in Romania and she works as an assistant at the Geological Institute of Romania. 
During the first World War, she is a nurse, for the Red Croos. After the war Elisa Leonida returns to the Geological Institute. She studies soil and subsoil, and she identifies new resources of coal, shale, natural gas, chromium, bauxite and copper. She dies at the age of 86, on 25th November 1973. 
In the Minerva Journal (in 1912), we read: "Who does say woman can't do a very hard job? They make a mistake". 
5
Team 2. Moț Cornelia Alina , Găvojdia Secondary School Romania
Yıldız Kenter was born in Istanbul in 1928, her interest in theater began in her childhood years. Kenter took his first step into theater at the Ankara Children's Theater, graduated from the Ankara State Conservatory, and then worked at the State Theater for 11 years.Finally came the adventure of Istanbul. He worked as a lecturer at the State Conservatory in Istanbul. And in the same year, she received the "Woman of the Year" award for her services to the theater. She  founded the Kenter Theater in Istanbul in 1968. He received the title of State Artist in 1981. He won the "Golden Orange" three times as a film actor. Kenter's reputation has crossed borders. Many countries found the artist worthy of the award. One of them was the award "One of the hundred most successful women of the century" by the Finnish Women's Organization.
7
Team 2.Canan Sipahi Martyr Lütfi, Gülşen Kindergarten, Turkey
Queen Elisabeth was born on December 29, 1843 in Germany. she is a German princess. She came to Romania in 1869 at the age of 26 to marry Prince Charles of Hohenzollern-Sigmaringen Romania was recognized as a kingdom in 1881 and Elizabeth became the first Queen of Romania.
During the war of 1877 Elizabeth established hospitals, ambulance and nursing services, and provided medicine for the wounded. Queen Elizabeth was strongly involved in supporting the arts and philanthropic society, where she encouraged women of high society to take an active role in raising funds and running charities. In the absence of a charity system, the Queen Elizabeth Society, founded in 1893, voluntarily treated approximately 17,000 patients a year, distributing free medicine and monitoring the plight of families in need He himself often wore the Romanian national costume, which until then was considered peasant clothing and gave it special social value, encouraging the ladies in his suite to do the same. The Queen established a national craft center in the royal castle in Sinaia.
It aims to encourage talented young people to study through a scholarship program.Her excellent language skills helped her publish various works in French, German and English under the pseudonym Carmen Sylva, with her work that made Romania known abroad
Queen Elizabeth died shortly before Romania declared war on Germany and was buried in the Curtea de Argeş Monastery.
9
Team 3. Ayfer Kılıç ,Türmak Primary School, Turkey
Queen Marie of Romania (Marie Alexandra Victoria; 29 October 1875 – 18 July 1938),
Born as a member of the British Royal Family, Marie became known as Princess Marie of Edinburgh from her birth. In 1892, she married Prince Ferdinand, the heir apparent of King Carol I of Romania. "Crown Princess" between 1893 and 1914 carried the title.
Marie became queen when Ferdinand ascended the throne in 1914. After the start of World War I, he encouraged his wife to ally with the Triple Entente and declare war on Germany. Ferdinand complied with these wishes in 1916. With the occupation of Bucharest by the Central Powers in the early part of the war, Marie, Ferdinand and their five children took refuge in Moldova.
Marie and her three daughters worked as nurses in military hospitals and helped soldiers affected by cholera.
After the war, on 1 December 1918, the historical region of Transylvania, following Bessarabia and Bukovina, united with the Old Kingdom. Marie, now queen of Greater Romania, attended the Paris Peace Conference of 1919, where she campaigned for international recognition of the enlarged Romania.
Marie's reign ended with Ferdinand's death on 20 July 1927. In 1937 she suffered from cirrhosis and died a year later on 18 July.
11
Team 3. Alina Ioana Mera, ,,Horea, Closca  and  Crisan" Secondary School, Turda, Romania
Sabiha Gökçen was a Turkish aviator and the world's first female fighter pilot.
Gökçen was one of the 8 adopted children of Mustafa Kemal Atatürk, the founder of the Republic of Turkey. It was Ataturk who gave him the surname Gökçen, meaning "belonging to the sky". In 1935, he took Gökçen to the opening ceremony of the Turkishbird Flying School, which inspired her to attend the Air Force Academy the following year.
She honed her skills flying bombers and fighter planes in the 1st Aircraft Regiment and in 1937 she took part in the military operation against the Dersim Rebellion, also known as the Dersim Massacre, making her the first female fighter pilot in the Turkish Air Force . A report of her actions describes "severe damage" caused by the 50kg bomb she dropped on a group of 50 fleeing "thugs". She received the Turkish Aeronautical Association's First Jeweled Medal for her performance in this operation.
In 1938, Gökçen made a five-day flight around the Balkans with great success and continued to fly until 1964. An airport in Istanbul is named after her.
13
Team 4. Ioana Coroian, The Little Prince Kindergarten, Cluj-Napoca, Romania
Safiye Ali was born in Istanbul on February 2, 1894.
She studied in Germany to specialize in gynecology and pediatrics. In June 1923, in Turkey, Safiye Ali obtained her license as the first female doctor. She opened her first practice in Cağaloğlu.
Safiye Ali was the first female lecturer to teach medicine to girls by giving gynecology and obstetrics lessons at the first girls' medical school.
When she began, she had difficulty obtaining patients. Wealthy women did not trust her work as a doctor because she was a woman. Poor women would seek her services, but they did not want to pay the full visit fee for a female physician. There was no support in the medical community, either.
Ali was harassed repeatedly by her male colleagues while performing her profession and tried to be silenced by the baseless accusations made against her, continued her struggle until the day that she realized a mass in her chest. After being diagnosed with cancer, she settled in Germany. She continued her services there, despite her illness during the years of World War II. She died at 58 years old, in Dortmund, Germany.
15
Team 4. Elvan YETKİN, Kabaklarli Primary School, TURKEY
Simona Halep (born 27 September 1991 in Constanta) is a Romanian professional tennis player. Halep, who turned professional in 2006, has topped the WTA world rankings twice, in 2017 and 2019. She finished the 2017 and 2018 seasons at number one. She also remained in the women's world number one seat for a total of 64 weeks. She thus became the 10th female tennis player to stay number one for the longest time in tennis history. The Romanian tennis player, who has never finished the season behind the fourth place since 2014, has the longest streak among female tennis players who are currently in the top 10 in this field. As of June 2021, Halep has 39 finals and 22 titles in WTA tournaments. Halep is a two-time Grand Slam champion so far in his career, winning the 2018 French Open and 2019 Wimbledon.
17
Team 5. Leman Kamer ERGENE, Capitol Secondary School, TURKEY
Nadia Elena Comăneci (born November 12, 1961) is a Romanian retired gymnast and a five-time Olympic gold medalist, all in individual events.
In 1976, at the age of 14, Comăneci was the first gymnast to be awarded a perfect score of 10.0 at the Olympic Games. At the same Games (1976 Summer Olympics in Montreal) she received six more perfect 10s for events en route to winning three gold medals. At the 1980 Summer Olympics in Moscow Comăneci won two more gold medals and achieved two more perfect 10s. During her career Comăneci won nine Olympic medals and four World Artistic Gymnastics Championship medals.
19
Team 5. Mitrescu Elena, Theoretical High School Filipeştii de Pădure, Romania
İdil Biret (born 21 November 1941) is a Turkish concert pianist. She was already interested in music at the age of 2. 
Biret began her lessons at the age of five. When she was seven, the Turkish parliament enacted a special law which enabled her to study abroad and so she studied at the Paris Conservatory in France under the tutelage of Nadia Boulanger. She graduated with three prizes at the age of 15. 
From the age of 16, Biret played as a soloist with the most distinguished orchestras in the world.
21
Team 6. Voicu Corina Valentina, Technological High School Aiud, Romania
Maria Callas was born in New York on December 2, 1923, in a family of Greek immigrants to the United States of America, Gheorghiou Kalogeropoulos and Evangelia Dimitriades. In 1929, the father changed his name to Georges Callas and opened a pharmacy in the Manhattan district of New York. As a child, at the age of five, Maria Callas was hit by a car and remained in a coma for 22 days. The accident has no consequences, Maria Callas develops normally and, having inclinations for music, begins to take piano lessons. In 1937, the parents separated and the mother returned with her daughter to Greece. The following year, Maria is admitted to the Athens Conservatory and continues to study piano with Maria Trivella. At the same time, she also took singing lessons and in 1939 performed the role of Santuzza in Pietro Mascagni's "Cavalleria Rusticana" in a performance for students, winning the First Prize of the Conservatory.
She is considered the greatest opera singer of the second half of the 20th century.
23
Team 6. Evangelia Lagopoulou, 33 Primary School Trikala, Greece
Viorica Agarici was a Romanian Red Cross nurse. During the Second World War her contribution to the protection of Jews during the Holocaust was important.
In summer 2005, her memory was honored through a ceremony hosted by local authorities and representatives of the Jewish community.
25
Team 7. Beata Kubińska, Primary School, Bodzanów, Poland
Florica Bagdasar (1901-1978). She was the first woman to become a minister in Romania (1946 to 1948). This happened in one of the most troubled periods in the country's history, at the end of  the Second World War. 
Was a Romanian neuropsychiatrist.
Florica Bagdasar dedicated herself to child neuropsychiatric and educational assistance. He contributed to the appearance of the first alphabet called "Book for all children" and developed a new arithmetic textbook, didactic materials aimed to attract children and make them learn with pleasure.
He was a doctor specializing in child neuropsychiatry, educated at Harvard, and had an important contribution to the eradication of malaria.
27
Team 7. Luminița Melania Dîngă, Ghelari Secondary School, Romania
Olga Tokarczuk was born on 29th January, 1962 in Poland. She is a Polish writer, activist and public intellectual. She is one of the most critically acclaimed and successful authors of her generation in Poland. She was awarded the 2018 Nobel Prize in Literature.
Tokarczuk has established a foundation with a planned wide range of activities related to literature to create progressive intellectual and artistic centre. 
She defends core European values – equality, non-discrimination, respect for minorities "which are being blatantly violated in Poland".
She received the German-Polish Bridge Prize for contribution in mutual understanding between European nations. 
She has an international reputation as one of the most important representatives of Polish literature in her generation.
29
Team 8. Daniela Vulpes, Kindergarten Sunflower Resita, Romania
Marie Curie was a Polish scientist settled in France, the only scientist to receive two Nobel Prizes in two different scientific fields (physics and chemistry).
He was born in Warsaw, on November 7, 1867, at a time when the country was under the rule of Tsarist Russia, in a family of teachers, who instilled in him a love for learning from an early age.
He introduced the term radioactivity into physics. She is known for her research in the field of radioactive elements, natural radioactivity and their applications in medicine.
Although full of resounding scientific successes, Marie Curie's life was also overshadowed by the humiliating effects of discrimination against women, which was still prevalent in that era. First of all, she was not allowed to pursue higher education in her homeland because she was a woman.
As a result of exposure to radiation and intense exertion, Maria's health deteriorates. Marie Curie died at the Sancellemoz sanatorium on July 4, 1934.
31
Team 8. Dagmara Gembalczyk, Primary School Poland
Ana Aslan was a famous Romanian scientist, who has founded the world's first Institute of Geriatrics. She discovered the first anti-aging remedy, called Gerovital, that has been used in more than 70 countries around the world.
In 1952, she developed the H3 vitamin, also known as Gerovital, a pharmaceutical product for the treatment of the aging process and some of diseases affecting elders. The same year she founded the world's first Institute of Geriatrics, which later became the National Geriatrics and Gerontology Institute. She also developed the Anti-Aging Cosmetics Lines.
33
Team 9. Ilona Nedzinskienė, Alytus Dzukija school, Lithuania
Ecaterina Teodoroiu born 15 January 1894 – 3 September 1917) was a Romanian woman who fought on the front and died in World War I, and is regarded as a heroine of Romania.
A Romanian Scouts member, she had initially worked as a nurse but she subsequently decided to become a front-line soldier, being deeply impressed by the patriotism of the wounded and the death of her brother Nicolae, a sergeant in the Romanian Army. It was an unusual decision for a woman of that era, so she was sent to the front rather reluctantly. However, with the support of the Romanian royal family, she was able to serve in the military and eventually came to be seen as a symbol.
35
Team 9. Vantu Ana Luminita,Trandafir Cocarla Caransebes Technological High School Ramania
Rūta Meilutytė was born on March 19, 1997, she is a Lithuanian swimmer. An Olympic gold medalist, she is the world record holder in the short course 50-meter breaststroke and 100-meter breaststroke. She is a former world record holder in the long course 50-meter breaststroke and 100-meter breaststroke.
At the age of 15, Meilutytė had already broken eleven Lithuanian women's swimming records. At the 2011 European Youth Summer Olympic Festival in Trabzon, she won the gold medal in the 100m breaststroke, a silver in the 50m freestyle and a bronze in the 100m freestyle. At the 2012 Summer Olympics in London, Meilutytė won the gold medal in the women's 100 metre breaststroke with a time of 1:05.47. At age 15, she was also the youngest Lithuanian athlete to win an Olympic gold medal.
 In 2013 Meilutytė broke her own European record by 0.01 of a second. Meilutytė competed at the 2013 World Aquatics Championships in Barcelona and achieved world records in the 50 and 100 metre breaststroke. At the age of 17 she became the first swimmer in history to win all available junior and senior international swimming championships at least once.
37
Team 10. Jolanta Zamoyska, Milenium Primary School, Poland
Superstar Angela Gheorghiu, the most glamorous and talented opera singer of our time. She was born in the small Romanian town in 1965. Gheorghiu is an example that outstanding artists are not only born into artistic families. Her father was a railwayman. Nevertheless, little Angela enjoyed singing from early childhood.
From an early age it was clear that she would become a singer. She attended the High School of Music in Bucharest and graduated from the National University of Music in Bucharest. She studied with the outstanding music teacher Mia Barbu. Ms Gheorghiu's magnificent voice and dazzling stage presence made her an exceptional international opera star.
Angela Gheorghiu's rise to international stardom began with her debut at London's Royal Opera House in 1992, when she sang Mimì in La bohème. In the same year she made her debut at the Metropolitan Opera in New York and at the Vienna State Opera. Since 1993, she has been singing at the Metropolitan Opera in New York. Her greatest success to date has been her performance in La Traviata by Giuseppe Verdi
39
Team 10. Oprea Elena, Secondary School Raciu, Romania
Tamara de Lempicka (b. 16 May 1898 in St. Petersburg as Tamara Gorska, according to other sources born in Warsaw as Maria Górska – d. 18 March 1980, Cuernavaca, Mexico), was a Polish painter of the Art Deco current. 
He was a star and he acted like one, making his life a continuous stage, taking advantage not only of his talent, but also of his beauty. At the age of 16, in 1914, he settled in Saint Petersburg, with a relative, where he also took his first painting lessons. Here she meets Tadeusz Lempicki, a young Russian lawyer, whom she marries in 1916.
The first contact with the public takes place in 1922, at the Autumn Salon, where he exhibits a portrait
The enthusiasm of the 1970s for the Art Deco artistic trend made Tamara de Lempicka a top representative of this trend.
41
Team 11. Codruța Adelina Jivulescu, Iulia Hașdeu Lugoj Theoretical High School, Romania
Margarita Salas was born in 1938 in the city of Canero and died on November 7, 2019.
He defines himself as a simple and hardworking person, loving modern painting and sculpture.
He got married in 1963. Together with her husband, she began the development of molecular biology in Spain. His studies focused on the bacterial virus Phi29 and allowed us to know how DNA works.
He chose to go to Madrid to study an elective course that includes physics, chemistry, mathematics, biology and geology.
He got married in 1963.
43
Team 11. Pilar Garrido. CEIP "Suárez Somonte", Mérida, Spain
Iulia Hasdeu (b. November 14, 1869 – d. September 29, 1888, Bucharest) was a gifted young Romanian intellectual, writer and poet including the French language, the daughter of the scholar Bogdan Petriceicu Hasdeu. He also showed himself in music (courses at the Bucharest Conservatory, he had a wonderful soprano voice, according to contemporary witnesses) and painting (private drawing and painting courses in Paris). She had a special talent for foreign languages and was interested in philosophy.
45
Team 12. Ayla Akhan, Karacaören Primary School, Türkiye
Maia Emilia Ninel Morgenstern (born 1 May 1962) is a Romanian film and stage actress, described by Florin Mitu of AMOS News as "a symbol of Romanian theater and film". In the English-speaking world, she is best known for portraying the Blessed Virgin Mary in Mel Gibson's The Passion of the Christ. In Romania, she has been nationally known since her 1992 role as Nela in Balanța, a film known in the United States as The Oak, set during the waning days of Communist Romania. She received a star on the Romanian Walk of Fame in Bucharest on 1 May 2011.
47
Team 12. Lavinia Borcilă Kindergarten Sunflower Resita, Romania
Afife Jale (1902 – July 24, 1941) was a Turkish stage actress, best known as the first Muslim theatre actress in Turkey. Afife was studying at the Girls Industry School in Istanbul; however, she wanted to be an actress. In the Ottoman Empire, Muslim Turkish women were not allowed to play on stage by a decree of the Ministry of the Interior. Only non-Muslim women of Greek, Armenian, or Jewish minorities were eligible for being cast.
Afife debuted on stage in 1920, acting as "Emel" in the theatre play "Yamalar" written by Hüseyin Suat.
In 1923, Mustafa Kemal, the founder of the newly proclaimed Republic, lifted the Ottoman-era ban on stage acting by Muslim women. This led to the end of Afife's fears. She joined the theatre again, and toured in Anatolia. However, her drug addiction caused the worsening of her health that ultimately led to her retirement from the theatre.
49
Team 13. Jalbă Doina Luiza, Secondary School "GE Palade" Buzău, Romania
Maria Tănase (September 1913 – 22 June 1963) was a Romanian singer and actress. Her music ranged from traditional Romanian music to romance, tango, chanson and operetta.
In her nearly three-decade-long career, she became widely regarded as Romania's national diva, being admired for her originality, voice, physical beauty and charisma.
On 20 February 1938 her voice was heard for the first time on the radio. Shortly after, she started to develop a local and international following. She represented Romania at the 1939 New York World's Fair. In 1944 Maria Tănase took time to sing in Edmond Audran's operetta "Mascota" (The Mascot), Maramureș (1956), Ciuleandra (1956). After World War II, she performed in Review Ensemble Theatre and "Constantin Tănase" Satirical and Musical Theatre. She had parts in the plays "The Living Corpse" by Leo Tolstoy in 1945, and "Horia" by Mihai Davidoglu in 1956.
In 1946 she held the main part in the musical comedy "The Hollywood Sphinx", by Ralph Benatzky. She sang in the movie "Romania" in 1947, and in 1958 she performed in both "Ciulinii Bărăganului" (The Thistles of the Bărăgan), and the short-reel film "Amintiri din București" (Memories from Bucharest). During these years Maria was also touring a lot, she had over forty trips only to New York City.
51
Team13. Borș Adi Luminița, "Ștefan cel Mare" High School Vaslui, Romania
Sofia Ionescu-Ogrezeanu (b. April 25, 1920, Fălticeni, Suceava, Romania – d. March 21, 2008, Bucharest, Romania) was the first female neurosurgeon in the world.
In the fall of 1939 he entered the Faculty of Human Medicine in Bucharest, which he finished in 1945.
For the special merits proven since her student years, Sofia Ionescu was rewarded with the Red Cross Medal of Distinction (1943).
She was a neurosurgeon for 47 years at Hospital Nr. 9, forming a team with Ionel Ionescu and Constantin Arseni, under the guidance of Dumitru Bagdasar. They formed the first neurological team of Romania, later called "The golden team", which helped develop neurosurgery in Romania
53
Team 14. Dushanka Josheva,  OOU Dimkata Angelov Gaberot, North Macedonia
Maria Rosetti (born Marie Grant, 1819 – February 25 [O.S. February 13] 1893) was a Guernsey born Wallachian and Romanian political activist, journalist, essayist, philanthropist and socialite.
She was also noted for her enduring friendships with the painter Constantin Daniel Rosenthal and with Pia Brătianu, the wife of National Liberal politician Ion Brătianu.
Maria Rosetti was subsequently involved in organizing charity events and public ceremonies: in 1866–1867, she raised funds to combat famine, and, in 1871, organized celebrations in the Moldavian locality of Putna. As a journalist, she contributed articles promoting women's liberation. In 1877, as Romania proclaimed her independence and joined the Russian Empire in the anti-Ottoman war, Maria Rosetti rallied funds to aid the wounded, establishing and managing the hospital in Turnu Măgurele.
55
Team 14. Grecu Cornelia Ana, National College C. D. Loga Caransebes, Romania
Mother Teresa, in full St. Teresa of Calcutta, also called St. Mother Teresa, original name Agnes Gonxha Bojaxhiu, (baptized August 27, 1910, Skopje, Macedonia, Ottoman Empire [now in Republic of North Macedonia]—died September 5, 1997, Calcutta ,India; canonized September 4, 2016; feast day September 5), founder of the Order of the Missionaries of Charity, a Roman Catholic congregation of women dedicated to the poor, particularly to the destitute of India. She was the recipient of numerous honours, including the 1979 Nobel Prize for Peace.
Mary Teresa Bojaxhiu, MC, better known as Mother Teresa, was an Albanian-Indian Catholic nun who, in 1950, founded the Missionaries of Charity. Anjezë Gonxhe Bojaxhiu was born in Skopje—at the time, part of the Ottoman Empire.
57
Team 15. Isabel Fernández, CEIP "Suárez Somonte", Mérida, Spain
Ana Blandiana is a poet, essayist and political figure. She is one of the literary figures of Romania, critic of the political apparatus and communist censorship of Nicolae Ceauescu.
She was born on March 25,1942. Her parents are Gheorghe and Otilia Coman and her sister is Greta Coman.
Her husband is Romulus Rusan. She studied at Babel Bolyai University.
Some of her books are: Poeme, A fi sau a privi, Patria mea.
In October 2017, she was announced as The Griffin Trust For Excellence In Poetry's twelfth recipient of their Lifetime Recognition Award.
Ana Blandiana said : "A poet does not look for beautiful words but expressive silences."
59
Team 15. Dobrin Paula, "Stefan cel Mare" Secondary School, Alexandria, Romania
Clara Campoamor Rodríguez (12 February 1888 – 30 April 1972) was a Spanish politician, lawyer and writer, considered by some the mother of the Spanish feminist movement. She was one of the main promoters for women's suffrage in Spain, included in the Spanish Constitution of 1931 in part owing to her advocacy.
She was elected to the Constituent Assembly in 1931, before women were allowed to vote themselves. She later lost her parliamentary seat and briefly served as a government minister, before fleeing the country during the Spanish Civil War. Campoamor died in exile in Switzerland, and was later buried at the Polloe Cemetery in San Sebastian, Spain.
61
Team 16. Cristina Turițoiu- High School Filipeștii de Pădure, Romania
Wisława Szymborska (2 July 1923 – 1 February 2012) was a Polish poet, essayist, translator, and recipient of the 1996 Nobel Prize in Literature. Born in Prowent (now part of Kórnik), she resided in Kraków until the end of her life.
In Poland, Szymborska's books have reached sales rivaling prominent prose authors', though she wrote in a poem, "Some Like Poetry" ("Niektórzy lubią poezję"), that "perhaps" two in a thousand people like poetry.
Szymborska was awarded the 1996 Nobel Prize in Literature "for poetry that with ironic precision allows the historical and biological context to come to light in fragments of human reality". She became better known internationally as a result. Her work has been translated into English and many European languages, as well as into Arabic, Hebrew, Japanese, Persian and Chinese.
63
Team 16. Annika Niburska, Primary school in Różyca, Poland
Otilia Cazimir ( February 12, 1894 – June 8, 1967) was a Romanian poet, prose writer, translator and publicist, nicknamed the "poetess of gentle souls", known as a children's poems author.
In 1912, she made her debut with poems in Viața Românească, to which she remained a loyal contributor. Other magazines that published her work include Însemnări ieșene, Adevărul literar și artistic, Lumea, Bilete de Papagal, Iașul nou, Iașul literar, Orizont, Gazeta literară and Cronica. Her first book was the 1923 poetry volume Lumini și umbre, followed by Fluturi de noapte (1926) and Cântec de comoară.
65
Team 17. Murgilă Rita, David Voniga Giroc Theoretical High School, Romania
Türkan Saylan (13 December 1935 – 18 May 2009) was a Turkish doctor of dermatology, academic, writer, teacher and social activist. She was famous for her fight against leprosy and for setting up a charitable foundation called the "Association for the Support of Contemporary Life". She was born on December 13, 1935. She was the first born to Fasih Galip, one of Turkey's first Republican-era construction contractors, and Swiss Lili Mina Raiman.
She went to Kandilli Elementary School from 1944 to 1946. From 1946 to 1953, she attended Kandilli Girls High School. She graduated from Istanbul Medical Faculty in 1963. Later, she worked as a doctor in the department of dermatological and venereal diseases in SSK Nisantasi Hospital.
67
Team 17. Havva Bilgin, Capitol Secondary School, Turkey
Maria Rosseti (born Marie Grant; 1819 – February 25 [O.S. February 13] 1893) was a Guernsey born Wallachian and Romanian political activist, journalist, essayist, philanthropist and socialite. The sister of British diplomat Effingham Grant and wife of radical leader C. A. Rosetti, she played an active part in the Wallachian Revolution of 1848. She was also noted for her enduring friendships with the painter Constantin Daniel Rosenthal and with Pia Brătianu, the wife of National Liberal politician Ion Brătianu.
69
Team 18. Lijana Ivoskiene, Raseiniai Saltinis progymnasium, Lithuania
Rania Al-Abdullah (August 31, 1970 -) wife of King Abdullah II bin Al-Hussein, King of the Hashemite Kingdom of Jordan. She is the queen of the Hashemite Kingdom of Jordan and one of the first ladies in the Arab world who cares most about children's and women's rights
After becoming the first lady in Jordan, she carried out activities related to interest in national affairs such as the environment, health, youth, and other affairs. As a global figure, and one of the 100 most powerful women in the world, she focused her energies and efforts in Jordan and abroad on a range of issues, the most important of which is education.
Queen Rania worked on and chaired the creation of the first interactive museum for children in Jordan: The project aims to create an educational environment for interactive experiences that have the ability to encourage and enhance lifelong learning for children and their families. Jordan at the opening of the museum on May 23, 2007. The museum includes more than 150 interactive and lively exhibits for children up to the age of 14, who represent about 40% of Jordan's population.
71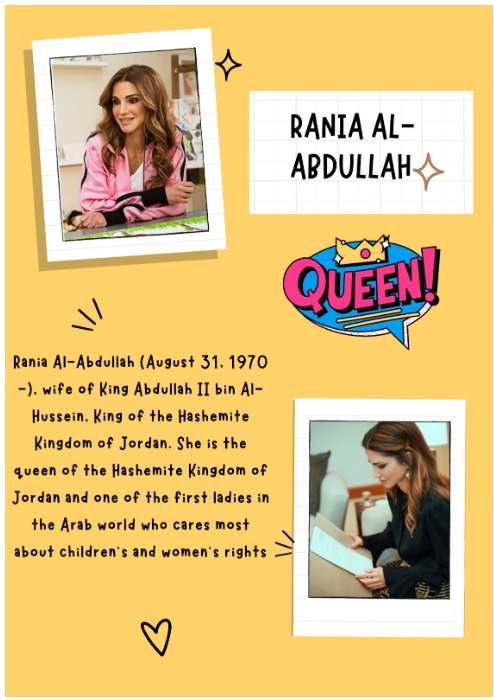 Team 18. Walaa Bakkar, um Salma Basic School for Girls from Jordan
Birutė Galdikas (born 10 May 1946)  is a Lithuanian-Canadian anthropologist, primatologist, conservationist, ethologist, and author. She is a professor at Simon Fraser University. In the field of primatology, Galdikas is recognized as a leading authority on orangutans. Prior to her field study of orangutans, scientists knew little about the species.
73
Published: Jan 13, 2023
Latest Revision: Jan 13, 2023
Ourboox Unique Identifier: OB-1405633
Copyright © 2023


Skip to content