I am dedicating the Polish version of "The King Who Was Not Tall Enough" to my dear friend and fellow TED lover Richard Lucas.
I got the idea for the story from a university professor who, in order to rule, ended up cutting others down to his mediocre size.
2
Richard Lucas, a highly successful entrepreneur and speaker, is anything but mediocre, and, being the tallest of us all, does not share the same angst as the king in our story. I'm delighted to be dedicating the Polish version of the book in his honour! I will add that the book is illustrated by Danny (Dani) Kerman, a famous Israeli illustrator.
3
Kiedy książę Median był młody, marzył by być o wiele wyższy niż wszystkie inne dzieci w królestwie. Ale nie był. Nie był ani niski, ani wysoki.
"Kiedy będę królem, będę najwyższy w całym moim królestwie", powiedział sobie.
4
Pewnego dnia,  został królem. Dorósł i nie był już niski. Ale wysoki też nie był.
6
Król wezwał królewskiego jubilera.
"Zrób mi większą koronę", rozkazał Król Median.
Ale nawet z większą koroną, byli jeszcze ludzie wyżsi od króla.
To go bardzo zasmuciło.
"Przyprowadź mi królewskiego szewca", powiedział swemu wasalowi.
8
"Szewcu, uszyj mi najwyższe buty w królestwie", powiedział król, i tak też szewc zrobił. Ale nawet kiedy Król Median miał na sobie swoją nową koronę i nowe buty, i tak byli ludzie wyżsi od niego w królestwie.
10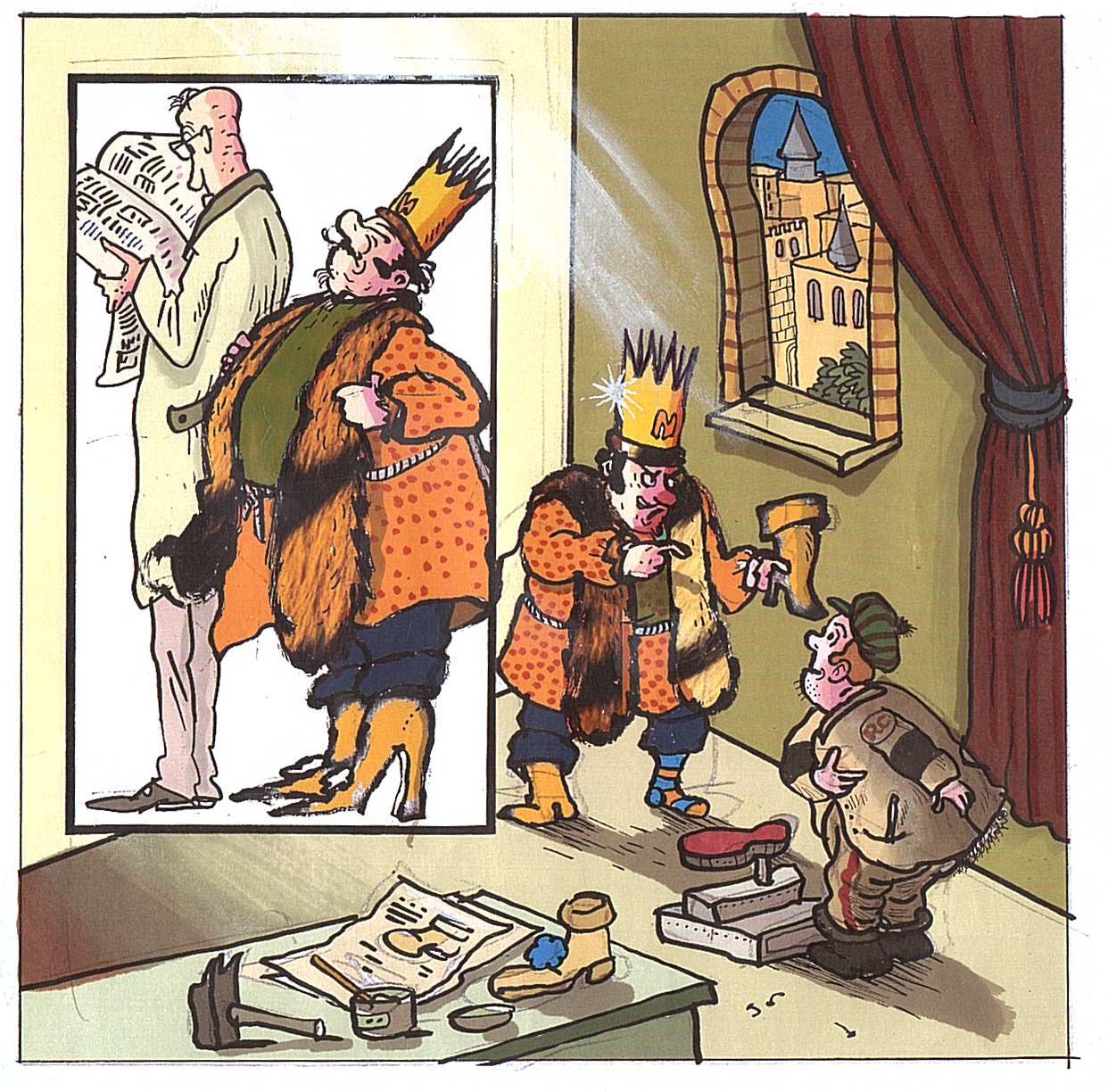 "Zbuduj mi wyższy tron", rozkazał królewskiemu stolarzowi.
Stolarz zbudował mu bardzo wysoki tron.
Ale było jeszcze w królestwie kilka osób wyższych od króla.
12
"Rozkaż wszystkim wysokim ludziom w moim królestwie, by się pochylili i nigdy więcej nie stawali prosto" krzyknął.
I tak było.
Teraz, król był rzeczywiście bardzo wysoki.
Ale pewnego dnia ujrzał motyla, który przeleciał nad jego głową.
14
"Złapcie motyla", krzyczał do swych podwładnych. "Nic nie może być wyżej niż król".
Asystenci królewscy gonili motyla, lecz ten odleciał wysoko w powietrze.
16
Król był bardzo zły. "Musze być wyższy od każdej żywej istoty", powiedział.
Zawołał królewskich inżynierów.
"Wybudujcie mi wieżę", powiedział im.
18
Inżynierowie zbudowali wieżę dla króla. Teraz był on bardzo wysoki, był wyżej niż wszyscy ludzie w jego królestwie.
Przez chwilę był szczęśliwy.
Dopóki ptak nie przeleciał mu nad głową.
"Podnieście mnie wyżej", powiedział inżynierom.
20
"Wyżej", powiedział król. "Wyżej". A inżynierowie podwyższyli wieżę.
I jeszcze bardziej ją podwyższyli.
22
Do tego czasu, królewska wieża była tak wysoka, że jego głowa znalazła się aż w chmurach.
Nic nie widział. "Skąd mam wiedzieć, czy jestem najwyższy?" zastanawiał się.
24
"Wyżej, wyżej", krzyczał do inżynierów poniżej.
Król był teraz tak daleko ponad chmurami, że mógł zobaczyć całe królestwo. Był wyższy niż każda góra, wyżej niż jakikolwiek ptak czy motyl.
Król Median był w końcu zadowolony. "Jestem najwyższy w królestwie", powiedział do siebie.
26
Król Median krzyknął do swoich inżynierów. "Możecie mi pomóc zejść na dół".
"Pomóc w czym?" odkrzyknęli inżynierowie. "Ledwie Waszą Wysokość słyszymy".
"Zabierzcie mnie z wieży, idioci", krzyknął król.
"Co?" powiedzieli królewscy inżynierowie. "Podnieść jeszcze wyżej?"
Tak więc inżynierowie jeszcze bardziej podwyższyli wieżę, aż wcale nie mogli usłyszeć króla.
28
I nie mogą po dziś dzień.
30
That was the original ending. Knowing that some people prefer a "Hollywood ending", I've prepared one too. But you have to read it in English (at least till someone translates it to Polish….)
31
Day followed night atop the lonely tower. King Median was hungry and thirsty. He took off his royal clothes and fashioned a parachute.
Everyone watched as King Median floated down ever so slowly from the sky. He was wearing little at all. King Median ran straight to the castle.
And never dreamed of being tallest again.  
32
Published: Mar 29, 2015
Latest Revision: Aug 9, 2021
Ourboox Unique Identifier: OB-40930
Copyright © 2015


Skip to content