In Maiandros
When the  night falls
The music rises
The Bouzouki with the Rembetiko tunes
Whispering like a sea
Song after song they capture your heart.
A glass of wine, Greek salad with red sweet tomatoes
And black juicy kalamata olives
With great grilled fish.
Yasu to the music and to the love of life.
2
It's April 2013
My first trip to Athens, since I was a kid.
I am so excited!
I came here with my friend, Carmela, and brought many
recommendations for good places to hear music.
But we founded out that every place of those was closed.
They told me in the hotel, that it's off season now,
and it's also not a weekend.
But I am in Athens and there is no way I won't find here music.
4
Around six o'clock we took a walk along Ermu,
Admiring this colorful street
We pass the Church of the Pantanassa
Till reaching the big square,
near the flea market.
6
We continued to go up, so we could have a better view
on the Acropolis.
It is so enchanting at twilight time,
And we are in beautiful Monastiraki.
8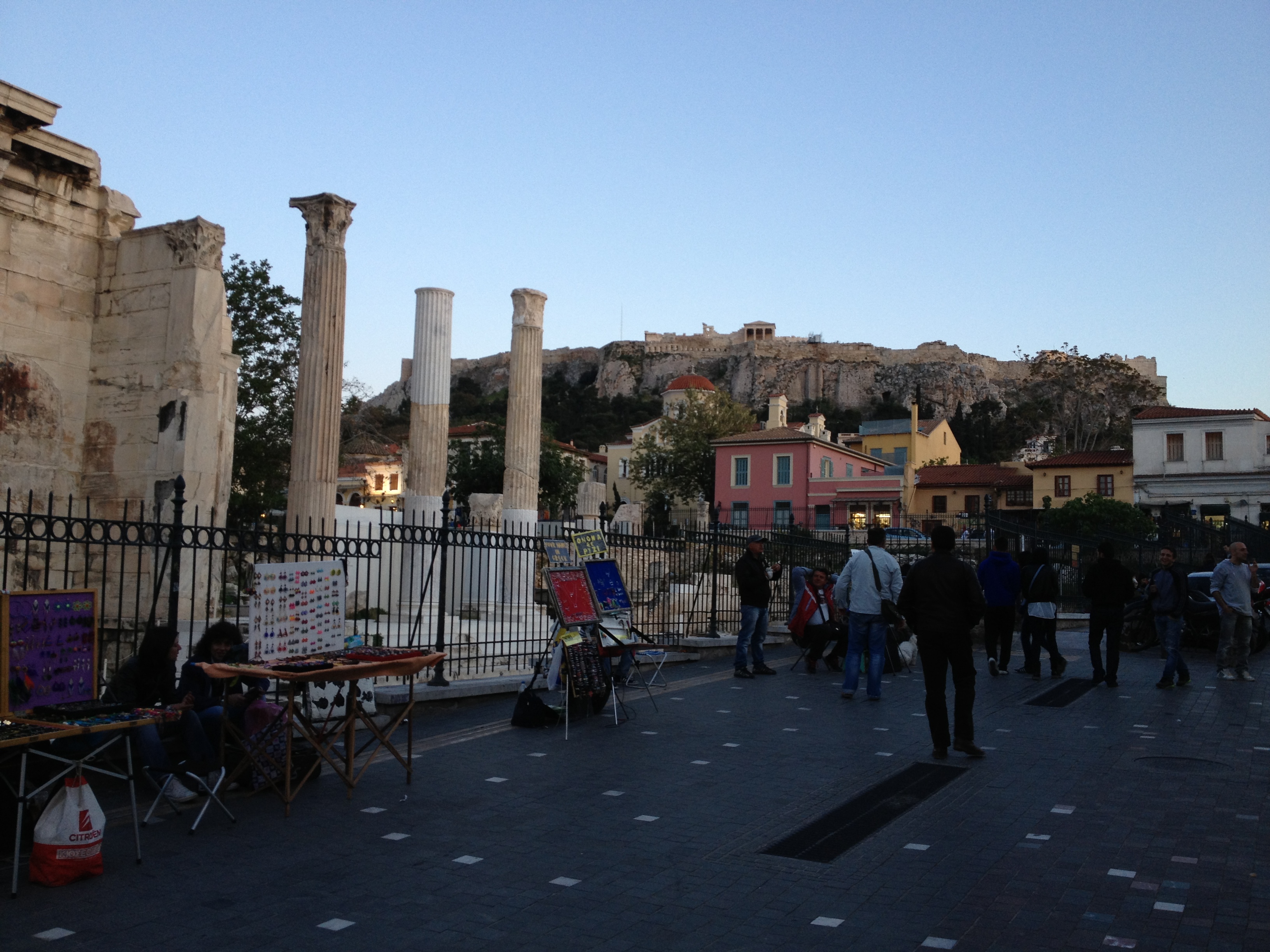 All of a sudden I heard live music- tunes of bouzouki
From the next stree .
A happy smile on my face, we followed the tunes
Until we reached the Adrianou 47 monastiraki.
A cozy, space, with few musicians and singers.
Warm smiles welcome us.
10
We sit and order Greek salad, moussaka and wine.
Enjoying the good food with a nice view to the street.
12
The music- how much I love it here.
There is something so relaxing, in those Rempetika  songs,
And yet, without understanding the words this music captures your heart,
And opens all sort of feelings.
14
A beautiful blond young woman joins the musicians and start to sing.
"Ola Se Thimizoun "…
I came closer and closer to her. The soft melody,
The words, her face… She is so into it.
This is Eirinoula, the daughter of the owner Thomas.
She has a smile of an angel. And in our four nights, during that trip,
In Athens we came here every night to listen to the classic Greek music, And to beautiful Eirinoula, singing special for me,
Every time " Ola Se Thimizoun",  Haris Alexiou' famous song.
16
I could cry, and I don't care what people say.
If you can't cry from a song or two, it means
You don't give it enough space in your heart.
And my… my heart has all the space for touching songs,
And when it comes to Greek songs, I just can't help it,
And I don't want to.
This music for me is like wine, the more I hear
The more it's capturing and melting me.
18
But I am not the only one.
Greek people are very emotional,
And when it comes to their songs, they know all the words,
They listen all evening and sing them.
The tourists can talk while the music is playing,
But not the Greeks.
They have great respect and love for their music.
20
We got our coffee. Thomas  treating us with traditional Greek dessert.
We got to know all the others of  Eirinoula' wonderful  family,
Spyros -her husband , Stella- her mom , Bill- her brother.
The atmosphere is great, the musicians Dimitris and Tasos go on
With their classic beloved Greek music, many times
The local people join them.
Thomas, himself, is playing too sometimes, and you can tell
How much he loves the music.
The service is excellent , Nikos, Marios and Andreas are always
With a smile on their face, and they are ready to serve you with care.
Every night they kept for us our table, and we stay there till the end .
22
You can tell they want to make us happy here,
Not only with food, but also with our soul.
So they started to play songs that we know,
The beautiful ones that come from Greece,
And  they are well known in our country.
And all of a sudden they are playing for us "Hava Nagila",
And we simply get up and start to dance like we do at home.
24
My friends ask me often how come I keep going to the same places
All the time.
I answer that when you love someone, or something very much
All you want is to be with him or to be there.
So every time I am in Athens , and this is my fourth time ,
I am going to Maiandros.
I get a very warm welcome from the family and stuff.
And that is what friendship about.
26
 The streets around are full of lights.
28
And people can sit there, eat and watch,
And enjoy themselves.
30
The stores nearby are so colorful.
32
And the red Choo Choo Train  that passes by is so pretty.
34
I love having coffee with my sweet friend Eirinoula,
And if I am lucky, with in two months,
I ll hear her again, singing for me "Ola Se Thimizoun".
36
Few years have been past since I herd the first time
"Ola Se Thimizoun" – Every thing reminds me of you.
And since I started to learn Greek more then a year ago,
By now I know and I understand all the words of that song.
I understood also that there is only one way to sing it
And it's with all your heart, (με όλη την καρδιά σου )
You must feel the words  even if they hurt you,
Or bring tears to your eyes, or to those who listen to You singing.
This is "Ola Se Thimizoun"                                                                      
And  this is how Eirinoula sings it.
38
Part of Ola se thimizoun/ Haris Alexiou -English Lyrics 
"Everything reminds me of you
Simple, beloved,
everyday things of yours
seem to be waiting along with me
for you to come; even if it never dawns again
All our love fills the room
just like the song we used to sing together…"
 And in Greek
"Όλα σε θυμίζουν,
απλά κι αγαπημένα,
πράγματα δικά σου, καθημερινά
σαν να περιμένουν κι αυτά μαζί μ' εμένα
νά 'ρθεις κι ας χαράξει για στερνή φορά…"
39
And one more thing, if you are there, go upstairs,
To the second floor , have a glass of wine during twilling time,
And  watch the sunset on the beautiful Acropolis, while the music plays.   
40
in "Maiandros" 
Thank you so much  my friends in Maiandros
thanks
to all of you
for a great time
for the beautiful music  that comes from the heart
for making us feel so welcome
for great service
for tasty food
for wonderful nights.
Σας  ευχαριστώ  αγαπητοί  φίλοι μου.
Τα λέμε σύντομα.
Maiandros  Adrianou 47 monastiraki
42
Published: Feb 7, 2015
Latest Revision: Nov 21, 2017
Ourboox Unique Identifier: OB-30669
Copyright © 2015

Skip to content