Introduction
Marilyn Monroe was an American actress, model, and singer.
She became one of the world's biggest and most enduring sex symbols.
starred in a number of commercially successful motion pictures during the 1950s.
Known for her relationships with Arthur Miller, Joe DiMaggio, and possibly, President John F.Kennedy.
2
Early life
Marilyn Monroe, original name Norma Jeane Mortenson, later called Norma Jeane Baker, born on June 1, 1926, in Los Angeles, California, U.S., and died on August 5, 1962, in Los Angeles.
Monroe dealt with a very difficult childhood.
Her mother had a hard time raising her and so she spent much of her time in foster care and in an orphanage. In 1942, When she was only 16 years old, she married a fellow worker in an aircraft factory, but they divorced soon after World War II.
4
Carrer
Monroe dreamt of becoming an actress.
While her husband was away at war, she was first discovered by a photographer. She started working with The Blue Book Modeling Agency. She became a very successful model and in 1946 signed a short-term contract with Twentieth Century-Fox, taking as her screen name Marilyn Monroe.
Her acting career didn't really take off until a few years later.
Marilyn Monroe played important role in the 1950 movie, The Asphalt Jungle. She continued playing minor roles over the next two years. Then, she signed a new contract with Fox in late 1950.
6
Over the next two years, she became a popular actress with roles in several comedies, including As Young as You Feel and Monkey Business, and in the dramas Clash by Night and Don't Bother to Knock. By 1953, Monroe was one of the most marketable Hollywood stars; she had leading roles in the film noir Niagara, which focused on her sex appeal, and the comedies Gentlemen Prefer Blondes and How to Marry a Millionaire.
In their first runs, Monroe's 23 movies grossed a total of more than $200 million, and her fame surpassed that of any other entertainer of her time.
8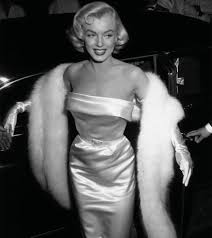 Music Career
Even in Marilyn's early movies she often found opportunities to sing. She continued to sing in a surprising number of movies through the years, and those performances demonstrated a voice that varied widely but had real talent behind it.
Here are some examples:
"I Wanna Be Loved by You", Some Like It Hot

"My Heart Belongs to Daddy", Let's Make Love


"Lazy", There's No Business Like Show Business
and many others…
Marlin also entertained troops in Korea.
In a quote from Collier's Magazine in 1954, she said: "I won't be satisfied until people want to hear me sing without looking at me. Of course, that doesn't mean I want them to stop looking."
10
Marilyn Monroe's early life and career:
11
Death
Monroe died at her Los Angeles home on August 5, 1962, at only 36 years old. An empty bottle of sleeping pills was found by her bed.
There has been some speculation over the years that she may have been murdered, but the cause of her death was officially ruled as a drug overdose.
Long after her death, she has continued to be a major icon of pop culture.
12
Legacy
Monroe has been imitated over the years by a number of celebrities, including Madonna, Lady Gaga, and Gwen Stefani.
In 2011, several rare photos of Monroe were published in a book of photographs by famed photographer Sam Shaw.
In 2017, another book of little-seen treasures made it to shelves in The Essential Marilyn Monroe, with Joshua Greene retouching old photos taken by his dad, Milton Greene, in the 1950s.
Furthermore, Marilyn Monroe has a wax figure in Madame Tussauds museums.
14
Summary
In this e-book, I opened with some facts about Marilyn Monroe.
Then, I wrote about her early life and the difficult childhood she had. Next, I described the evolution of her career- began as a model and then also became an actress as she always dreamed of. In addition, I referred to some of her singing rolls she had in movies and T.V shows. In the end, I told how she died and what legacy she left behind her.
Her stage presence, beauty, renowned lovers, and mysterious death made her a sex symbol and a famous pop icon of popular culture.
In my opinion, The way Marilyn Monroe did not give up on her dream despite the hard life she went through and even with all the prejudice at the time is admirable.
16
"I Wanna Be Loved by You", Some Like It Hot
18
"Running Wild", Some Like It Hot
19
"My Heart Belongs to Daddy", Let's Make Love
20
"Lazy", There's No Business Like Show Business
21
"Heat Wave", There's No Business Like Show Business
22
"Down in the Meadow", River of No Return
23
Marilyn Entertaining Troops in Korea.
Marilyn Singing Diamonds Are A Girls Best Friend, Bye Bye Baby, and Do It Again. Marilyn said it was the highlight of her life to sing for the soldiers in Korea.
24
Marilyn Monroe Diamonds are a girl's best friend
25
Two Little Girls from Little Rock Marilyn Monroe & Jane Russel
26
Marilyn Monroe In "Niagara" – "Kiss"
27
Bibliography 
https://www.britannica.com/biography/Marilyn-Monroe
https://www.biography.com/actor/marilyn-monroe
https://geezermusicclub.com/2011/08/10/marilyn-monroe-the-singer/
https://peoplepill.com/people/marilyn-monroe/
28
Published: Oct 25, 2020
Latest Revision: Oct 25, 2020
Ourboox Unique Identifier: OB-923423
Copyright © 2020


Skip to content