This e-book was created with the cooperation of the project teams.
The book includes pi day activities and origami activities of the project teams.
Ingredients
Berna Tunca Project Team…………………….3
Sanem Pak Project Team ……………………7
Volkan Sözmen Project Team…………………….11
Berna Baz Koç Project Team…………………….15
Kader Özgül Project Team…………………….19
Ivana-Marija Pavković Project Team…………………….23
Nigal Aydoğan Project Team…………………….27
Büşra Karakoyun Makhabbat Project Team…………………..31
Zuzana Királyová Project Team…………………….35
Serra Tursun Project Team…………………….39
Bayram Eser Project Team…………………….43
Andreea Cosmiceanu Project Team…………………..47
3
Berna Tunca Eygül
Kırklareli, Turkey,
Pehlivanköy Atatürk Secondary School
As part of the world pi day on March 14, we organized fun activities in our school. We painted parts of the Pi day banner and created a giant poster. We developed our intelligence and had a lot of fun while trying to solve the resfebes. We ate our cookies in the form of the number pi. We designed bookmarks. We painted mandalas. We exhibited all these on our school board. Finally, we designed word clouds using the word art web2.0 tool.
We did origami studies, which is the other activity of our project.
4
Sanem Pak
Söke,Aydın, Turkey,
Batı Söke Çimento Secondary School
Hello , we wanted to flash on in our school to importance of pi day in 14 march pi day.We prepared special resfebes for Pi day . We designed mandala and painted it. We designed colorful pi "π" figures . We exhibit all of our activities. While we were doing these events we enjoyed and also we have learned lots of things. We sang pi song all together. Finally we created word clouds from web2.0 . An other activitie was origami for improve our dexterity and our imagination.
8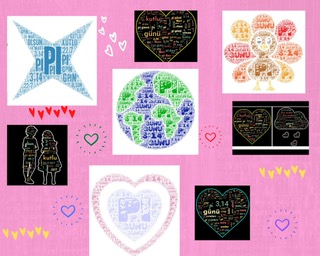 Volkan Sözmen
Ünye,Ordu,Turkey
İnkur Secondary School
Hi, We celebrated Pi day with activities on 14 March to ensure that the Pi number is learned. We did resfebe studies about the number of pi and organized a class board about the number of pi. We created word clouds using web 2.0 tools. We organized origami activities to develop children's creativity and imagination.
12
Berna Baz Koç
Acıpayam,Denizli,Turkey
Atatürk Secondary School
Hi, we held the world pi day on March 14 with the support and help of our technology and design, religious culture and ethics, English and mathematics teachers with a wide participation.
With our 5th grade students, we prepared plates by painting the pi mandala and the number pi. With our 6th grade students, we drew circles in the garden, measured the circumference and diameter of the circle with our feet and played the game of finding the closest number to the number of pi. With our 7th grade students, we painted pi resfebe and the first 140 digits of the number pi and hung them along the stairs. We drew a large pi number in the garden with our 8th grade students and took a photo.
With these activities, our teachers and students learned about the importance of pi day in the world of mathematics. Our students in charge of the project created a word cloud using wordart, one of the web-2 tools. They reinforced this importance.
We watched origami videos with my students. We decided to make three-dimensional math shapes. By helping and supporting each other, we completed our shapes. My experienced students improved themselves by making different figures.
We exhibited the origami we made in our e-Twinning board. Other students, who saw the work we did, became curious and interested, and they also made origami. The origami section of our board continues to grow and become colorful.
16
Kader Özgül
Haliliye,Şanlıurfa,Turkey
Süreyya Demirkol Secondary School
Hello to everyone. First of all, we prepared a school board about Pi day. We painted with my students and also learned the number of Pi. Then, using this information we learned, we created word clouds using the Wordart web2.0 tool. So we used the information we learned. Then we did origami work. The work he would do depended entirely on the wishes of my students. Thus, we developed our fine motor skills. Making shapes with just the art of paper folding without using glue was a very interesting experience for my students.
20
Ivana-Marija Pavković
Imotski, Croatia
Osnovna škola ,,Josip Vergilij Perić" Imotski
Helloeveryone,wemarkedthedayofthenumberpiandtheworlddayofmathematics, whichiscelebratedeveryyear on March 14, withvariousactivities. Thestudentsworked on thepihorizon, theydrewandpainted a bar chart at theheightofthedigitinthedecimalsequenceofthenumberpi. Studentsdraw a pihorizonofup to 30 digits.Studentsresearched on the Internet aboutthenumberpi, found a lotofinterestingfactsthattheylaterincorporatedintotheirownwordcloudusingWordArt web2.0 tool.Wealsosang a song aboutthenumberpi. We had a great time andlearned a lot.
24
Nigal AYDOĞAN
Konya, TURKEY
Ahırlı Şehit Samet Bütün Secondary School
As part of the project, we celebrated the world pi day. Our students brought pi cakes. We decorated our boards with pi together with the students. District Governor, District Director of National Education attended the celebration. We introduced our project.
After the pi day, we created our word clouds with our students using the Wordart web2.0 tool about the number of pi.
In addition, we realized our origami product creation activity, which we have been working on for a long time with our students. In this way, we both had fun and developed our three-dimensional perspective.
28
Büşra Karakoyun Makhabbat 
Körfez,İzmit, TURKEY
İlimtepe Secondary School
Hello everyone, we held many activities on March 14, World Pi Day. Our students searched the internet about the pi day and took the print out and painted them. As a result, we created a board about pi day in our school. In addition, our students made a word cloud about pi day with the wordwall web 2.0 tool. And we did origami exercises to improve their visual intelligence. In this process, we had a lot of fun with our students and discovered a lot of new information.
32
Zuzana Királyová
Košice, Slovakya
Základná škola, Postupimská 37, Košice
Hi, we held our Pi Day on the 14th of March and almost all pupils took part on the celebration. The 5th – 9th graders competed in memorizing the decimal numbers of Pi . The winner managed to say  100 decimal places by heart! On  Technology lessons we created the word clouds. Arts was devoted to painting the paper plates, on Maths we did the origami work. On P.E. our children had a special training with hula hoop circles. They enjoyed the concept of pi and circle in real space and movement. The most impressing and amazing activity was the wordsearch competition. The winning team  found as many as 420 Slovak words that contained the P and I letters.
As a result, we published all our activities, photos, products and achievements on the e-twinning notice board at school.
36
Serra TURSUN
Kdz. Ereğli , Zonguldak
Ormanlı Secondary School
My studentsexcitedlypreparedactivitiesfor World Pi Day. Theycreated a board andinformedtheirfriends at schoolaboutthe pi day. Theypreparedfunsamples of resfebe. Theycreatedwordcloudsusing Web 2.0tools.
Theycontinuedtolearn in ourprojectwithorigamiactivities.
40
Bayram Eser
Salihli, Manisa, TURKEY
Misak-i Milli Secondary School
We celebrated Pi day as Misak-i Milli Secondary School in our school under the leadership of Math With Games Etwining project group in a fun way.
Every year, on the 14th day of March, the symbol known as "Pi" in mathematics is celebrated by mathematicians, scientists and everyone around us who are lovers of mathematics. The first "pi" celebration in history was held in 1988. The symbol "Pi" is the first letter of the Greek word for environment.
The number written as 3.14 is actually the first 3 numbers of the never ending pi number (3.1415926535…).
44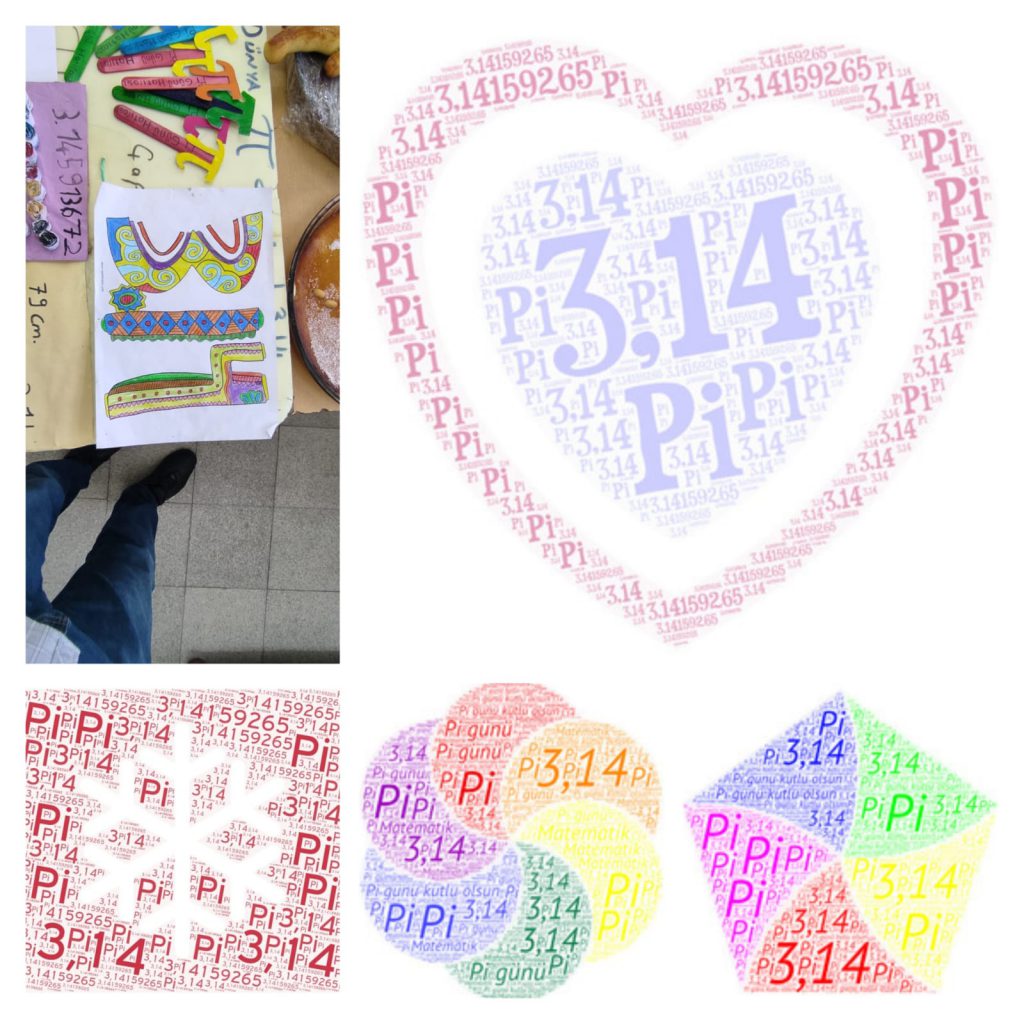 Published: Apr 24, 2022
Latest Revision: Apr 24, 2022
Ourboox Unique Identifier: OB-1318136
Copyright © 2022


Skip to content