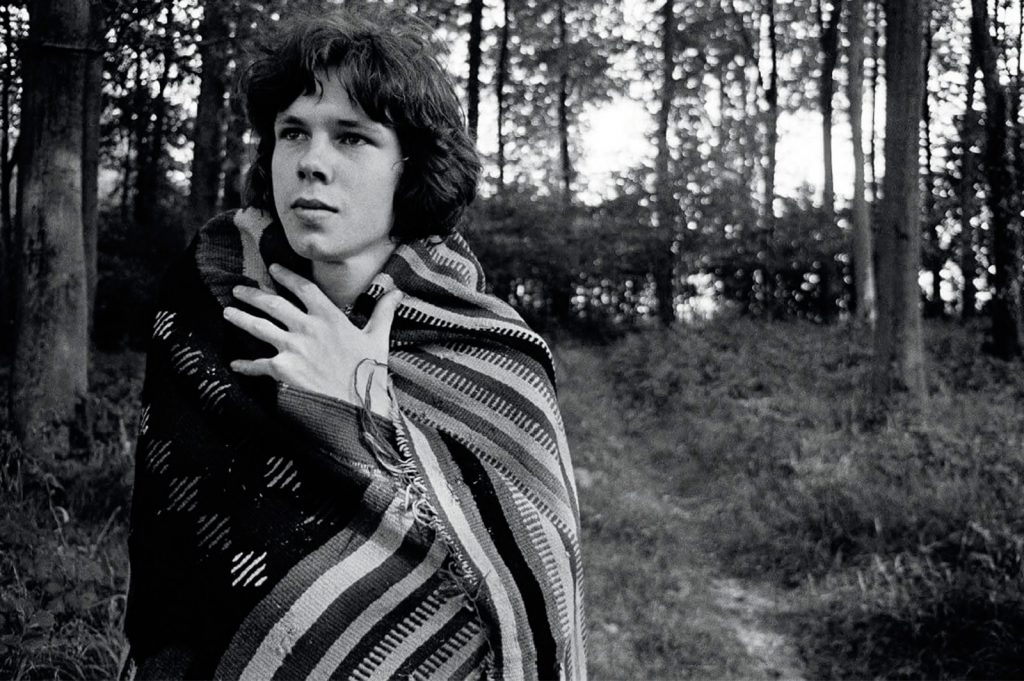 Sometimes, it takes time for great artists to get critically acclaimed.
Sometimes, it takes some time for an artist's music to get into people's hearts.
And sometimes, it just takes more time than the artist actually have. That was the case for Nick Drake.
2
Although his music did not find a wide audience during his lifetime, he gradually achieved wider recognition and is now considered among the most influential English singer-songwriters of the last 50 years.
In later years, Drake had come to represent the "doomed romantic" musician in the UK music press, and was being cited by artists including Kate Bush, Paul Weller and the Black Crowes, Peter Buck of R.E.M., and Robert Smith of the Cure.
According to Acclaimed Music, he is the 101st most acclaimed recording artist of all time. Rolling Stone included all three of his albums on its 2003 list of the 500 Greatest Albums of All Time.
So what makes an artist popular when he's gone?
3
Nick Drake was born on June's 19th, 1948 and grew up in Warwickshire, a county in the West Midlands region of England.
His father was a successful engineer, and (of course) both his parents wrote music.
His mother encouraged him to learn playing the piano at a young age – when he also began composing songs.
As a young guy, he played piano in the school orchestra, and learned clarinet and saxophone, and even formed a short-lived band with four schoolmates.
…
Quickly, his attention to studies deteriorated in favour of music.
4
in 1966 Drake got a scholarship to college in cambridge, and delayed the attendance to keep on practicing guitar in France – earning money busking in town.
A year later he got back to England to attend college and English Literature. During his time there, he was described as bright but unenthusiastic, preferring to stay in his college room smoking cannabis and playing music instead of socializing. By this time, he had discovered the British and American folk music scenes, and was influenced by performers such as Bob Dylan, Donovan, Van Morrison, Josh White and Phil Ochs.
5
In 1968, Drake was introduced to American producer Joe Boyd (Pink Floyd, anyone?) of Island Records, with whom he formed an immediate bond. Boyd offered Drake a management, publishing, and production contract.
Naturally, Drake has decided not to complete his third year at Cambridge and was excited by the contract. In late 1968, with Boyd as producer, Drake recorded his debut album.
6
His music was sophisticated, which made it hard for people to get hooked by it. Here, you can listen to Boyd describing the recording process of 'Five Leaves Left'. If you have professional music knowledge, listen closely to him describing 'River Man', a song in 5/4 where "the singing work against the rhythm".
7
"River Man" is noted for its 5/4 time, harmonic changes and use of prosody. Listen for yourself. Do you recognize the Bossa Nova influence in this song?
8
Post-production difficulties delayed the release by several months, and the album was poorly marketed and supported. "Melody Maker" magazine described 'Five Leaves Left' as "poetic" and "interesting", though NME wrote that there was "not nearly enough variety to make it entertaining". Drake was unhappy with the inlay sleeve, which printed songs in the wrong running order and reproduced verses omitted from the recorded versions.
9
In autumn 1969 Drake moved to London. His father remembered "writing him long letters, pointing out the disadvantages of going away from Cambridge … a degree was a safety net, if you manage to get a degree, at least you have something to fall back on; his reply to that was that a safety net was the one thing he did not want."
Boyd organised and paid for a ground floor bedsit in Belsize Park, Camden.
On 5 August 1969, Drake recorded five songs for the BBC's John Peel show, three of which were broadcast the following night. A month later, on 24 September, he opened for Fairport Convention at the Royal Festival Hall in London, followed by appearances at folk clubs in Birmingham and Hull. Folk singer Michael Chapman said of the performances:
The folkies did not take to him; [they] wanted songs with choruses. They completely missed the point. He didn't say a word the entire evening. It was actually quite painful to watch. I don't know what the audience expected, I mean, they must have known they weren't going to get sea-shanties and sing-alongs at a Nick Drake gig!
10
The experience reinforced Drake's decision to retreat from live appearances.
Although 'Five Leaves Left' attracted little publicity, Boyd was keen to build on what momentum there was, and in 1971, he produced Drake a second album – 'Bryter Layter'.
11
Disappointed by his debut's poor sales, Drake sought to move away from his pastoral sound, and agreed to Boyd's suggestions to include bass and drum tracks, introducing a more upbeat, jazzier sound.
12
'Bryter Layter' was a commercial failure, and reviews were again mixed; Record Mirror praised Drake as a "beautiful guitarist—clean and with perfect timing, [and] accompanied by soft, beautiful arrangements", but Melody Maker described the album as "an awkward mix of folk and cocktail jazz".
Soon after its release, Boyd sold Witchseason to Island Records and moved to Los Angeles to work with Warner Brothers to develop film soundtracks. The loss of his mentor, coupled with the album's poor sales, led Drake into further depression.
Disappointed by the reaction to Bryter Layter, he turned his thoughts inwards, and withdrew from family and friends.
13
Although Island neither expected nor wanted a third album, Drake approached John Wood, who engineered 'Bryter Layter', to begin work on what would be his final release.
The bleak songs of 'Pink Moon' – his final album, are short, and the eleven-track album lasts only 28 minutes, a length described by Wood as "just about right." Drake had expressed dissatisfaction with the sound of Bryter Layter, and believed that the string, brass and saxophone arrangements resulted in a sound that was "too full, too elaborate". Drake appears on Pink Moon accompanied only by his own carefully recorded guitar save for a piano overdub on the title track. Wood later said: "He was very determined to make this very stark, bare record. He definitely wanted it to be him more than anything. And I think, in some ways, Pink Moon is probably more like Nick is than the other two records."
14
Although Drake's third album also didn't sell too many copies, it received some favourable reviews.
Chris Blackwell, who prodused the album, felt 'Pink Moon' had the potential to bring Drake to a mainstream audience -however, his staff were disappointed by Drake's unwillingness to promote it.
At Boyd's insistence, Drake agreed to an interview with Jerry Gilbert of Sounds Magazine.
"There wasn't any connection whatsoever," Gilbert said. "I don't think he made eye contact with me once."
16
His three albums had together sold fewer than 4,000 copies.
Disheartened and convinced he would be unable to write again, Drake retired from music.
17
In the months following Pink Moon's release, Drake became increasingly asocial and distant, with his only income a £20-a-week retainer he received from Island Records.
He was initially believed to suffer from major depression, although his former therapist suggested he was suffering from schizophrenia.
Nick Drake had contacted Wood regarding a fourth album, and recording begun in mid-1974.
During the early hours of 25 November 1974, Drake died at his home from an overdose of amitriptyline, an antidepressant, at the age of (almost!) 27.
18
By the mid-1980s, Drake was being cited as an influence by musicians such as Kate Bush, Paul Weller, the Black Crowes, 'R.E.M.' , and 'the Cure' – whose name derives from a lyric from Drake's song "Time Has Told Me".
Drake gained further exposure in 1985 with the release of the Dream Academy's hit single "Life in a Northern Town", which included a dedication to Drake on its sleeve.
20
Drake's reputation continued to grow, and by the end of the 1980s, his name was appearing regularly in newspapers and music magazines in the UK
As years passed after Drake's death, more and more people got exposed to his music. Many artists recorded cover version of his songs, and his music was featured in commercial ads, television shows and music.
Thesedays, as mentioned, Nick Drake is considered among the most influential English singer-songwriters of the last 50 years.
So what made it impossible for him to be popular in his lifetime?
21
"The chronic shyness and mental illness that made it hard for Drake to compete with 1970s showmen like Elton John and David Bowie didn't matter when his songs were being pulled one by one out of the ether and played late at night in a dorm room."
-Atlantic Magazine
22
I tried to come up with an explantion. I love his music, and I sure know many people, today, feel the same. Why did it take so long?
Maybe Nick Drake was ahead of his time.
Maybe his different personality made it hard for him to "play the game".
Maybe its a matter of timing, and if only he could stick around a bit longer, his story would be very different.
Maybe there was no other way.
23
His story, as I see it, is a story of a very talented artist who couldn't bring himself to do what is sometimes demanded, socially, in order to be popular.
And this story, with its sad ending, is one of the things that make his music so touching and beautiful.
26
Published: Jan 10, 2020
Latest Revision: Jan 10, 2020
Ourboox Unique Identifier: OB-712014
Copyright © 2020


Skip to content