Ponzo the Dragon lived in the laughing lake. He had seven heads. One was always out, and six he kept in his belly, all zipped up. Every morning Ponzo swam up and down the lake, and counted: One, two, three, four, five, six, seven! Afterwards he pulled them out, one after the other, and nodded: Red, orange, yellow, green, blue, mauve, purple! Seven colors, like a rainbow.
2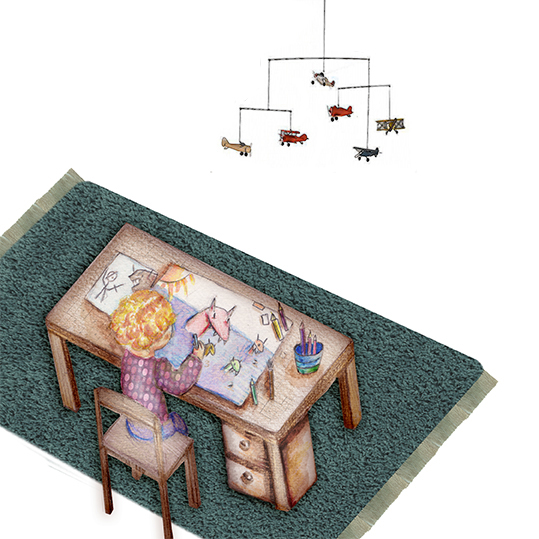 The head that was always out and in charge of all the others, was red. The smallest one was purple, like the purple of the stars. When Ponzo popped all his heads out, they played catch in the water. That is, with the exception of the purple one, who liked to play hide-and-seek.
And when the heads played, the lake laughed, creating water-dimples.
4
Ponzo also had a band inside his belly. He had a trumpet, cymbals, a banjo, a violin, a xylophone, and a Chinese flute. Each head sounded a different note: A,B,C,D,E,F,G. They all sang in a chorus, and played the instruments. That is, with the exception of the little purple head, who liked to sing in his heart.
5
Every evening, after Ponzo had toasted some bread and peanuts in his belly, he would start having worrisome thoughts:
8
"What would happen if one of my heads got lost?" That thought froze his heart. So he quickly stroked his heads, sniffed their thoughts and said: "Dear little heads of mine, dear little Ponzos, don't swim too far. Be careful. And do have good thoughts. Please."
9
One morning, as the sun rose and tickled the lake with its rays of light, the heads were busy playing catch with their thoughts. That is, with the exception of the little purple head, who didn't like to think. He just closed his eyes and dreamed. A short while later, Ponzo began counting his heads, as was his custom: One, two, three, four, five, six…
"Where's the seventh one?" he panicked. He counted again: "A,B,C,D,E,F…".  "Red, orange, yellow, green, mauve…" Where's the little head"?
Ponzo searched all the rooms in his belly. He searched and searched. He pulled out the trumpet most carefully, looked inside, blew it – but he couldn't find the little head. By then the other heads had gathered round, and they whispered:
12
"The little head can't swim all by himself. Could he have drowned in the lake?"
"Could he have gotten lost?
"Could he have joined his wandering dreams?"
"Maybe he's playing a trick on us, and changed color."
"Could he have turned invisible?"
One by one Ponzo put all his heads back into his belly and zipped it up. "My tiny little head is lost. I didn't take good care of it. When you don't look after little things, you can lose them." Ponzo's heart wept. Big teardrops were dripping into the water of the laughing lake.
And the lake laughed. Because tears, like rain drops and sun rays, tickled the lake and made it laugh.
13
"What am I going to do?" Ponzo was getting desperate. "Could the purple head have swum to the far end of the lake?"
He began swimming in that direction, thinking of all the things he had lost long ago. Suddenly he saw a strange creature on a rock at the edge of the shore. The creature seemed to be looking for something. Ponzo raised his red head and asked, curiously:
"Who are you?"
"I'm a child", the strange creature answered.
"Are you looking for a head you've lost?" the Dragon asked.
"Im looking for rain worms", the child said. "I put them in my pocket."
The dragon's eyes grew larger and rounder. He looked at the child for a long minute and asked:
16
"How many heads do you have?"
"One", answered the child.
"And how many do you keep in your belly or in your pocket?" asked the Dragon, and popped out his orange head.
"Children don't have heads in their bellies, or pockets," the child said. "I have one neck, and on top of it, one head." And he put his hand into his pocket.
"Really?" said the Dragon,  raising his yellow head. "Only one?"
"You can count for yourself," the child said, covering his mouth. He tried to stop himself from laughing. "Hey, your head's changing colors!"he cried.
The Dragon stretched out his green head which spewed some water.
17
"Poor child. Just one head," said the mauve head. "How can you think all your thoughts in just one head and not get confused?"
"Don't they turn upside down when you stand on your head?" asked the blue head.
"My thoughts are a secret. I don't even tell them to myself," the child whispered. He then put on his yellow-dotted purple hat, and went back to look for rain worms.
Upon seeing the purple of the hat, Ponzo immediately remembered the missing little head. He pulled the Chinese flute out of his belly and began playing a song that brought tears to his eyes. As he cried, he could hear the grass among the rocks weeping along with him. And he thought of sad things.
18
One sad thought led to another, and he got so dejected that he didn't look in front of him, in back, or to both his sides. His head bowed, he just looked into the water and, as was his custom, began counting his heads: "One, two, three, four five, six, seven!"
"SEVEN! I found my missing head! I found it!" he shouted. And he counted one more time, just to be sure that he hadn't made a mistake: "A,B,C,D,E,F,G!". "Red, orange, yellow, green, blue, mauve, purple!"
Purple!!! Ponzo stroked the purple head. All the others had gathered around, hugging the little head, and kissing him. They were so happy to see him, that they weren't even cross with him.
"Where were you?"
19
"I hid inside the violin", said the little head, "and had a peaceful dream. I dreamed I saw a creature with only one head, who was wearing a yellow-dotted purple hat."
"The main thing is that you have come back to us from your dream", said all the other heads. "That you didn't decide to stay there."
20
Ponzo continued stroking the purple head. He was very happy.
And so was the laughing lake.
21
Published: Mar 12, 2014
Latest Revision: Jul 14, 2015
Ourboox Unique Identifier: OB-4976
Copyright © 2014


Skip to content