3
Early life:
Etta James her original name is Jamesetta Hawkins, she born on January 25, 1938 and died on January 20, 2012.
James had a difficult and complicated childhood, she didn't know her father because his has never been identified. Her mother was frequently absent from their house conducting relationships with various men.
4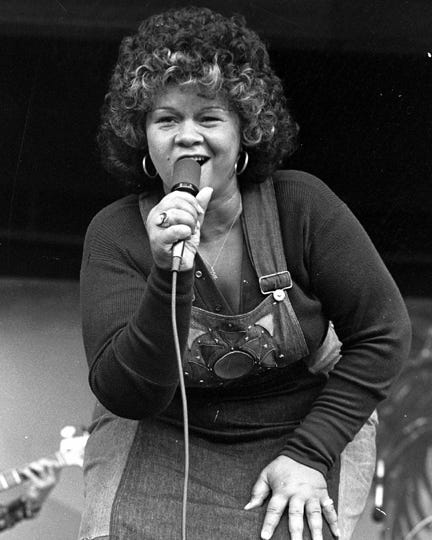 5
Starting her career:
-James not only experienced a difficult childhood, she is also experience a hard starting career. Her instructor often punching her in the chest while she sang to force her voice to come from her gut.
-At the age of 14, she met musician Johnny Otis, there is more than a story about how they met.
-James was the singer in the band "Creolettes" but Otis changed the name of the band and the singer name " Etta James-Peaches".
6
7
Achievements:
gritty blues songs in the 1950s, hits in a broad range of styles in the '60s. But "At Last," the soaring ballad she first committed to wax in 1960, was her signature number, the one that followed her like a sweet lost child for a half-century. It secured her niche in 1993 as the third solo female singer voted into the Rock and Roll Hall Of Fame, after Janis Joplin and LaVern Baker.
9
Death:
In April 2009, at the age of 71, James made her final television appearance, performing "At Last" on the program "Dancing with the stars"
She diagnosis of Alzheimer disease in 2008, then James was diagnosed with leukemia in early 2011. She died on January 20, 2012, five days before her 74th birthday, at Riverside Community Hospital in Riverside,Califronia. Her death came three days after that of Johnny Otis, the man who had discovered her in the 1950.
10
Published: Oct 27, 2020
Latest Revision: Oct 27, 2020
Ourboox Unique Identifier: OB-924492
Copyright © 2020


Skip to content