Steffi in the Lewinsky market
Steffi is like a butterfly in a field,
Wandering around the spices' shop, smelling, tasting,
Getting excited from berries, nuts and powders.
She collects exotic flavors from far away;
Cinnamon sticks, smoked paprika, spicy orange rice.
She carries them as if they were treasures in her bag.
Back home she puts them in glassware,
Waiting to be cooked,
By her magic hands.
1
The Paradise of spices is here in
The Lewinsky market, in Tel-Aviv.
They come from all over the world. From the Far East
To the wild Amazonas of South Amerika,
From the mystery of Africa
To the delicate cities of Europe.
3
You can actually find some spices that deserve to rot in hell,
Because they are so wicked that they can 'kill' you,
Or at least wreak havoc with your stomach.
But they are all here, with the others, the sweet, the salty ,
The innocent, the sour, and they live here in harmony
Filling the stores with a special aroma combo.  
5
Steffi and Aleks, our good friends are here
for the DLD conference,
And in the few hours that are left before
flying back to Germany,
They want to see
The Lewinsky market.
7
The rain and the sun take turns as we take a lovely walk
Through the loud and lively Carmel market where all the fruits
Are fresh, full, bright, juicy and sexy , young and irresistible.
9
The lychees, the peaches, the mango,the  apples,
The fruits of desire and temptation. they tease you
With their perfect shapes, strong colors and
Their amazing smells,
Till you want to take a bite of all of them.
11
Soon we reach Lewinsky market, the streets where
The dried fruits and vegetation are having their second life
They are dry, old, creased
With faded colors,
Sharp and spicy, hot, bitter and sour.
13
But now they can live much much longer, for months
Or maybe years, and they have their mysterious flavor,
Their character, no longer needing water and sun,
As a matter of fact they can live in big bags in the dark
And they don't seem to mind at all.
15
They know that they can only be companions, just spices.
So they do not care at all that they are shriveled
And have earthy colors.
They say that beauty is temporal, character lives on.
17
And boy, do they have character.
You must know how to use them, where
And how much to put
And how they go along with each other,
or else your food is going
To be catastrophe.
19
One more thing – they love people who love cuisine and creativity.
Because they know exactly how to treat them,
And to appreciate them.
They also know how to get excited from them,
Actually those people really love them.
And this is Stefanie Grauer from Düsseldorf,
She is a famous food Blogger in Germany,
And she is one of those lovers.
21
We walk towards the Lewinsky market, old houses, old stores,
Baskets of stuff for sale at the door, on the sidewalk.
Life stopped here in the nineteen thirties.
Nothing is changed in this area.
23
Nothing is bright and sparkling, or sells illusions
like the fancy shopping centers of the city, that wrapped every thing
with a luxury silk paper.
And here, everything is simple and clear.
You get what you see (and smell).
And they wrap it for you in a brown bag, and sometimes
In an old newspaper.
25
Only the new tall buildings that you can see further on
Remind you that this is a modern urban city full of innovations                       And updated with the 21st century.
27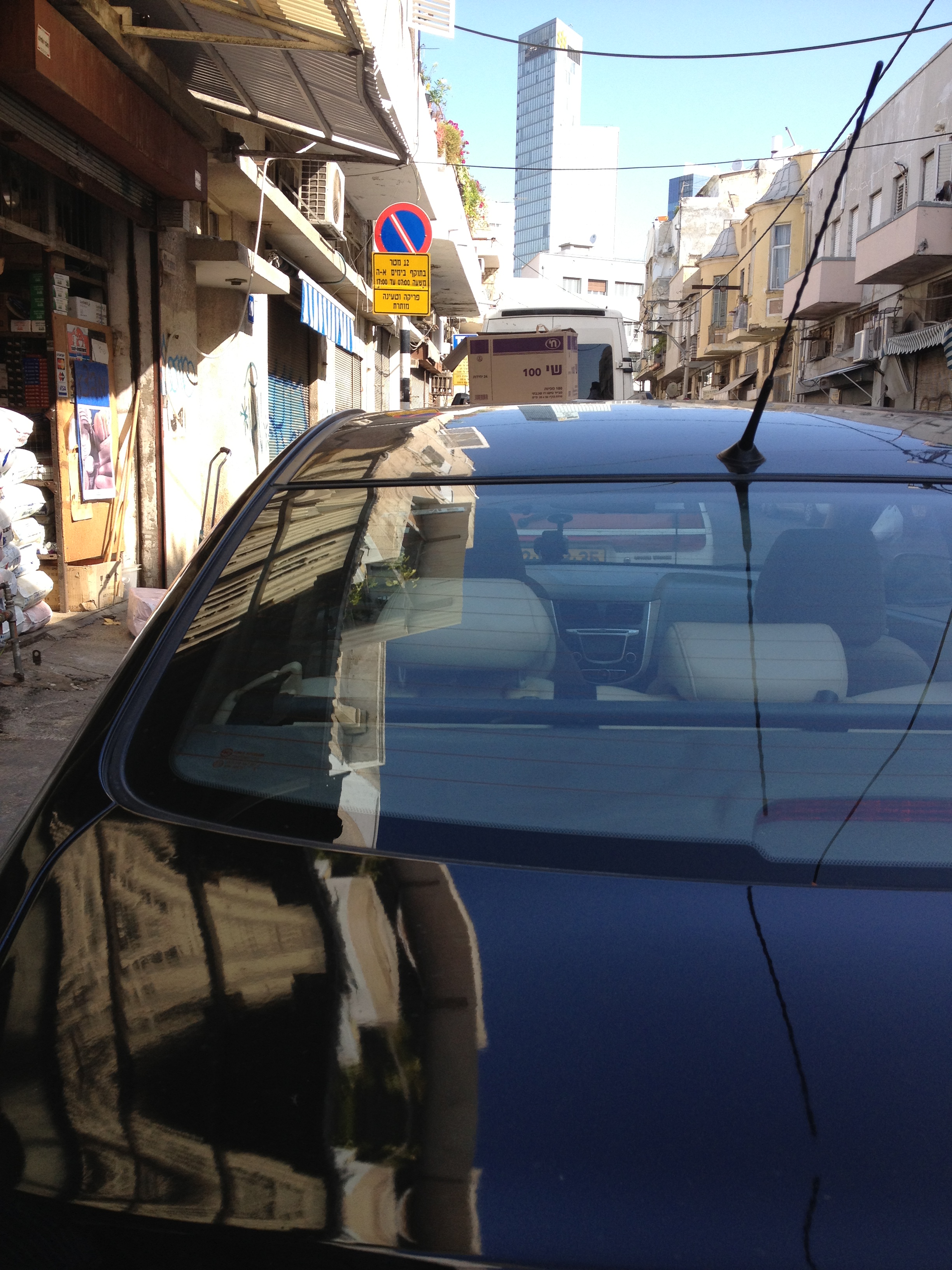 Mel is the leader, he has been here so many times
In Lewinsky market,
Over the past ten  years.
Mel got to know this spicy part of Tel Aviv,
While he was working on
Fulfilling his dream to play and sing
On his upcoming birthday,
With the wonderful orchestra
Of the HED BIG BAND,
Located nearby.
29
Actually he even made a chocolate course in the Lewinsky market
With our dear friend Alon Amit, who is also a great fan
And knows a lot about  good food.
31
But it's not only a theoretical learning day in Lewinsky market –
we have a few yummy stops.
33
We eat amazing burekas at one of the
First burekas place in Tel Aviv.
35
We walk through the narrow streets of the market,
Pass by all kinds of hidden crowded stores
Till we arrive to the Habshush spicy store.
37
Steffi is  wandering around, in the store,
Like a kid in a candy store.
She is excited, she is smelling, touching tasting
All sort of things.
She is so happy among all those big bags which contain
Lots of different seeds, powders, pieces of dry food.
She wants to know everything,
Where they came from, how they were produced,
Which of them have the best quality.
39
Steffi knows a lot about spices and she uses many of them
In her cuisine.
But she also like to discover new ones.
She breaks distance with the new spices
And the dried fruits very easily.  
She touches and studies them, smells them,
Asks questions about them and even tastes them,
Talking to Aleks and tells him her thoughts.
41
Then Steffi is having this serious face,
And some wrinkles appear on her forehead,
While she is thinking.
After 2-3 minutes Steffi decides how good is this,
And whether she ll buy some of it, and will take it
To her home in Düsseldorf, near Cologne.
I am watching her fascinated by her excitement,
And by seeing how all her senses are working.
I never knew you can be so delighted in a store like that.
43
Steffi pulls my hand and asks "Shuli, do you use
Smoked paprika in your cooking?"
And I look at her and smile ,
"Smoked paprika? Never heard about that."
"You must try it", she says, and I buy one of those too.
45
I can't smell anything any more.
We are out of the store. A nice cold breeze
Welcomes us,
And lovely raindrops start to fall on our heads.
47
We stop for delicious pomegranate juice .
the fruits look so great with their dark red color.
49
And then we go to Eli, the chocolate and the cocoa man,
And buy there bitter chocolate that comes
From Belgium.
The chocolate pieces come in big bags, and they are
For those who treat bitter chocolate like
It's the sweetest thing in the world.
And the cocoa there is so smooth, with rich flavor,
You become addicted to it.
51
And by the way, my dear Steffi, you were right about
The smoked paprika.
I tried it with a grilled chicken breast,
And it made the dish.
53
Here is one of Steffi' special recipes …..
Carrot and apple curry soup with goat cheese or tofu 
ingredients:
Onion – 1, Carrot – 3 – 5 pieces
Clove of garlic – 1, Apple – 1
Acid – 1 tbsp honey-like balsamic, Tofu – 100 g or feta
Vegetable broth – 300-400 ml or rear
salt – pepper – ,Curry powder – take 1/4 tsp to 1 tsp
Here's how:
Clean the Onion, carrots, garlic and cut into chunks,
and the apple too.
Fry the vegetables for about 5 minutes at 3/4 heat well
and add the spices. Then pour in the honey-balsamic vinegar
and broth to give the apples. Cook about 10 minutes,
until the carrots are, mixed with all the spices and put spices
according to your  taste.
Now 1/3 of pecorino cheese or tofu and small crumbs aside.
 The rest puree along with the soup. taste again.
  Put in a dish and sprinkle the feta cheese or tofu over it.
55
Steffi ,We are waiting for you and for Aleks to come in April.
Lewinsky market will be  blooming, it's spring time.
And we will be very happy to see you again
(Gilad, you are more than welcome too!)
59
Published: Jan 21, 2015
Latest Revision: Nov 21, 2017
Ourboox Unique Identifier: OB-26982
Copyright © 2015

Skip to content