Ourboox  www.ourboox.com is the world's simplest platform for creating amazing e-books that incorporate text, photos, videos, maps and much more. It's our platform and you are welcome to use it for absolutely free.
So let's get started. Go to sign up https://www.ourboox.com/signup/
1
Name
You should write your name in Latin letters (you can change it to Hebrew, Arabic or any other language later). If you want to create joint account for your class, you can write "David Cohen, Seventh Grade Class" for example, as the name instead of your own name (don't use special characters or numbers in your name). Then your students will create their books under a single user account.
The other option is to ask every student to create their own individual user profile.
3
E-mail
In principle the e-mail you add should be your real e-mail (that way we can contact you).
4
Password
Just like any other password. Please remember it!
You must read and agree to the Terms of Service by clicking the box.
5
The moment you click "Create your account", you're at our homepage www.ourboox.com  ready to start making your first book come true.
If you have a pdf file you can drag it straight to the box on the right. If you want to create new page-flipping e-book with text, pictures, videos, maps and much more, then click on the "Create a Book Now" tab.
7
Let's say you want to create a book about your family. Give the book a name (better in English, you can always change it later). If it's a class account, make sure that the students writes his/her name in the title.
9
Now I can begin! Notice that there are two tabs – the Editor, which is open by default, and the "Cover, Book Direction , Categories" which we will visit later.
11
I can change the title, and add text to the first page, in any language.
DON'T FORGET TO SAVE FREQUENTLY
13
If I click on new page, I get a new page. I can click on the artwork and add a photo (Jpeg, png or gif).
15
If I click on 'add image', I get a window where I can drag photos (you can drag a bunch together, or select them.
17
When I select the photo I dragged in, it will appear in the editor:
19
I can create another new page, in order to embed a video from youtube (if you want to add a video of your parent or grandparents, then you should video them and upload it to Youtube so that you can embed it. Ourboox does not store videos, but it enables you to embed them from youtube or vimeo.
To embed any video, or map (or game, puzzle, sound, etc.) you need to open the open source <>
21
If I open the source code, I can embed the link from the video I want to insert.
23
Now I will open a new window for Youtube, and find the video I want to embed.
I find the video and click on share
25
After clicking on the Share, I click on the Embed <>
27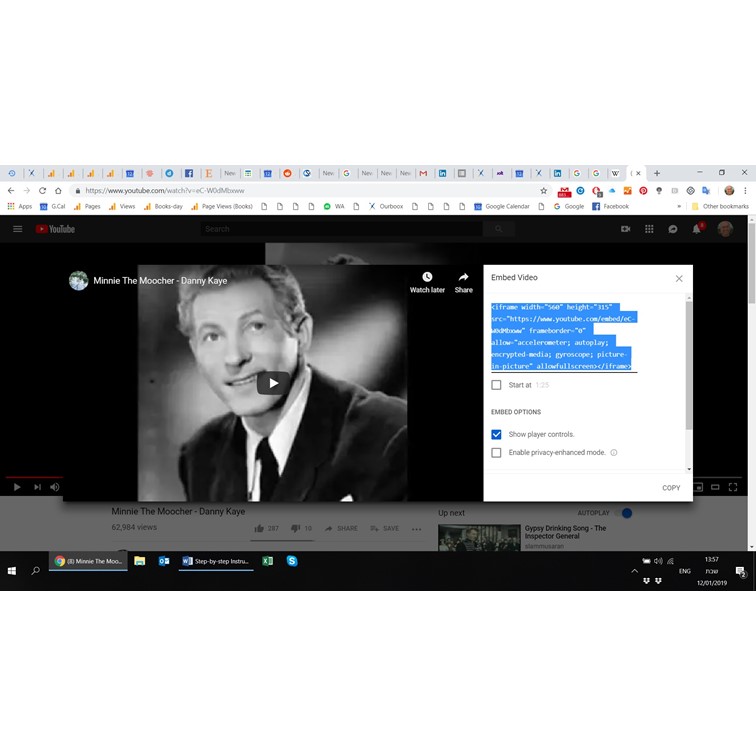 And copy it into the source code editor open in your book.
The video will appear in the editor!
Similarly you can go to Google Maps and copy the embed code of the city where your family is from.
31
The moving map will appear in the editor once you've copied the embed code to the source code window.
33
At any time I can click on the URL at the bottom of the editor page and have a look at the book!! It looks great, but I haven't added a cover yet so we see the deault cover! So let's click on the 'edit book' icon and go back to the editor.
36
This time we'll go into the second tab.  When we click on the "Cover, Book Direction, Categories Tab we will be able to do the following:
Describe the book in a few words
Add the book cover (same way we added pictures – we can even use one of the photos we've added as the cover!)
Choose the direction of the book (for example right-to-left for Hebrew and Arabic)
Choose a category (or several)
38
I've chosen my cover photo and dragged it in.
40
Now my book has a cover. I can of course compose a better cover using powerpont, canva, photoshop, etc.
42
I can go back and edit my book whenever I want (as long as I remember the username email and password!).
Now it's time to share the url of my book with friends, family, teachers and the world. Mazal Tov!
https://www.ourboox.com/books/my-family-by-mel-rosenberg/
The book  will appear in the Ourboox library, in the category, and Google will feature it as well. If it is a terrific book, send it to me ([email protected]) – we may feature it on the homepage!
You can even embed the book in another book or website! Just click on the 'embed" button to get the embed code of the book.
A final word: don't forget to click in the top right hand corner of the homepage in order to edit your profile:
44
Published: Jan 27, 2019
Latest Revision: Dec 4, 2020
Ourboox Unique Identifier: OB-562603
Copyright © 2019

Skip to content