Hey! My name is liya, I'm 17 years old.
I live in California next to my best friend Clair and I love playing on my guitar that I got from my amazing dad for my 12th birthday.
When I was 11 years old, I was diagnosed with a disease that Prevents me of being exposed to sunlight.
Ever since then, I'm not allowed to leave my home which is protected by special walls and windows that blocks the sunlight from enter inside, and sometimes I go out at night with Clair but most of the time my dad convince us to stay at home cause he is super protective.
For the last six years, my biggest dream is to watch a live sunrise.
1
Before we found out about my disease, I used to go to school like every normal kid. There was this guy in my class, his name was Leo.
He had blond hair, blue eyes and we used to hang out a lot back then. I was in love with him.
When I left school and started home school, I stopped hearing from him but the school was right next to my house so I watched him every morning on his way, thinking he doesn't even remember who I am, and every morning, he never looked up so he didn't see me watching him through my window, waiting for his eyes to catch mine once again.
3
Few months ago, Like every morning in the past six years, I was watching the view from my window, and there he was, Leo, rushing to school before the bell rings.
I heard a knock on my room's door so I opened and saw my beautiful Clair .
"Tomorrow is Graduation's day" said Clair. "Yeah I know, what about it?" I answered.
"You know you're getting a diploma just like everyone else right? " She said. "Even though I've been studying from home for the last six years? Yes I know" I said. "Come on… you should be happy about it! Tomorrow night, we are going out and partying that special day! " said Clair. I didn't argue with her because she always wins our arguments, so i agreed with her and we moved on with our lives.
6
So the next morning, graduation day, I watched everybody from my window, wearing their graduation gowns and black hats. I could feel the excitement in the air.
A couple hours later, Clair came to my house with my Graduation diploma, and a big happy smile on her face.
"We made it! " she said happily, "I can't believe we actually survived high school". "Yes… unbelievable" I said Indifferently. she smiled at me with a bit of disappoint in her eyes but then we both laughed and went down stairs to get some snacks.
8
The evening came very quickly before we even noticed, and we both got all dressed up and were ready to go out and celebrate our graduation.
"Bye dad!" I called when we were about to leave the house. "Wait right here sweeties, where are you two going?" My dad said to Clair and me. "Just hanging out at Berry's" said Clair. "Ugh… fine" he sighed "have fun girls and don't forget to be here before midnight Liya, I mean it." Suddenly he became serious and stressed. "Of course dad" I answered confidently when Clair and I left the house.
9
We went to our favorite place – Berry's ice cream pub.
We spent hours there, laughing, talking and drinking milkshakes.
Suddenly the pub's door opened and a very loud group of boys came in. I looked at them and then my eyes got locked with someone else. At first I thought I was dreaming. I looked at the guy that catched my eyes- he had blond hair and blue eyes, he was tall and handsome, and from the very first moment I saw him, I recognized him, and I knew it was Leo, the guy I was in love with my whole childhood.
10
Suddenly, I heard him calling over me, "Liya?"
I was shocked and didn't know what to do so I ran out of the pub while he was running after me. "Wait Liya stop please! " he said.
I stopped and turned back. Thats when I saw him, not through my window after six years.
"Hi" he said with a smirk on his face. "Hi" I said back to him hesitant and so confused.
"wow I haven't seen you in such a long time!" "Yeah right?" I answered super nervous.
"How… do you… how are you feeling? Like.. with… with your disease and everything" he said and I could see how nervous he was. "Yeah I'm fine, could've been better but you know…" I gently giggled.
12
"I honestly thought you won't even remember me" he said.
"Well I thought you won't remember me! You completely left when you found out about my disease and I never heard from you again …." I said and I could feel the tears that were about to roll down my face . "Liya…. You were so upset and confused that time, i genuinely thought I was the last person you would want to see, and then I was just scared and shy to talk to you … You don't even know how many times I passed next to your house and I tried so hard not to look up to your window so your eyes wouldn't catch mine." He said calmly. I was so surprised to hear him saying stuff like that. "Wow" I said, "I never thought you would feel like that this way…" "Liya I was in love with you since the moment we met on the first day of school but you never noticed" ha said quietly. I was so confused and didn't know what to say or what to feel. Did Leo the guy that I was in love with him since I remember myself just told me that he is in love with me? What should I do and… how to….
13
I kissed him. I don't know what I was thinking at this very moment, but I did it, and it was magical! We were standing under the light of the Berry's pub's sign that lit us with blue and pink light.
we sat there for hours, talked about our lives.
"So… what's your biggest dream?" he asked me quietly.
i smiled, "To watch a live sunrise" i said. he smiled.
14
Now, we're going to skip a few episodes.
It's been three months now. This past three months have been the best time of my life! Me and Leo were having so much fun. We spent every day together and every night we went to different places.
16
Today, I have a standard examination at my doctors office so my dad, Clair and Leo are coming with me.
We arrived to the office. "Liya! Hi dear. Come on in" the doctor said and we came in.
"I'm so sorry to tell you this Liya, but your disease is getting worst… I'm afraid that you have less then a month to live" Said doctor Brown.
18
We were all shocked. No one spoke. We just sat there in silence waiting for the doctors to laugh and tell us it was just a joke and everything is okay. "You will have to spend the rest of your time only inside of your house" Brown said after a few minutes of quiet.
We got back home. My dad, Clair and Leo held back their tears because the didn't want me to see them crying but I knew they wanted to. I wanted that too. It was all surprising and confusing.
19
Clair, Leo and my dad spent the last three days trying to distract me from the diagnose so we watched movies, made dinner every night, sang and danced together, but I didn't felt ok.
Last night I made a very hard decision. I decided to make my biggest dream come true. Yes. The one you're thinking of-
My dream of watching a live sunrise .
20
It was midnight. We were all getting ready to our last few hours together. We got out of the house and drove to the sea port where my uncle's boat was. We got on the boat and started sailing. We sailed all night, laughing, bringing up memories, crying, and saying good bye.
It was 5am when we started seeing the sun comes up slowly. That was the moment I knew, Saying good bye to earth and let go of everything, under the rising sun, next to my favorite people in the world,  was the right decision.
I felt so calm. I looked at my dad and he smiled at me, a smile with a lot of pain, I smiled back. "I love you" I said. He took a deep breath and said " I love you more then anything Liya. You will always be my little girl. Thank you for everything ".
I looked back to the sun.
And that's it. In an incomplete heart, Thats where my story, our story, ends.
22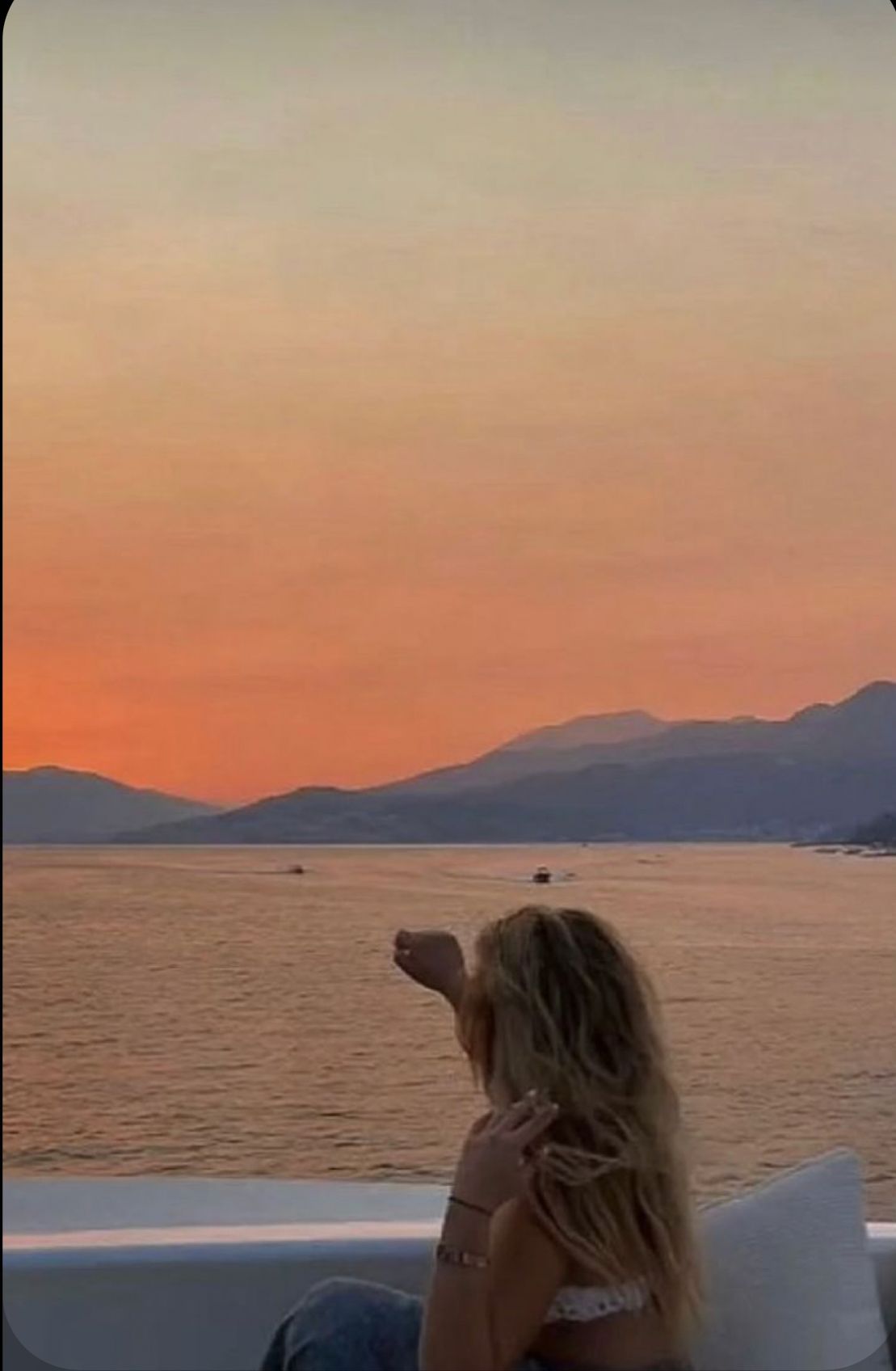 Published: Mar 14, 2022
Latest Revision: Mar 14, 2022
Ourboox Unique Identifier: OB-1294590
Copyright © 2022


Skip to content