My wife keeps telling me that Athens is special. I hadn't been here for almost twenty years. All I remembered was visiting the Acropolis and eating Greek salad in the Plaka. Oh, yes and giving a lecture on bad breath to four hundred dentists.
So it was high time for a repeat visit. Shuli and I have just spent three days in Athens meeting special people. We met them in shops throughout the city. 
Keti works in the Magic Chocolate Shoppe. She is very special indeed. 
2
It is quite ironic to find such a professional chocolate emporium in the middle of Athens. After all, chocolate was not quite the nectar of the mythological Greek gods of ages gone by. 
4
When Keti is not working in the shoppe, she is many other things. Keti is a professional painter. She made the lovely little wall hanging at the entrance to the shoppe. 
6
Keti also made clay sculptures of people wearing suits. "An army" she says. "We are vulnerable every moment of our lives. We die only within us if we choose to. There are things left when something is broken. You can put them together. The only thing that dies is us in ourselves, if we choose to. The reason I chose to make an army of clay people was to show their vulnerability. If you ride on your ambition, like an escalator, I wanted to show that if man is dominated by his passions, the only thing that can happen, is that he will break. The people can turn into clay again, like soil. Nothing. I wanted to tell people that we don't have to be pessimistic, we can put our pieces back together if we choose to. Otherwise they are just like pieces left around."
8
Keti wanted to put the scultpures on an escalatori in the Athens metro. The authorities wouldn't let her. So they are sill in one piece, unbroken. For the meantime. 
9
Yesterday Keti made me a cup of hot chocolate. I requested something dark and powerful, and she delivered. It was potent and mysterious. Almost overpowering. 
10
After, all her chocolate shoppe is a partner of Valrhona, a French company that makes amazing chocolate. So I asked her whether she might arrange a 'chocolate tasting' for us.
It turns out that they had never done a chocolate tasting. But Keti is flexible. She prepared eight delicious types of chocolate for us to taste and enjoy. While we were tasting the chocolate, we talked about life. A perfect pasttime, I must say. 
12
The first chocolate we tasted is called 'abinao'. This was the very same chocolate that Keti had made my hot chocolate with yesterday. I could taste the nibs, and felt a hint of bark and cinnamon. This is no 'neutral' chocolate. Shuli said it was a "bastard, that you know you can't trust". That is quite a description for a chocolate, but there you go. 
14
The second one was excellent. Shuli called it 'cozy and nice'. She sure knows how to describe her chocolate. 
16
The third one was by far the best, very fruity, very balanced. Shuli said 'it's a dream, a whole world'.
Keti says that it is Valrhona's pride chocolate, and is distributed to only select customers. We felt selected. 
Valrhona likes the magic chocolate shoppe because they think that they make the best chocolate drinks in Europe using their products. Who am I to argue?
18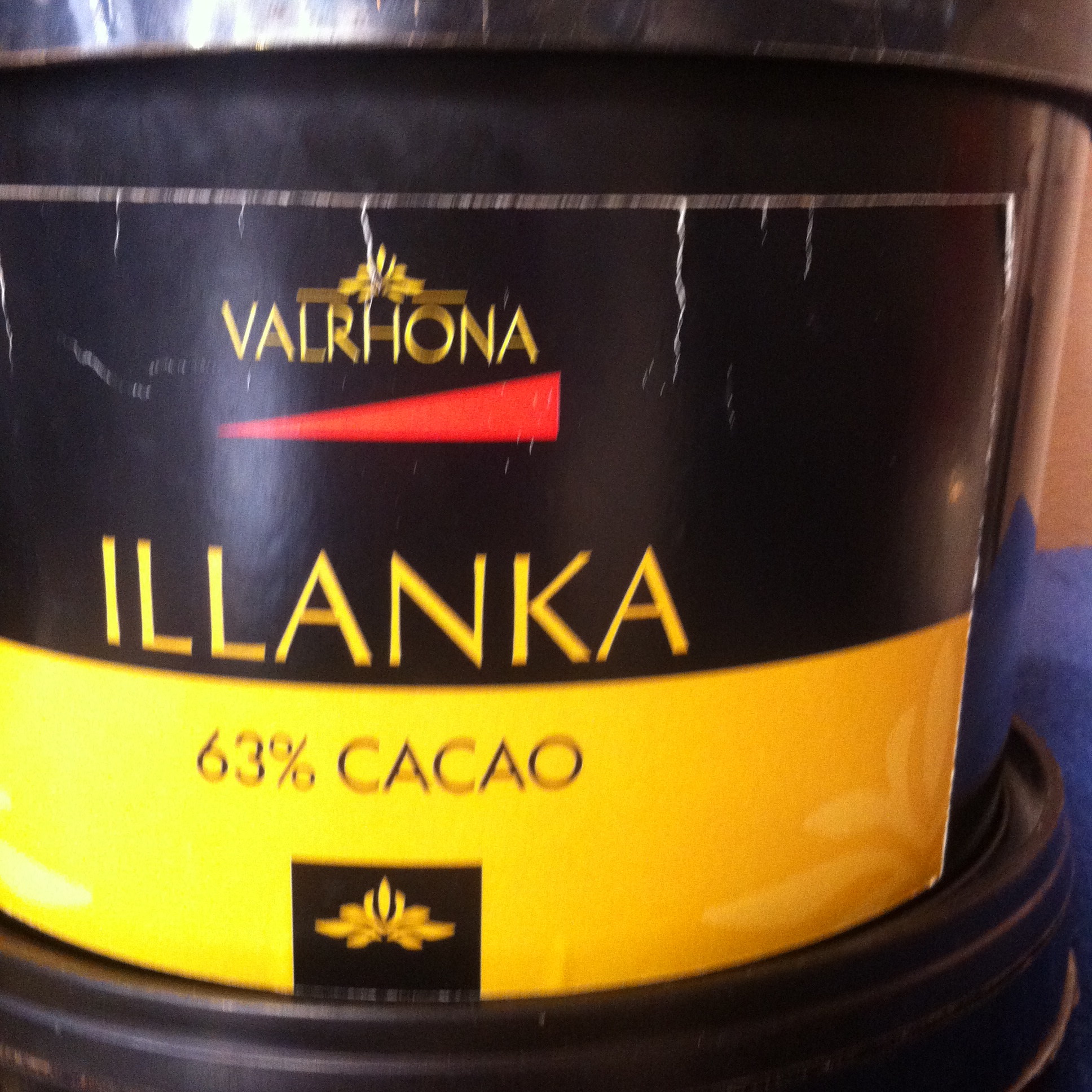 Neither of us was impressed by the fourth sample. It is called Caraibe. It's neutral, without much of a personality. 
The fifth sample, alpacco,  was extremely interesting, a delicious meeting of bitter and sweet. Keti called it a chocolate of two equal warriors. 
20
The sixth chocolate is called 'nyagbo'. It wasnt the best one we tasted, and let's leave it at that. 
22
The seventh sample had a sour flavor, with an interesting ending. I have never tasted a chocolate quite like it. Shuli felt it to be lemony. 
24
I loved the last and final sample, araguani. I found it to be rich and spicy. Keti compared to a play, with many actors on the stage, none capturing more attention than the rest.  
26
As I mentioned, while we tasted the samples, the subject of life came up.
Keti doesn't worry about anything, except losing the ones she loves. This is very hard for people. Life has the way to teach you how to carry on. Life is stronger than anything else, it is a river that carries you along. 
Keti has an identical twin who is also an artist. We asked her what it was like to be an identical twin. "I have always felt that she is me, and  the hardest thing. when she left home to go study, I felt like the entire me had left. I lost the ground underneath my feet. I felt alone for the first time in life. After all, we shared the same belly, the same cradle, the same DNA".
28
I am still in the shoppe, writing this book. Shuli is still talking to Keti about life, Greek culture and poetry. 
We will be back!!
If you want to visit the magical chocolate shoppe (and I think you should), it is called "Sokolata", on the corner of Voulis 35 and Apollonos 7, Syntagma, 105 57 Athens, Greece. The website is www.sokolata-athens.gr
29
Published: Oct 22, 2014
Latest Revision: Oct 29, 2014
Ourboox Unique Identifier: OB-19422
Copyright © 2014

Skip to content