PANDORA / Shulamit Sapir- Nevo
PANDORA opened the pithos
Though Hermes told her not to
But what can you do
When you are blessed with beauty
And curiosity,
And you are
A woman…
*photo by Heli Peled
1
In Greek mythology, Pandora (Greek: Πανδώρα; πᾶν "all"
And δῶρον "gift") Was the first woman designed by Zeus,
As part of his punishment to mankind because they stole
The secret of fire  from him.
Aphrodite gave Pandora beauty,
Apollo gave her musical talent And the ability to heal.
Hermes gave her Fitos – πίθος ( a Greek vase) and told her
Not to open it to the world,
But he also gave her curiosity …:)
And the rest is history. Or mythology.
3
Maya' s unique art gallery PANDORA,
Is located on Adrianou st.
In the colorful Plaka, south of the Acropolis,
In Athens.
5
Among the small coffee shops full of lights,
Flowers all around, and a festival of  tores
With a variety of ethnic delights
Clothes, jewelry, Greek food, souvenirs,
Hand made items, and more.
7
I wander around the gallery,
What a powerful collection…
This is Maya's kingdom.
Wow!!!
No wonder PANDORA chosen to open
This box with endless beautiful pieces of art.
9
And all of a sudden
There came out fish made of glass,
Huge birds from the windy forests
Stars that were caught from  the deep blue skies,
Angels and flowers.
The Gods love
PANDORA
When she walks through the gallery
With her long black hair swaying
Or playing the piano
And having a five o'clock happy hour
With them.
11
Maya!
She looks so Spanish, with her black long hair
And her black bright eyes. She actually reminds me of the women in Francisco Goya's pictures.
Maya is a sophisticated lady.
"What you give, you receive," she says and she means it.
"People must learn to make their souls happy,"
She adds and those black eyes of her shine like stars,
And run around the room like cheerful  kids.
13
Maya was born in Georgia,
She lives in Athens for many years and loves it.
Maya collects fine and unique art.
15
The last time we so her, she said this beautiful place of hers
Needs just one more thing – piano.
She said she is going to bring a piano
To her Art Gallery, and so she did.
Maya sits and starts to play her black piano.
I watch her, fascinated by her hands that moves so nicely
Like birds. I love Chopin she said and…
17
Black cheerful eyes
Running around
While she sits
And plays
Passing long fingers
Chasing
Caressing
Teasing
Pulling
The strings
Opening the keys
To
Chopin.
19
And then, Mel
Plays Autumn Leaves
"The falling leaves
Drift by my window
The autumn leaves
Of red and gold"
21
The melody fills the Gallery,
All the pictures and the statues
Are smiling, and Maya is too. She is so happy.
All of a sudden,  a spontaneous concert.
23
Heli and Baruch, our friends just finished their tour
In the Acropolis.
They were walking around the Plaka,
And when they heard those tunes they were drawn
By the sirens to the Gallery and found us.
25
Our dear friend Kostas was also not far from here
And joined us as well,
And this is great.
Since Kostas loves music and he also plays.
27
Now we are having a party in Pandora, sitting in the art salon
Surrounded by the music,
29
Drinking cafe,
Humming tunes,
Topping off our day.
31
After a while, I found myself in the streets of Athens
Looking for the colorful leaves of red and…
33
If you are in Athens, go visit Pandora,
Look at the beautiful collection of Art,
37
Talk with the amazing Maya,
Ask her to play you something from Chopin,
And follow your sirens.
39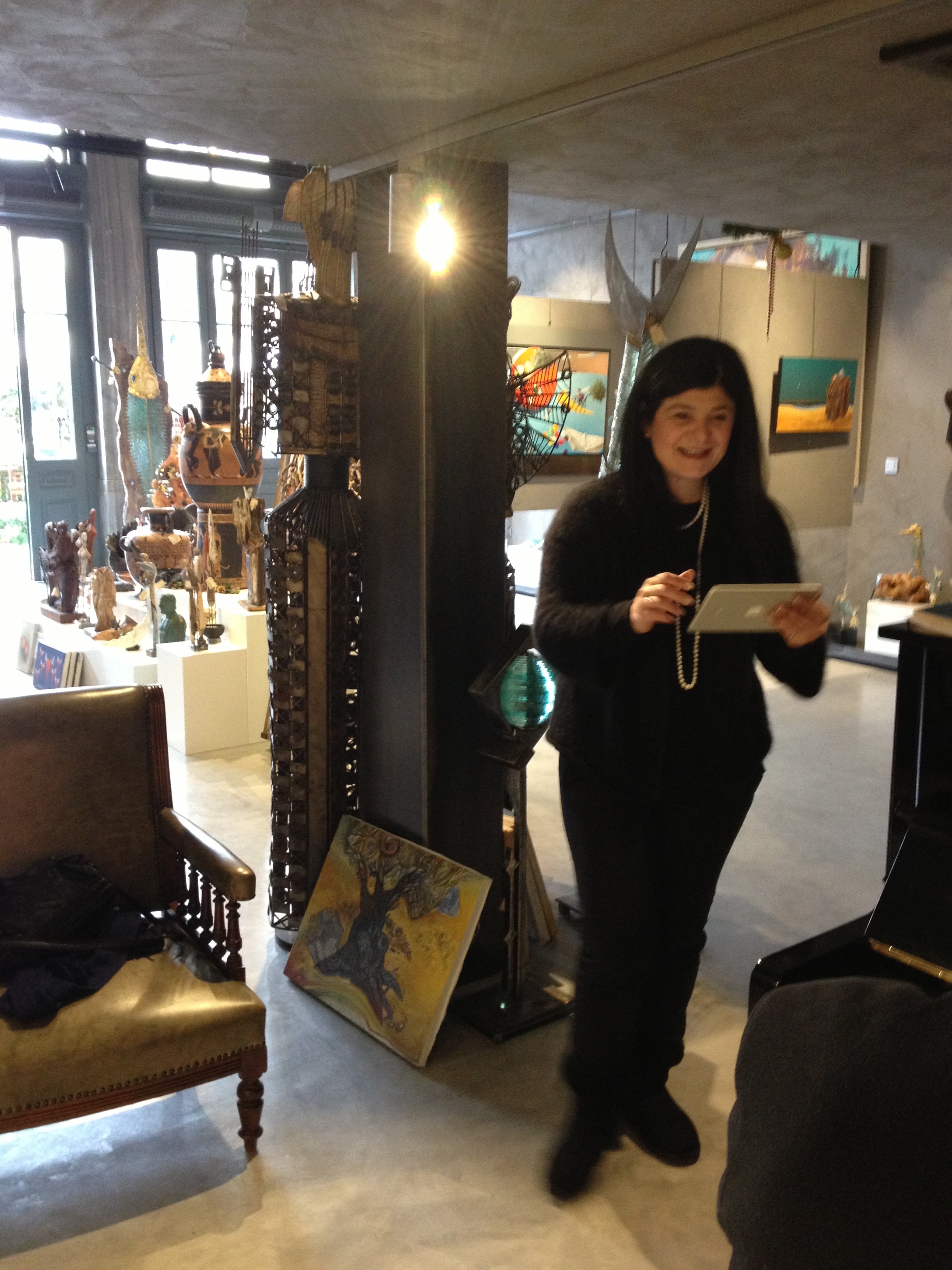 AND DEAR MAYA, THIS IS  DEDICATED TO YOU 🙂
Gazebo:I Like Chopin
"Remember that piano
So delightful unusual
That classic sensation
Sentimental confusion
Used to say
I like Chopin
Love me now and again
Rainy days never say goodbye
To desire when we are together
Rainy days growing in your eyes
Tell me where's my way…"
41
Σε ευχαριστώ τόσο πολύ αγαπητή φίλη μου Μαya.
43
Published: Jan 8, 2015
Latest Revision: Mar 25, 2020
Ourboox Unique Identifier: OB-24852
Copyright © 2015


Skip to content