This is a collection of drawings and sketches by Eric Pohlmann – an actor to you; Dad to me.
The first is dated 1941.
The bulk of them were from Dad's time in and out of hospitals in 1963.
He was a great observer of people, and had the artist's talent of transferring his observations eloquently onto paper.
I have added some thoughts of my own – not so much about the individuals, but more of what I like to think were Dad's thoughts about them. Even in pain, he would see humour in most, and tragedy, sorrow and love in those where humour was suppressed.
Stephen Pohlmann, 2010
5
Self-portrait
Welcome to my little world
I am first
Because I am me
And that's the way
They like me to be
These are a few observations
Of those around me
The aged, the dying
Those who cure
And those who comfort
6
Welcome!
This is where they keep me
I live, lie, sleep and watch
Some pain, but mostly smiles
8
They took my teeth away
Never to return
No more biting
Only sucking
And now look what's left
10
Ah yes, the paleontithic moth
A young one
Its three wings still intact
Wonderful specimen
Lovely spots
Perfect stripe
12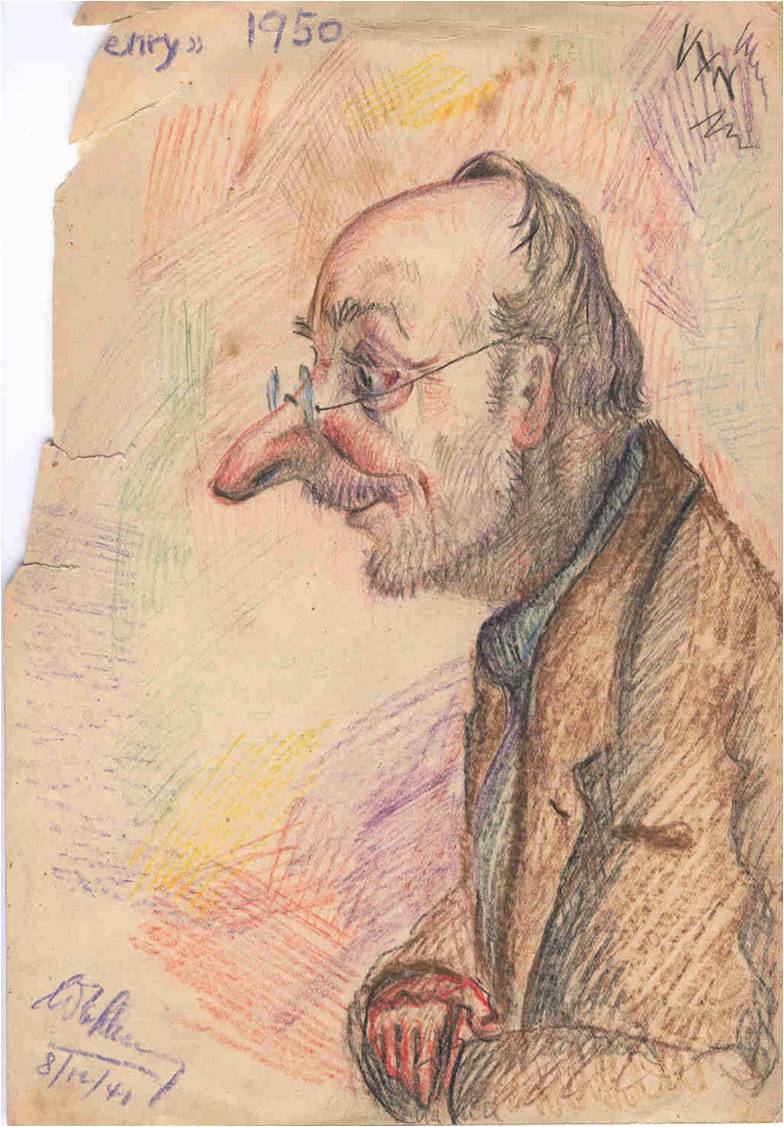 Asleep
Perchance to dream
They are worried
They think I am dead
But I'll wake
Before they remove me
14
Where am I?
What have they done to me?
My teeth!
My life!
Ahhhh, I hear someone coming
16
Dear God
Please give me the strength
Before the nurse comes back
To get up off these knees
And get back into bed
18
Who's going to fix the slates
The burst pipe
The hinge on the door?
The weeds need pulling
The roses pruning
The tea needs to be sipped
20
Life's a bitch
The doctor's a bitch
The pain's a bitch
The guy in the next bed –
He's a bitch
But that nurse – nice
22
I am alone
What else have I left?
Bad sight
No appetite
Just a brush and a comb
24
I'm right behind you
    I can't
Pretend I'm not here
    I can't
Let me run the water
26
I hear all
From there and over here
I see little
Only my nose
That nose
I wish I were someone else
28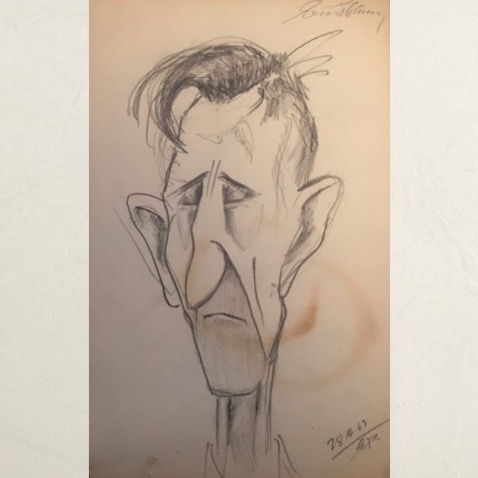 He doesn't know me
I'm his son
And he looks through me
For the sake of my mum
I show nothing
30
I feel the breeze
Your breath is pure
Your words are soft
I hear you
Stay close to me
32
Eric must be sick
I mean, just look at us
No this
Too much of that
Hope he gets better
34
Hear she comes
That woman of mine
I've always loved her
Always will
How long is always?
36
What should I do next?
No friends
No visitors
One channel on the TV
And only 51 cards in the pack
38
Maybe if I squint
Wear glasses with a tint
Keep my tie straight
Always arrive late
Maybe then I am a doctor
40
Prim lips, pert nose
Delicate ears, coiffure de luxe
Sleek neck, sparkling eyes
A figure to wow
And not an erection in sight
42
I was someone last week
An executive
With a secretary
An office with a view
But my heart has other plans
44
They think I'm ill
Prostate or liver
Pancreas inflamed
Heart maimed
But I'm just a little crazy
50
A pointed nose
Is not a pointing nose
'Tis a thing of beauty
I tell I lie –
As you see
52
I grew the moustache
To make the nose smaller
But then the moustache
Grew so large
So I made the nose larger
54
I'm a happy soul
Always smiling
Forever positive
So why do want me to pose like this?
56
My kids are coming
Come through that door every day
Usually holdings hands
I love that
58
I combed my hair
Carved my silhouette
Chiselled my nose
But it's not my best side
60
They won't listen to me
God told me
The angels told me
I feel it: a Heavenly touch
I do have a halo
62
I caused a strike
Then a spare
I'm on a curve
I'm a bowling ball
– With glasses
64
Smoking is unhealthy
I am eighty-seven
I am a burden to all
I have a chest of horror
Let me smoke
66
Ain't life a laugh
I smoke fifty a day
Drink five pints with chasers
Never walk further than the local 7/11
And they got me in here for an ingrowing toenail
68
I am cold
I am old
I am told
Not to fold
My arms around me
70
Those odours
That smell
I always know what's coming
Who's in front of me
What to expect
I smell forward
72
I am Doctor Grünberg
Dean of this faculty
My wife is on another diet
My daughter married a musician
I have the World on my shoulders
74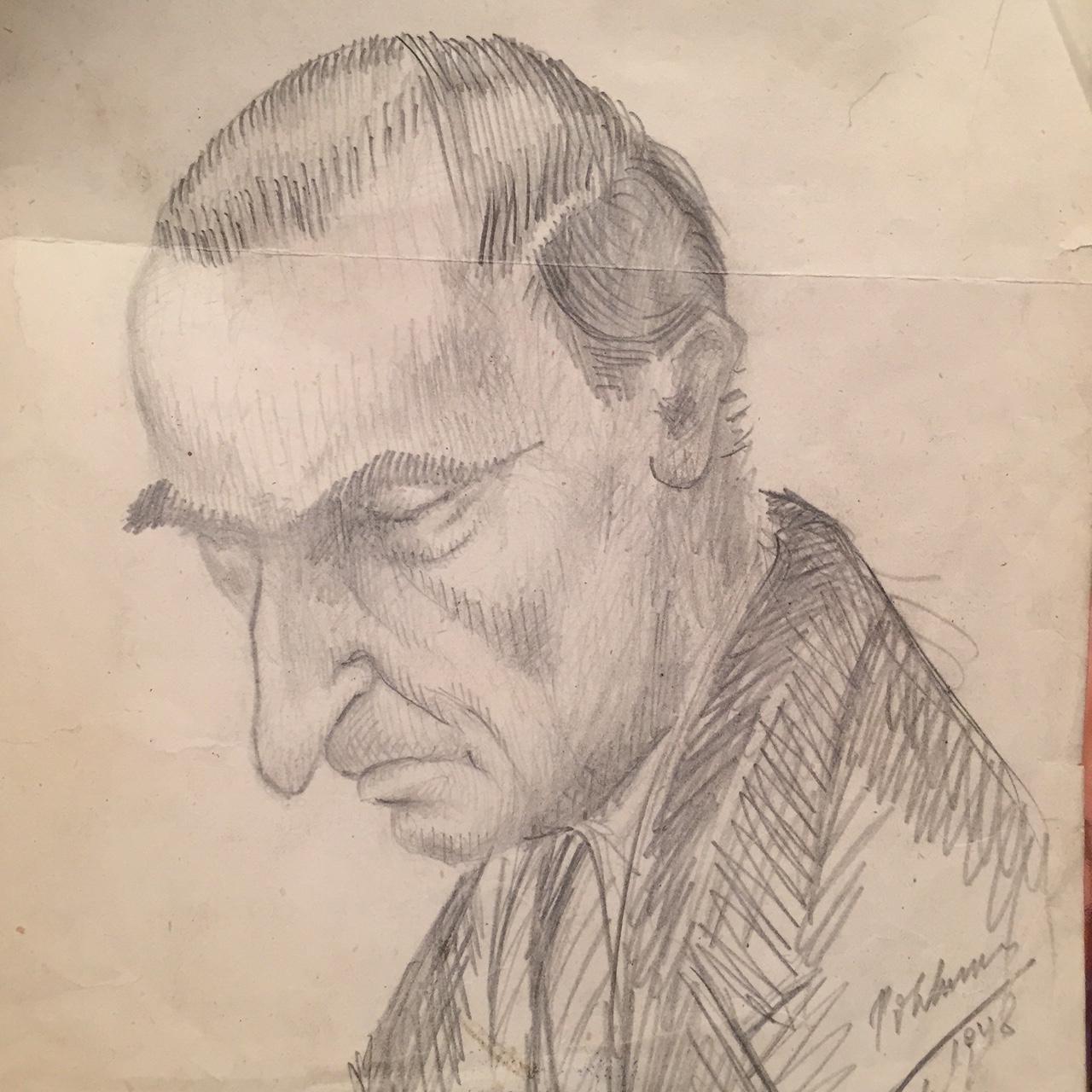 God sent me here
He helped my parents slave for me
My brother sacrificed for me
I shall do so much good here
And then there's Heaven
76
Why am I here?
I'm a giant
A man of strength
I am a fighter
And still I don't know why I'm here
78
I hate dust
Dirty dishes and paper towels
Can't stand men with long hair
And women with pants
What do I like?
Why me, of course
80
I am a musician
I could have been great
Or an actor, an artist
I have so much talent
My modesty overwhelms me
82
Colours
I love colours
I need colours
Why do I need colours?
I don't know why I need colours
And these are just lines….
84
Now I know what those colours were for
For me!
That smile of mine
My joie de vivre
Call me irresistible
86
Who put this thing on me?
There I was
Minding my own business
Walking quietly, nakedly
And they surrounded me
With this
88
I'm not an Anglo-African
Nor Neanderthal man
I'm not a coalminer
Nor a coal man
Now get this thing off me!
90
I am a mystery
I am not a cook
Not a friend
Nor a relative
I'm not sure I know why I'm here
Eric knows
92
Brother: Why do I have to sit next to her?
Sister: He didn't brush his teeth this morning
Brother: Mummy won't let me play with my iPhone
Sister: Mummy won't let me play with his iPhone
94
I visit every day
Bring hot soup and schnitzel
The food here is so…English
Does he appreciate me?
I am Lislott
They call me Mum
96
Dad was fifty-seven when he drew this
Much younger than I
He's my Dad
Always will be
So how come he's younger?
98
Cartoon of Eric Pohlmann – By Flo Nordhoff
Flo (Baron Florenz von Fuchs-Nordhoff) was an artist; a creator of 'ideas and things'.
No question he was was brilliant. But no chance of great success; he was unmanageable.
Flo came to Dad's funeral in Salzburg – July 1979.
And to the reception afterwards.
He wore his only tie, spots and all. He wore a sports jacket; he had nothing more serious.
He spent all day making his usual silly comments, telling funny anecdotes, getting slightly tipsy, taking nothing seriously.
100
Dad's aged Aunt Irene and Uncle Paul were there,
having come from their health spa in Bad Gastein
Flo's behaviour shocked dear Irene.
"Who IS that man"?, she asked. "Why does he act like that"?
That's Flo", I answered. "He means well".
Later, when it was time to part, Flo swayed up to me.
He held my hand, at first saying nothing.
Then tears came to his eyes.
"I've lost my only friend", he said.
102
Thanks for reading this with me…
If you want a paperback copy of this book, for your aunt, grandpa, sister or whomever, stuck as they are in some home or hospital, pls contact me –
103
Published: Jul 28, 2015
Latest Revision: Jul 16, 2016
Ourboox Unique Identifier: OB-62662
Copyright © 2015

Skip to content