The Beatles in a Nutshell
The Beatles are considered one of the most influential bands and musicians of our times. Originaly from Liverpool, United Kingdom, the band was mainly active from 1960 until their break up in 1970. The main band members were John Lennon (1940-1980, rhythm guitar and singing), Paul McCartney (1942, bass and singing), George Harrison (1943-2001, lead guitar and singing) and Ringo Starr (1940, drums and…sometimes singing).
The Beatles had 13 core studio albums and many more singles, E.Ps, live albums and more. Most of their songs are pop songs, but they have played and experimented with many other instruments and genres.
1
One of the most important and unique thing about the Beatles (among other things) is the fact that they wrote and composed most of their songs by themselves (213 songs in total – 188 originals, 25 covers).  As we'll see, they wrote to other musicians as well.
3
Before We Start – Some Important Notes!
I only included songs that were written and produced during The Beatles active years, meaning  1960-1970  (there is an exception in the end).

I didn't include songs that were also recorded and published by The Beatles – Only those that are famous and known by other artists.

The songs and examples here are not the only examples! I chose the artists and the songs based on their fame, stories behind them and because of my own personal preferences. If you want to see more, check up on Google or Youtube for "The songs the Beatles gave away", and also notice that there is an album called "The Songs Lennon and McCartney Gave Away" which includes many more songs and artists and is shown on this Ebook cover.
5
Peter & Gordon
A Pop Duo from London, consisted of Peter Asher (1944) and Gordon Waller (1945-2009). They are considered a part of the "British invasion" to the U.S. Their most famous song is "A World Without Love" – which was written by Lennon-McCartney.
The Beatles and Peter & Gordon came to know each other after McCartney started dating Peter's sister Jane in 1963 (splitted in 1967). Lennon-McCartney wrote for them 4 songs that became hits, and they will be presented in the next pages.
7
First let's take a look on Peter & Gordon's version of the most famous "A World Without Love" :
9
This is Paul's Demo for the song:
10
This song is called "Woman" and was written by a mysterious guy named Bernard Webb…which was actually Paul McCartney, who wanted to see if the song will be a hit even without his name (and it was).
11
Lennon-McCartney wrote two more hits for Peter and Gordon – and here they are:
12
The Step-Brothers from Liverpool
The bands we are going to discuss now were from Liverpool as well and were also under the management of Brian Epstein, the mythological manager of the Beatles (and one of those who were considered as the fifth beatle). They competed with The Beatles in Hamburg in 1961, when many of Epstein's bands were having their showbusiness "boot-camp". All were part of a musical genre called Mersybeat or "beat music" – based on rock and roll, skiffle and pop, which was originated in the 60' in Liverpool. (Peter and Gordon are also included in this genre)
13
Gerry and The Pacemakers
Gerry and the Pacemakers – Gerry Marsden (1942-2021) ,Fred Marsden(1940-2006), Les Chadwick (1943-2019) and Arthur McMahon (who left in 1961 and was replaced by Les Maguire, 1941). They had many hits during the 60, and two of their most famous songs are a true Liverpool symbols – "Ferry Cross the Mersey" (1964) and "You'll Never Walk Alone" (1963) which became a famous football hymn for Liverpool F.C.
Bonus point – they wanted to call themselves "Gerry and the Mars Bars" but were denied of it by Mars chocolate company.
Lennon – McCartney gave them their song "Hello Little Girl".
Here it is:
14
Because the song "Ferry Cross the Mersey" was presented in class, I brought here only "You'll Never Walk Alone" along with a beautiful version sang in Anfield football stadium:
(If you are busy move right to 1:36, but I recommend starting from the beginning to get the build-up)
15
Billy J. Kramer and The Dakotas
Billy J. Kramer and the Dakotas – Billy, who's original name is William Ashton (1943) was the lead and main singer. They Had changed many players throughout time. Here are some of what Lennon – McCartney wrote to them: "Bad to Me", "I'll Keep you Satisfied", "I'll be on my way" (all 1963).
Here's a video showing both versions for "Bad to Me" – Lennon's demo and The Dakotas single.
Which version do you prefer?
16
And Here's "I'll Keep You Satisfied":
17
And Here's "I'll Be On My Way" – with The Beatles Anthology version of it:
(I have definite winners, but as a Beatlemaniac my opinion might be a bit biased …)
18
Cilla Black
Cilla Black (1943-2015, was born as…Pricilla White) was a singer and actress, also from Liverpool. She had met The Beatles when she started working as a cloakroom attendant in The Cavern club (the place where they performed many times in their beginning) and became a good friend of them. They persuaded Brian Epstein to audition her, and although her audition was quite bad (The Beatles fault- they played the wrong key), Epstein had signed her as the first female artist in his label.
Her most famous songs (which I will not add due to this book's length) are "You're My World" and "Anyone Who Have a Heart"  which was the biggest selling single by a female artist in the 60' in the UK. (both of the songs are from 1964).
19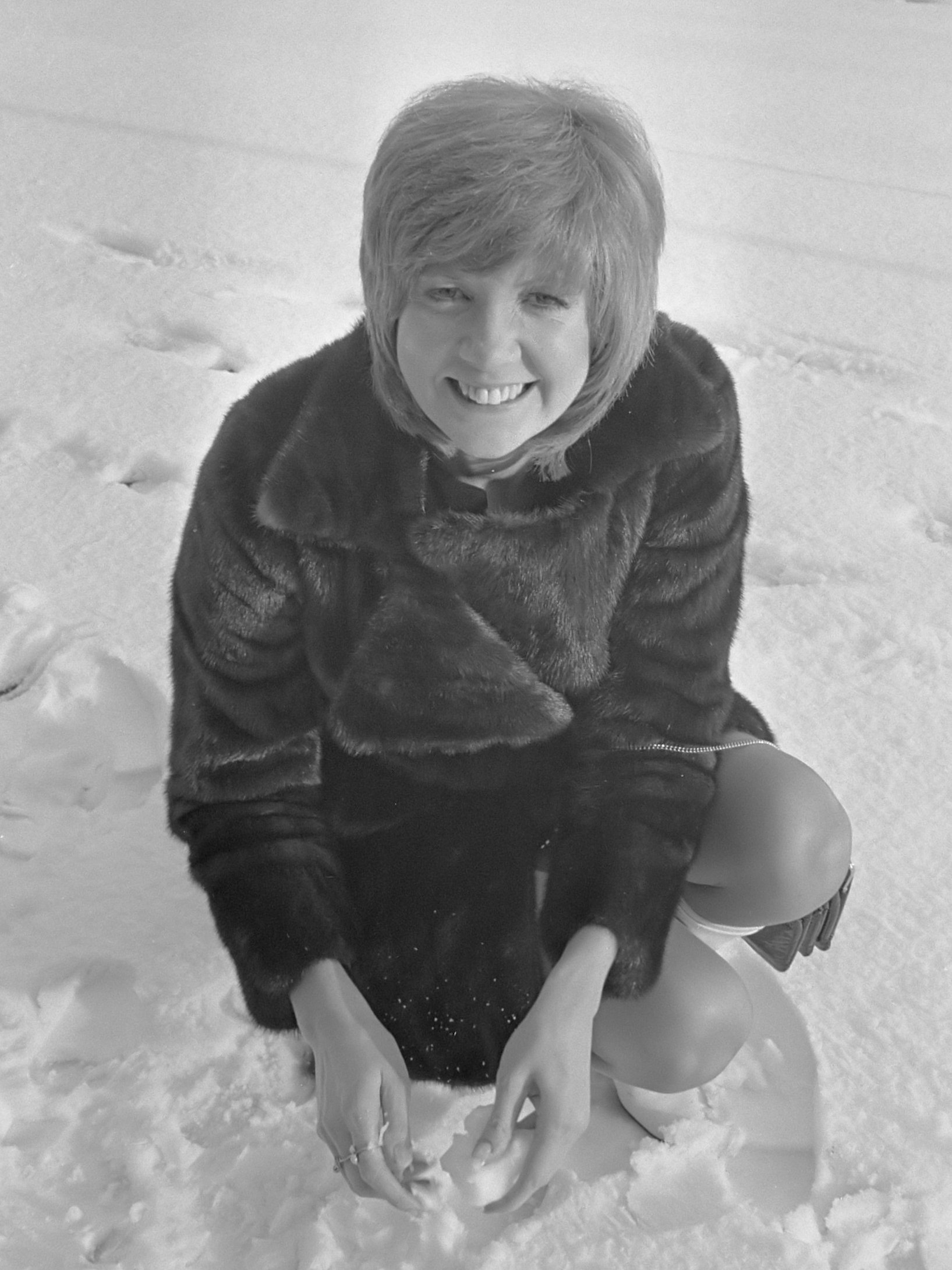 The Beatles (especially McCartney) wrote 3 songs for her, and they became hits:
"Love of the Loved" which was her debut single (1963):
21
"It's For You" (1964):
22
and "Step Inside Love" (which was written and produced after Epstein's death, 1968):
23
Here's McCartney's nice demo:
24
Mary Hopkin
Mary Hopkin (1950) is a Welsh folk singer and was the first artist that was signed to The Beatles' post-Epstein label, Apple Records. Her debut and most famous single, "Those were the days" (1968, based on a Russian song) was produced by McCartney, as well as her first album "Postcard"(1969).
This is Mary Hopkin's original version:
Notice that this specific version is a re-recording (I think it's better than the 1968′ version)
25
This song was very popular at the time and had been covered in many laguages, including Hebrew – the most famous covers are those of Margalit Ankory and Shuli Nathan, but many more israeli artists covered it. I've brought here Avi Toledano's version, for example:
27
I have also brought here her second single "Goodbye" (1969) which was written and produced by Paul McCartney (was credited Lennon-McCartney).
Here's the (wonderful!!) demo:
and that's the final record:
28
Badfinger
Badfinger were a Welsh power-pop band who were active between the 60'-80' (especially 70'). The most famous lineup was of Pete Ham (1947-1975) , Mike Gibbins (1949-2005), Tom Evans (1947-1983) and Joey Molland (1947). They were also signed in Apple Records.
One of their famous hits, "Come and Get It", was written and produced by McCartney In 1970.
29
The Harrison Files
We have mainly discussed Lennon and McCartney's work for other artists. But they weren't the only beatles to be involved in it, especially in Apple Records. In this chapter we will discuss some of George Harrison's works for other artists.
Jackie Lomax (1944-2013) was an English rock singer and guitarist. He was playing in Hamburg along The Beatles (1961) and after some time in the US he was brought back to the UK to be under Brian Epstein's management.
On the next page you'll find a picture of Lomax with Harrison.
31
Harrison wrote "Sour Milk Sea" (1968) while in India, and the lyrics are supposed to promote transcendental meditation. The song was also produced by Harrison in a hard rock style. McCartney and Starr participated in the recording, as well as…Eric Clapton.
Here's George's demo with the lyrics about meditation:
33
And the final version:
(No more Merseybeat or Folk…That's Rock&Roll baby!)
34
Eric Clapton (1945) is one of the greatest guitarists of all times, who introduced the Blues music into British rock. He and George Harrison were good friends (even after Clapton fell in love with George's wife Pattie Boyd while they were still married…look up for his song 'Layla'). Clapton played in George's song "While My Guitar Gently Weeps" (1968), and Harrison contributed to Cream's song "Badge" (1969).
Here's "Badge":
35
The songs they gave each other
This chapter exceeds our period of the 60', but is still worth mentioning. As The Beatles contributed to other artist in their times, some of them helped playing in recordings and gave songs to each other during their solo career, and especially…for Ringo.
I have brought two examples: Harrison wrote with him two songs that became some of Ringo's solo hits in the 70' –"Photograph" which I excluded and "It Don't Come Easy" (1971, Ringo's first solo single):
George's version:
37
And here's Ringo:
(who wore it better…?)
George and Ringo had a close friendship as the two beatles who were overshadowed and sometimes even oppressed by the two others, Paul and John.
38
John Lennon wrote to Ringo the song "I'm the Greatest" (1973).
Here's John…
and Here's Ringo:
39
To Conclude…
 The Beatles used their fame, name, experience and talent to promote other artists in their indusrty, which is very important. Many great 60′ Artists and hits owe them their success.
As I mentioned at the beginning, the album "The Songs Lennon and McCartney Gave Away" I'm adding here a link to hear the album:
Thank you very much for reading and watching!
40
Published: Apr 19, 2022
Latest Revision: Apr 21, 2022
Ourboox Unique Identifier: OB-1314771
Copyright © 2022

Skip to content