The Tooth Fairy
Mel Rosenberg
All rights reserved © 2008
illustrated by Rotem Omri
1
When I was born,
I don't remember,
It was sometime in November,
On a Friday,
So my folks say,
I was very small,
And had
No teeth at all.
But as I grew,
Each year,
A few,
Teeth appeared.
Have a look at this photograph of me,
When I was three,
Lots of teeth
(as you can see).
3
When my first tooth fell out,
I didn't cry or shout,
Or call Dad or Mom,
I put it under the pillow,
And waited for the
Tooth fairy to come.
I decided not to sleep,
So I didn't count sheep,
Not even one,
But sooner or later,
I suppose,
I started to doze,
And pretty soon,
I was deep
Asleep.
5
When I awoke,
I couldn't believe my eyes,
Under my pillow –  a big surprise!
A magic pencil, with two big eyes!
It's a pencil that can see,
And it can draw anything,
Even me.
7
When my second tooth fell out,
The tooth fairy brought me two spoons,
One is from Mars, the other from the Moon.
When you eat, every bite, is a delight,
Spinach tastes like the pancakes,
That my auntie makes, And broccoli,
Like vanilla ice cream with chocolate flakes.
9
When my third tooth fell out,
The tooth fairy brought me three magic bananas
That never go bad.
I've had
Them for a year,
Right here,
On my window sill,
And they're still
Yellow,
And green,
And blue,
With dots of orange
and purple, too.
They may be very, very sweet,
But they're much too beautiful to eat.
11
Then out came tooth number four!
When I awoke,
Four flowers from Singapore,
Were waiting on the floor.
These flowers can talk,
But not every day,
Just when they have
Something friendly to say,
Like "Good morning,"
Or "Top of the day."
But the most amazing thing
(I thought you should know),
Even though they're made of plastic,
They continue to grow.
13
When my fifth tooth fell out,
The tooth fairy left me five lovely keys
That I adore,
I suppose that each opens a door
To a forgotten, far-off land,
The island of Atlantis,
Or the cove of Albacore.
Maybe one's the key to a pirate's hidden chest,
Or even the home
Of a dinosaur
(but only if it has a door).
15
When tooth number six fell out,
I woke up early that day,
I could feel something sway,
There were six big balls
That hop about.
I tie a thread to every one,
To keep them from bouncing
Straight up to the sun.
Oh, and I almost forgot,
When they bop a lot,
They have this lovely smell,
Like fresh apricot, or caramel.
17
When tooth number seven fell out,
I put it under my pillow.
The next morning I found
A pickadilo, and six more.
I stacked them in the corner, on the floor,
And I'm leaving them there,
Until I discover what they're for.
They don't dance, they don't sing,
They just sit still, don't do a thing.
I have so many, but don't need any,
So take your pick, have two or three,
I'm selling all of them for free.
And if I find out what they do,
I'll be sure to tell you too.
19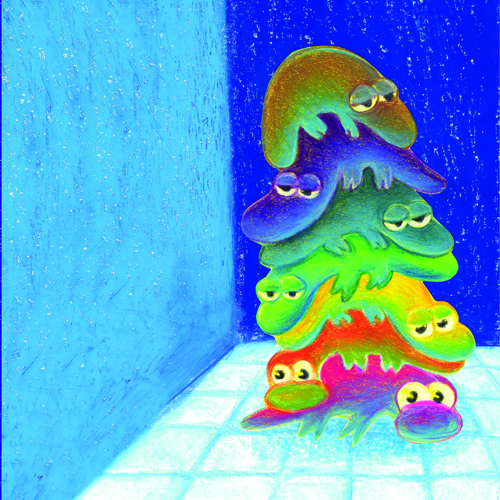 I could hardly wait,
For tooth number eight.
The tooth fairy brought me a magic rainbow,
With eight colors that glow.
Sometimes the colors get
All tangled in a knot –
I like that a lot.
My rainbow doesn't care,
Whether the sun is there, or not,
Whether it's day or night,
Dark or bright.
21
When the sun goes down,
And nighttime falls,
My rainbow's still around,
All over the walls,
And sometimes on my window pane
(even when it doesn't rain). 
22
The day after my ninth tooth fell out
I got up earlier than a magpie.
Why?
I could hear,
A bird band playing in my ear,
Some sing, others play the guitar,
One of them can even fiddle,
And the drummer's the one with the drums
(in the middle).
If you visit, do come at noon,
That's when they play, a Beatles tune,
Called "And Your Bird Can Sing"
(or some such thing). 
23
And when
Do you think tooth number ten
Fell out? Just last night!
When I awoke, the tooth had gone,
Instead, I found a box, right near my head.
It had a note that said:
"Open me in a year."
Oh my dear!
25
Please don't ask "What is it?"
Just pay me a visit, "When?"
In just a year, I'll still be here.
Until then, who can tell?
Perhaps your tooth fairy,
Will bring you magic gifts,
As well. 
26
Published: Jul 9, 2014
Latest Revision: Feb 22, 2015
Ourboox Unique Identifier: OB-12896
Copyright © 2014


Skip to content