Nick was in a very good mood when he arrived home one sunny afternoon. He had lots of teeth and his smile was so wide that you could see them all.
1
"I got the job at the Holy Molar Toothpaste Company," he told his wife. "I am going to be in charge of filling all the toothpaste tubes." 
3
That night, Nick was so excited that he could not sleep at all. He pictured himself wearing his brand new lab coat. He would get just the right amount of paste into each and every tube.

5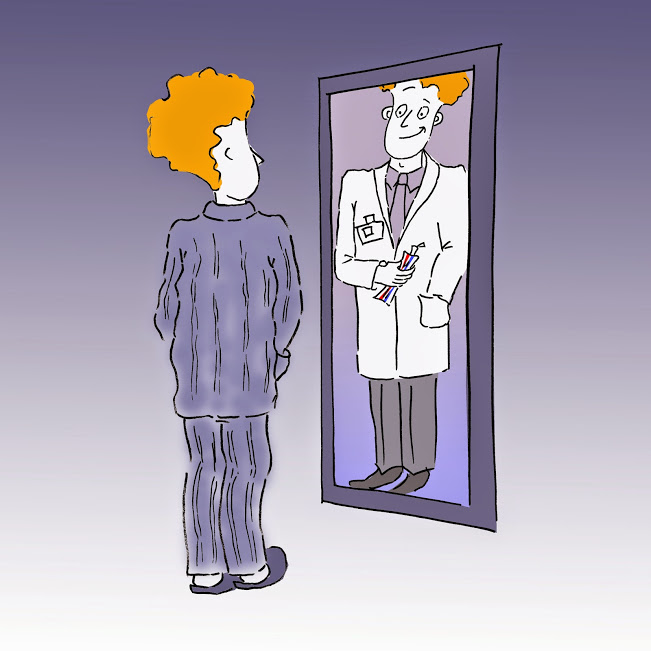 But how was he ever going to get the toothpaste into such a little hole? He went to the bathroom and squeezed the paste out of one tube. He then tried to push it back in. No matter how hard he tried, the toothpaste stayed outside.
7
He tried a spoon. He tried a straw. He tried blowing. He tried pushing and pulling. But no matter how hard he tried, the toothpaste stayed outside. "I must practice first with bigger holes," he decided. 
9
He practiced on a shoe. That was easy!!! 
11
He soon ran out of toothpaste. No problem. Back to the store to buy some more. 
13
He soon filled the sinks, the chimney and every pot and pan in the house. Wherever there was a hole, Nick filled it.

15
"
On Monday Nick appeared at work early. "Can I start right now?"  he asked. "I am ready. I have been practicing all weekend."
"Oh, no" said the boss. We spent all weekend filling toothpaste for someone who bought every last tube! We don't have a single tube left to fill. Please come back in a few months."
Nick's smile disappeared. But one week later it was back and wider than ever. 
17
"I just got a new job at the Wil-O-Pillow Company," he told his wife. "Let me guess," she answered. You'll be in charge of getting the feathers into each and every pillow." Nick nodded.
"How did you know?" he asked. 
"I just knew," she smiled. "But this time, please, no practicing in the house!"
19
There is another ending on the next two pages. Which one do you prefer?
21
Nick eventually found another job. It had nothing to do with toothpaste. 
Nothing. Absolutely nothing. 
23
Here is how toothpaste tubes are filled:
25
Published: Dec 11, 2013
Latest Revision: Mar 26, 2023
Ourboox Unique Identifier: OB-1353
Copyright © 2013


Skip to content