I once invented a mouthwash that became very popular in the UK and other countries. I was very proud of myself. I thought that I was so very clever I could invent a whole bunch of other successful things. 
One of the things that I invented was a game called "Qfor2" (also known as "QforTwo"). 
2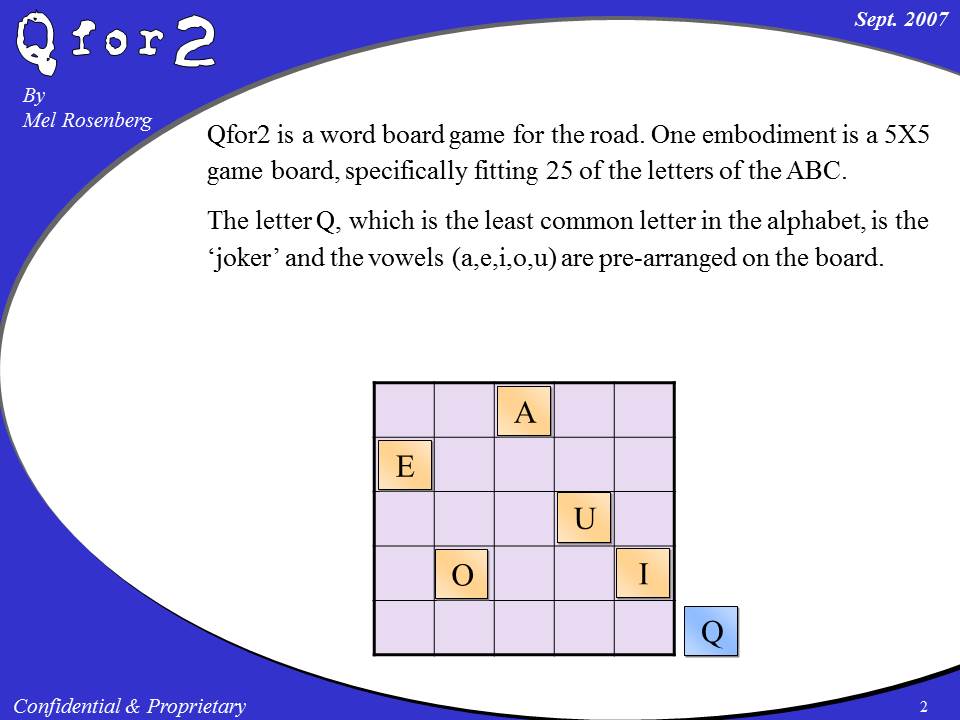 As a child, I loved to play Scrabble with my Mom and Dad. These games would take a great deal of time, and the board was hard to lug around. 
My brother loved to play Boggle. I never did. 
4
We also used to play a 5-letter word game called "Jotto". Mom and Dad learned it from Rhoda. She said she would teach us the game "Rhoda taught us". We thought the game was called "rodatotus". It wasn't. 
I wanted to create something even better than Scrabble, Boggle and Jotto. 
6
So I came up with a game called Qfor2. It's not complicated. There are 25 letters in the game, plus the Q. You put letters on the board, each making a word. If you use the Q, you win the game. If you compose a word from side to side, you win the game. If you finish all your letters before the opponent you win the game. 
Simple, and lots of fun, right?
8
Rotem Omri made me a square board and beautiful letters. Alon Amit made me a lovely powerpoint presentation. 
I taught my kids to play Qfor2. They played whenever we went out anywhere. They seemed to love it. I was very excited! I purchased websites, and applied for a patent. 
10
I showed the game to Haim, my genius friend. He has invented many international games, including "Taki". He is one smart guy. He told me the game was okay, but not good enough to become a commercial product. 
I was upset. "My children like playing it so much", I told him. 
I went home and confronted my children. They finally told me the truth. 
12
"Daddy", they told me, "the game is not that great. We played it because you asked us to. It is educational, but we never enjoyed it that much. We tried to appear excited about it because we didn't want you to be disappointed."
I have two wonderful kids who tried to make me happy. They will inherit less money as a result. Oh well, we live and learn. 
I still love the game. You are welcome to play "Qfor2". I will be happy to teach anyone. 
14
Published: Aug 30, 2014
Latest Revision: Nov 3, 2014
Ourboox Unique Identifier: OB-16499
Copyright © 2014


Skip to content