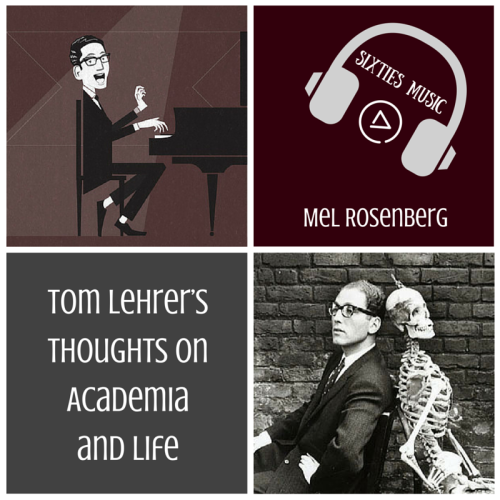 Tom Lehrer was born in 1928. He got his master's from Harvard (in mathematics) when he was 19 so he must be clever. He called one of his college courses "Math for Tenors". That alone makes him a genius. Oh, yes and his songs of course. He made fun of everything. Especially math. New Math.
2
Tom Lehrer – New Math (Animated)
3
Lehrer mixed science and art. Clever people do that. He self-published. He was censored. He was disruptive and funny. He knew when to call it a day. He is still relevant. This is a song about microbiology. I think.
4
This song seems to have regional relevance, don't you think? Can you believe it was written over 50 years ago?
Tom Lehrer – Who's Next – with intro
6
He dabbled in chemistry.
8
Tom Lehrer – The Elements – LIVE FILM From Copenhagen in 1967
9
Daniel Radcliffe sings "The Elements" – The Graham Norton Show – Series 8 Episode 4 – BBC One
10
A bitter lesson in ornithology and human nature. "It's not against any religion/to try to dispose of a pigeon…"
12
Thank you for reading my book!
If you like it, you might also want to read:
15
Published: Dec 7, 2015
Latest Revision: May 29, 2020
Ourboox Unique Identifier: OB-67406
Copyright © 2015


Skip to content